Derecho damage also reflected in insurance coverage for farmers
Derechos and other severe weather are having a more long-term and widespread effect – driving up insurance rates or limiting the amount of coverage property owners can get.
Jennifer Ferris said she hadn't been familiar with the term "derecho" until about 2020.
In August that year, a derecho — an intense, long-lived and widespread line of storms — pummeled the Midwest from Indiana to Nebraska.
Again in 2022, a derecho swept through the upper Midwest, with damage in Iowa, Minnesota, South Dakota, and North Dakota ripping roofs off of homes and barns, flattening grain bins and mangling irrigation and grain handling systems.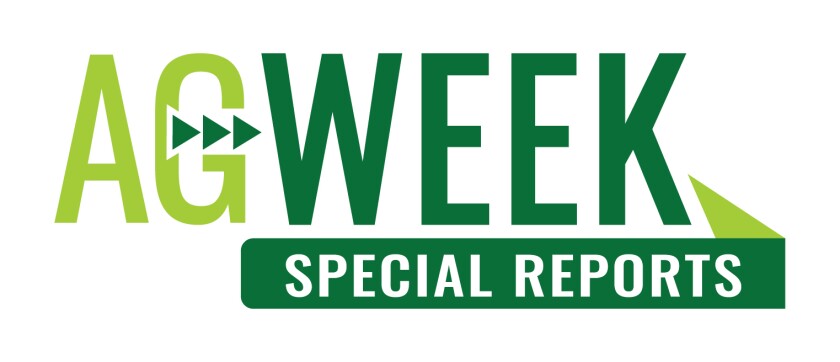 Climate plays an important role in agriculture, and changing — and sometimes more erratic — weather patterns can mean changes for agriculture. But programs addressing climate change also hold opportunity for the industry. We explore what's going on in the climate of the northern Plains, what it means for agriculture and food, and what new climate programs and projects can mean for farmers and ranchers.
While the immediate effects of a storm with 100 mile per hour winds are obvious in the storm's path, they are having a more long-term and widespread effect — driving up insurance rates or limiting the amount of coverage property owners can get.
Ferris is a risk management consultant in the agriculture industry with Marsh McLennan, which acts as a broker between farmers and insurance carriers.
Derechos have been a curveball that has changed the game.
"They knew what to expect before and now they don't, right?" Ferris said of insurance companies. "Because we are seeing more derechos, that are usually a one in a 50- or one in 100-year storm, happening on a frequent basis, meaning every year or a couple of years.
Ferris, based in Sioux Falls, South Dakota, and Chandler Gramm, based in Fargo, North Dakota, both work for Marsh McLennan in the "protein sector," or livestock operations of risk management.
"So, obviously, we know that the majority of our animals are housed inside of barns. And so with that being said, we obviously have to get insurance to cover those assets," Ferris said "And so what's happened, I would say probably really since derecho has reared its ugly head, is that you have carriers … suffering, more losses, from a natural catastrophe standpoint, than they had previously. And so what that really correlates to is higher loss ratios for the insurance companies and therefore premium increases and even carriers leaving the market."
She said some property insurance rates for farmers have doubled and even tripled.
In addition to extreme weather, part of the problem is what Gramm referred to as "tired assets."
In other words, some older barns and other farm structures that will be more susceptible to damage.
"Our agriculture industry, I think as a whole, has a lot of tired assets," Gramm said. "And those tired assets are experiencing these extreme weather conditions and we're obviously seeing a higher amount of catastrophes and higher claims due to that and the conditions they're in."
A storm damaged livestock barn can mean having to find a temporary location for livestock.
"It's not like we have hotels or Super 8s to take either, you know, our poultry or our hogs," Ferris said. "So it's a major disruption for our farmers out there."
That can trigger a business interruption insurance claim.
Of course it's not just livestock barns that are affected.
Gramm is originally from the Morris, Minnesota, area, which was hit by a derecho in 2022.
He said from talking with farmers in that area of west-central Minnesota, more than 70 irrigation pivots were damaged in the storm.
Joe Stroman farms at Alberta, Minnesota, just west of Morris, who is still dealing with the damage from last summer's derecho storm.
"I'm thinking I'm probably gonna be close to half a million dollars in damage when it's all said and done," said Stroman who had damage to his home, shop, and grain handling system.
Mother Nature piled on to some of the initial storm damage with hail, more wind and heavy snow.
After getting new steel onto his shop roof, "there was another storm that came through and ripped it completely off."
He got another roof on the shop but not much else has gotten fixed.
"We just got it on there before the first snow," Stroman said. "As far as my house, I've just got a little bit of fabric on the one side, keeping it sealed up. And that's it, that's all I've gotten done."
He said the farmers in the area are "burnt out" from dealing with insurance claims and trying to get things fixed when contractors are also overwhelmed by the amount of work and tight labor market.
Stroman had lined up a business to do some of the work, but "this guy that I hired, he ended up losing some people, so he got way behind, and he's just playing catch up," Stroman said. "I've had to be pretty patient."
With labor and materials both in short supply, that drives up the cost of repairs, putting more pressure on the insurance industry.
Some insurers are getting out of the ag sector or limiting what coverage they can provide.
"It is absolutely happening, carriers leaving the marketplace or changing their terms and conditions," Ferris said.
So what's a farmer to do?
"Have a great maintenance program in place," Ferris said, to keep buildings structurally sound.
Along with performing maintenance is getting credit for it, by documenting the work done and materials used.
Gramm said one of the services Marsh McLennan offers is creating a list of assets than can be updated as improvements are made.
In some cases, it might mean a conversation with a banker to see if a capital improvement would be worthwhile if it helps reduce risk.
Another thing is to take safety seriously and model safe practices for employees — staying off cellphones while driving and having safety meetings, especially at busy times of year, like planting and harvest.
"Set a precedent of the right behaviors," Ferris said.
Farmers may not be able to control the weather, but they can avoid injuries, rollovers and the insurance claims that go with those.
Be prepared for situations such as a heavy snow to be able to remove it promptly.
Faced with higher insurance rates and fewer options, farmers may have to settle for higher deductibles and or not be able to get replacement coverage.
"Nothing's cookie cutter," Ferris said.