When the lakes freeze, these are the places where the fish are hiding
GRAND FORKS - Mother Nature is playing it cruel instead of cool with ice fishing fanatics again this year, and it looks as if the popular winter pastime is going to be off to another late start.More than one longtime angler has said this is the l...
GRAND FORKS - Mother Nature is playing it cruel instead of cool with ice fishing fanatics again this year, and it looks as if the popular winter pastime is going to be off to another late start.
More than one longtime angler has said this is the latest freeze-up they can remember. And it's going to take more than a few days of low temperatures in the 20s-that's what's on the horizon for the next few days-to put safe ice on lakes across the region.
Sigh. ...
Now, the good news. ...
Despite the delayed freeze-up, anglers across the region have a wide selection of options for plying their passions once the ice finally forms.
And it will form ... eventually.
From North Dakota's Devils Lake Basin to Canada's Lake Winnipeg, from Upper Red Lake in Minnesota to the Ontario side of Lake of the Woods, anglers have access to a multispecies bonanza within a few hours' drive of Grand Forks.
For anglers itching to get on the ice, the rewards should be worth the wait. In the meantime, here's a closer look at some of the region's top ice fishing destinations and the potential they hold for this winter's fishing season.
Lake of the Woods
A few diehards as recently as last weekend were having good luck catching walleyes in open water on the Rainy River and areas along the south shore of Lake of the Woods. If the excellent fall fishing is any indication, anglers should be in for a great winter on the big lake once the ice is safe.
As always, a lot will depend on freeze-up and water clarity. If a big northwest blow stirs up the lake during freeze-up, fishing tends to suffer until the clarity improves.
"I think what really sets the stage for good ice fishing is if you can get it frozen in the absence of big wind," said Henry Drewes, regional fisheries supervisor for the Minnesota Department of Natural Resources in Bemidji. "It's always nice to have a patch of calm weather leading up to freeze-up."
Fall population surveys showed an "above average" abundance of both walleyes and saugers, Drewes said. Especially encouraging is the number of 14- to 17-inch saugers in the population. These smaller cousins to the walleye tend to bite throughout the day in the winter and are a staple of the big lake's winter fishery.
"We expect those nice saugers will make a strong presence this winter," Drewes said.
The Minnesota side of the lake also holds good numbers of 10- to 13-inch perch and a booming tullibee population.
The other beauty of ice fishing on Lake of the Woods is its vast infrastructure of winter fishing amenities, including more than 50 resorts and hotels. Several resorts plow and maintain ice roads, sometimes more than 20 miles out on the lake, while others offer Bombardier or other track vehicle transportation to heated rental houses.
Ice fishing is big business, and DNR creel surveys show anglers logged 1.4 million hours of ice time last winter on Lake of the Woods, despite a late freeze-up and a premature end to the ice fishing season. Anglers kept about 270,000 pounds of saugers, which is slightly higher than the 10-year average, and 79,000 pounds walleyes, down from the 10-year average of 230,000 pounds, DNR statistics show.
Lake of the Woods isn't a "night lake," but sleeper houses also are an option for anglers who want to spend a night on the ice. Ice fishing in bedroom slippers might seem like a stretch, but it's always a wintertime possibility on Lake of the Woods.
Devils Lake
The North Dakota Game and Fish Department reported good catches of young-of-the-year walleyes during fall reproduction surveys after stocking 1.7 million fingerlings this past spring in Devils Lake and 518,000 fingerlings in Stump Lake.
Too small for the bucket, to be sure, but anglers fishing Devils Lake this winter should see plenty of opportunities for walleyes, perch and northern pike, arguably the most underrated fish that swims in fresh water.
"The walleye numbers are off the charts," said Jason Mitchell of Devils Lake, host of the "Jason Mitchell Outdoors" TV show and longtime Devils Lake fisherman. "Perch numbers are going to be good. There's going to be good days and bad days-it's a big lake-but I anticipate another great winter on Devils Lake."
Mitchell said perch fishing last winter was "pretty good" after a tough ice fishing season in 2014. That came as a surprise to some after great winter fishing in 2013.
"Three years ago was one of the best winters we'd had in years," Mitchell said. "I would anticipate some really good fishing. The fish are going to be there-it's just a matter of finding them."
Early on, Mitchell says ice thickness will dictate where anglers fish. Typically, that means places such as Pelican Lake, Lake Irvine or the north end of Six-Mile Bay, which tend to freeze first.
"I would just try to hit spots and check spots that haven't been fished a lot," Mitchell said. "I just try to keep pushing and finding spots with fresh ice."
Find those fresh spots, Mitchell says, and it's possible to catch walleyes throughout the day and perch in shallower water. Too often, he says, anglers make the mistake of fishing too deep.
"Devils Lake has a reputation for fishing shallow in summer, and I find in the winter, they're on the same spots," he said.
That also holds true for perch, he says.
"There are fewer perch in shallow, but the ones in shallow are a lot more aggressive," Mitchell said. "You can catch them using walleye gear fishing for walleyes."
Devils Lake also is well-known for its pike fishing, and pike are a good fallback if the walleyes and perch aren't cooperating. Pike also frequent shallower bays that will be among the first areas with safe ice.
"I think some of the backwater areas, a person will be able to walk out in places by the second week of December," Mitchell said.
Upper Red Lake
Upper Red Lake has a strong population of walleyes in the 12- to 20-inch range, the DNR's Drewes says.
"We would expect it's going to be another good ice fishing season on Red," Drewes said. "The perch aren't overly abundant, but you can catch a few of those, too."
Under regulations that took effect Thursday, anglers on Upper Red can keep three walleyes, including one longer than 17 inches, this winter.
"I think that regulation was very popular all last season ice fishing and this summer," Drewes said. "One of the things we wanted to do was spread the harvest across those 18-, 19- and 20-inch fish."
The walleye harvest remains about 30 percent to 35 percent below the top end of the quota, he said.
Anglers last winter logged 1.7 million hours fishing Upper Red, despite a late freeze-up, results from the DNR's winter creel survey show. That's just shy of the record, Drewes said.
Walleyes bite after dark on Upper Red, especially early in the season, and the lake is a popular destination for wheelhouse owners. Drewes said about 80 percent of Upper Red's winter fishing pressure comes from wheelhouse traffic. And because Upper Red is relatively shallow, it generally freezes earlier than other large lakes.
"Even though it was late, it was still the best ice in town" early last winter, Drewes said. "They had drivable ice probably two weeks before Lake of the Woods."
The crappie boom that drew anglers by the thousands to Upper Red after walleye populations collapsed in the late '90s --- and before walleye fishing reopened in 2006 after a seven-year closure-has run its course, but anglers still encounter the occasional slab, Drewes said.
Crappies moved in to fill the void when walleyes disappeared, but numbers declined to historic levels after walleyes were re-established.
"There are so many houses out there somebody will land on a winter concentration of crappies and it will be reminiscent of days gone by," Drewes said. "It's not a crappie destination, but they can provide a unique bonus fish."
Lake Winnipeg
It would be impossible to have a conversation about ice fishing and not mention Lake Winnipeg, the massive body of water that picks up where the Red River leaves off.
The lake's reputation as one of North America's top destinations for big walleyes-known as "greenbacks" for their uniquely distinct coloration-definitely is justified. It's that good.
"If you live in Grand Forks and haven't fished Lake Winnipeg, that should be illegal," joked Devils Lake's Mitchell, host of the "Jason Mitchell Outdoors" TV show. "It's incredible.
"I always joke that in a week of fishing, I would dare say you can hold or see more 10-pound walleyes in a week of fishing than what you could in a lifetime of fishing on most inland waters.
"If you go out all day and don't catch a fish over 8 pounds, you say, 'What did I do wrong?' "
That being said, Mitchell says the fishing on Lake Winnipeg seems to have changed since his first trips. Big, noisy rattle baits were popular and productive for a few years, but now it seems wobbling spoons or even smaller baits more typically seen on Devils Lake or Lake of the Woods work better, Mitchell says-at least in his experience.
"I think one thing is people look at Lake Winnipeg and how massive it is, and they think it has a neverending supply of big fish," Mitchell said. "But most of the fish, I truly believe most of the walleyes are right where everybody is fishing."
On the south basin, that means a few miles on either side of the mouth of the Red River.
No question, Mitchell says, the lake's sheer size-more than 250 miles from north to south-can be intimidating. Setting up outside larger groups of anglers can be a good starting point. Because structure is so limited, even subtle changes to the bottom can hold baitfish and, in turn, walleyes.
Anglers also should explore areas near pressure ridges or broken ice, which serves as "above-the-water" structure.
"Shiners seem to accumulate around that," Mitchell said. "If you're marking baitfish, just work that area because there usually are walleyes around."
Unlike Lake of the Woods and Upper Red, Lake Winnipeg doesn't offer much in terms of rental houses or plowed ice roads. Anglers would be wise to venture out by snowmobile or ATV or hire outfitters such as Jason Hamilton (jasonhamiltonoutdoors.com), Donovan Pearase (blackwatercats.com) or Matt Cornell of Bruin Outfitting and Guide Service (bruinoutfitting.com). Rates generally run about $500 U.S. for three to four people.
Other top picks
• Lake of the Woods, Ont.: The Ontario side of Lake of the Woods-and adjacent Northwest Angle in Minnesota waters- is covered with islands and offers vastly different fishing experiences than the open waters of the south shore. "I just like the structure options and multiple species," Mitchell said. "You can target lake trout (season opens Jan. 1 in Ontario), you can target walleyes and the crappies are beautiful. Also a few pike and big perch. The Ontario side is a pretty neat destination." Numerous guides and resorts cater to wintertime anglers. Info: visitsunsetcountry.com.
• Red Lake Indian Reservation: Several small lakes in the Red Lake Indian Reservation are open to winter trout fishing by nontribal anglers who hire a tribal guide and buy a $10 daily permit. Daris Rosebear of Rosebear Guide Service is among the tribal guides to offer winter fishing packages, charging $150 per person for an eight-hour day and $75 per person for four hours. Rainbow trout dominate the catch, but some of the lakes also have brook trout. Portable shelters, bait, tackle and all equipment are provided. Info: 2016rosebear@gmail.com or (218) 214-0018.
• Leech Lake: Walleye numbers are down slightly, based on fall population surveys, but they remain higher than management goals, and that's good, the DNR's Drewes said. Leech holds a variety of walleyes from 12 to 24 inches, he said. Anglers can keep four walleyes but must release all 20- to 26-inch fish. One walleye larger than 26 inches is allowed. Drewes said declining perch numbers are "a bit of a concern," but the size is good. The strong walleye population could be a factor in the perch decline, he said. Former UND goalie Toby Kvalevog is among the outfitters offering winter fishing packages on Leech. Info: leisureoutdooradventures.com.
1
/
8:
Fishing in his bedroom slippers, Scott Jensen of St. Anthony, Minn., takes a break from his morning coffee to reel in a fish in March 2014 while staying in a "sleeper" fish house on Lake of the Woods. Ice fishing is big business on the big lake, and anglers logged more than 1 million of hours on Lake of the Woods last winter, despite a late freeze-up and a premature end to the season. (Brad Dokken photo)
2
/
8:
Henry Drewes, northwest regional DNR fisheries supervisor, Bemidji.
3
/
8:
Perch might be the big draw for many wintertime anglers on Devils Lake, but walleyes aren't far behind, and the big lake sports an excellent population of the popular fish. (Brad Dokken photo)
4
/
8:
One of the prettiest fish that swim in fresh water, colorful brook trout are a bonus catch for anglers who ice fish the trout lakes in the Red Lake Indian Reservation. A tribal guide is required, and rainbow trout dominate the winter catch. (Brad Dokken photo)
5
/
8:
Jason Mitchell of Devils Lake hoists a hefty "greenback" walleye from Lake Winnipeg in this undated photo. Mitchell, host of the "Jason Mitchell Outdoors" TV show, said anyone who likes catching big walleyes should consider a trip to Lake Winnipeg. (Submitted photo)
6
/
8:
Allen Edman of Warroad, Minn., unhooks a slab crappie in February 2013 on the Ontario side of Lake of the Woods. The Ontario side of the lake offers one of the broadest varieties of ice fishing opportunities in the region, with species ranging from crappies and walleyes to pike and lake trout. (Brad Dokken photo)
7
/
8:
Whether fishing in an insulated house such as this Lake of the Woods rental, a portable shelter or even out in the ice, ice fishing is one of the most anticipated events of the year on the outdoors calendar. From walleyes to trout to panfish, numerous winter fishing opportunities can be found within a few hours' drive of Grand Forks. (Brad Dokken photo)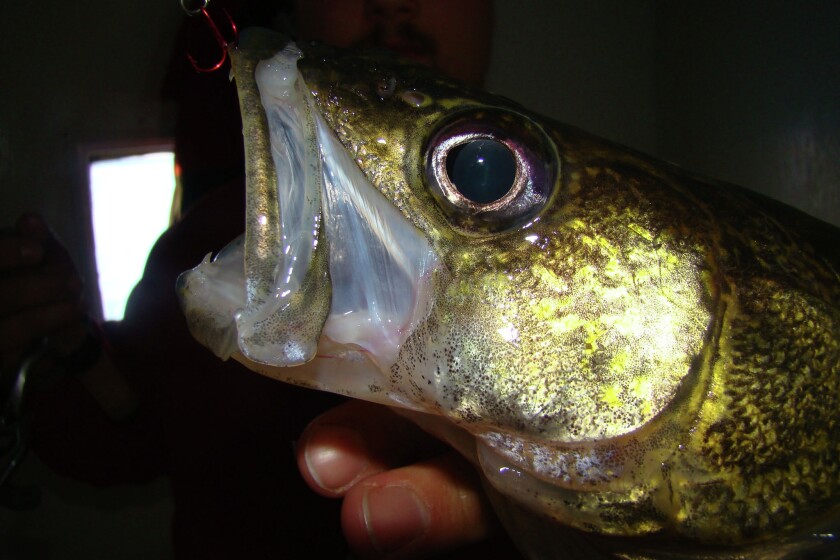 8
/
8:
Walleye populations on the Minnesota side of Lake of the Woods are looking good, based on results from the Department of Natural Resources' annual fall population surveys. Even better for wintertime anglers, the big lake holds fair numbers of 14- to 17-inch saugers, which bite throughout the day and are the bread and butter of Lake of the Woods' winter fishery. (Brad Dokken photo)