What I've learned this week in soil health
Different information from different sources can improve our ability to understand and adopt new practices.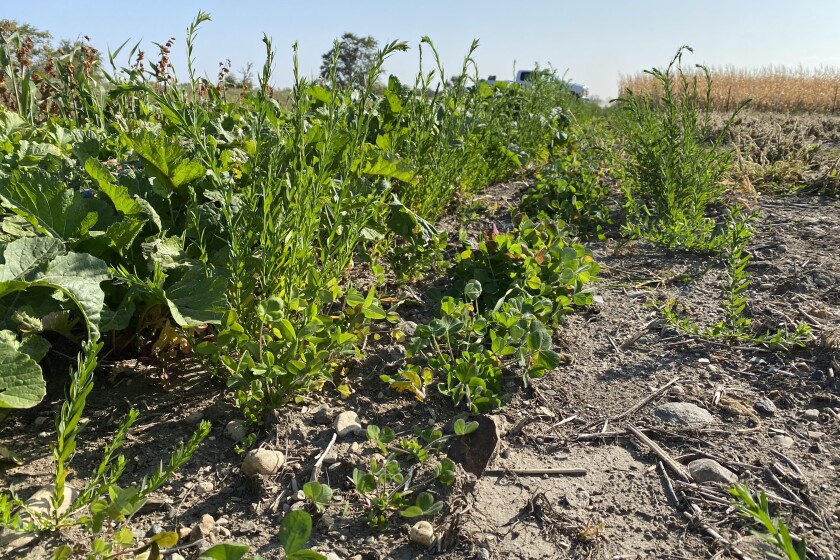 We are part of The Trust Project.
As an associate professor and also Extension specialist, I have an incredibly interesting position where I'm connected to the research happening at North Dakota State University and also to the practices being tried and adopted across the state of North Dakota. I joke around with people that on any given day (except those where I'm doing paperwork), that a majority of people interested in soil health or agriculture in general would love to have my career. I'm in a pretty sweet position! In this week's Soil Health Minute, I want to share a few things that I have learned in the past two days that caught my attention.
Lee Briese, Centrol Ag independent crop consultant, has an interesting study going on in Jamestown, N.D., that I visited yesterday. He's looking at a variety of herbicide residuals and establishment of around a dozen cover crop species. He has been watching the plots all summer and has yet to draw the final conclusions but, overall, he is seeing that many of the cover crops we use most often are not as sensitive to herbicide residuals as we think. This is great and if it holds true with the final assessment of that project, it could really help us develop management plans. An interesting observation and something he learned when Mike Ostlie, agronomist from Carrington Research Extension Center, visited his plots last week is that red clover is more sensitive to some herbicide residuals than crimson clover. So, even though we talk about red clover being more cold tolerant, crimson clover may have a better shot at growth for a multitude of herbicide residuals. That's good to know if you want to have a clover in the mix.
My understanding of crimson clover was further expanded when spending the morning looking at cover crop plots on main campus with Marisol Berti, professor of forage crops at NDSU. She had an excellent stand of crimson clover seeded both on July 31 and a second seeding date in a different plot on Aug. 17. Both stands provided great cover and she was very pleased with the stands. In our conversation, Marisol mentioned that clovers also require a lot of moisture for growth. We don't typically get the precipitation to establish clovers late in the season here, but this year we've had abundant rain for a good establishment. That being said, usually, Marisol and I do not recommend clovers in mixes after short season crops because they don't establish well enough to offset the high seed cost. We prefer forage peas or faba bean as a legume in the mix much better for our region. This additional information does help us make better decisions when selecting a legume for a cover crop mix.
Making the connection between herbicide residual and moisture requirements of crimson clover helped me make more sense of this cover crop in my recommendations. It's amazing how the pieces of information, coming from different sources, can improve our ability to understand and adopt new practices.
Abbey Wick is an Extension soil health specialist at North Dakota State University.