Western U.S. sugarbeet growers are in the field, while farmers in Michigan hope to be, soon
Sugarbeet planting is underway in Oregon, Washington and Idaho, and in Michigan, farmers hope to get in the field within the next week.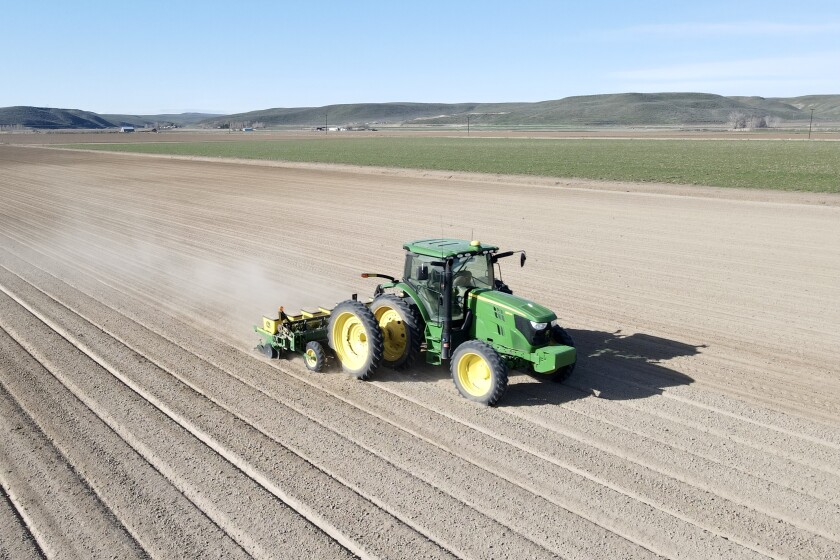 Sugarbeet planting in Oregon, Washington and Idaho got underway in March and was nearly one-third completed by the second week of April.
Farmers in the western part of the sugarbeet growing region typically begin seeding their crop a few weeks before the areas further east, and that was the case this year, said Brad Griff, Snake River Sugarbeet Growers Association executive director.
Strong winds blew some of the sugarbeet seed out of the ground in Cassia County, Idaho, during the week that ended April 11, 2022, according to the National Agricultural Statistics Service.
The soils in the eastern growing region were still too cold to plant as of April 11, Griff said.
Farmers who are members of the Snake River Sugarbeet Growers Association will plant a total of 180,000 acres, he said.
Although planting is slightly behind schedule, the delay is not serious, Griff said.
"We're still OK," he said.
Besides being cool, soil conditions are drier than optimal, Griff said.
Last summer also was dry, and one of the hottest summers on record in the region, and that was followed by a winter in which there wasn't enough snowfall to fill the reservoirs.
Sugarbeet farmers in drought areas are trying to discern how much they will have to reduce irrigation this summer, Griff said. Farmers in areas where it is too dry to raise sugar beets this year will ask growers in areas with more irrigation water to plant their shares.
Farther east, in the sugarbeet area in Michigan, weather permitting, planting will begin within the next week, said Rob Clark, Michigan Sugar Co. corporate headquarters communications and public relations director.
"It's been wet and cold," he said on April 11. "We're hoping that within the next week we'll have seed in the ground. It's just wait and see at this point."
The company estimates that sugarbeet acreage will be from 150,000 to 153,000. The target, year in and year out, is 155,000 acres, Clark said. Last year, farmers planted 163,000 acres, and of that, 10,000 was unharvested.
Rains last fall in Michigan added tonnage to the 2022 sugarbeet crop, but the cooperative left 10,000 sugarbeet acres unharvested because the crop was so large. Production in 2021 was 5.2 million tons, 900,000 tons more than the previous year.
The large crop was a challenge to process, Clark said. Processing of the 2021 crop is expected to be completed April 26, more than a month later than it typically is finished.
"This has been a campaign like no other," he said.
Michigan Sugar Co. and the farmers who grow its sugarbeets are looking forward to a new growing season.
"We're anxious to begin this year's campaign," Clark said.