United Sugars stands out with 43% market share
Beet sugar production efficiencies have increased significantly said Dirk Swart, executive vice president of United Sugars Corp., of Edina, Minnesota, speaking Dec. 2, 2021, at the American Crystal Sugar Co., annual meeting in Fargo, North Dakota. Photo taken Dec. 2, 2021, at Fargo, North Dakota.
FARGO, North Dakota — The sugar marketing enterprise that sells sugar for the region's sugar cooperatives has grown in size and strength, based on key investments.
That's how a long-time executive described the trajectory for United Sugars Corp., based in Edina, Minnesota, which now controls 43% share of the volume purchased by the top 10 sugar users and effectively serves about half of those customers' product locations
Dirk Swart, the company's executive vice president for sales and marketing, told shareholders at the American Crystal Sugar annual meeting in Fargo that the company started in 1994 now is a reliable, 12-month-a-year supplier.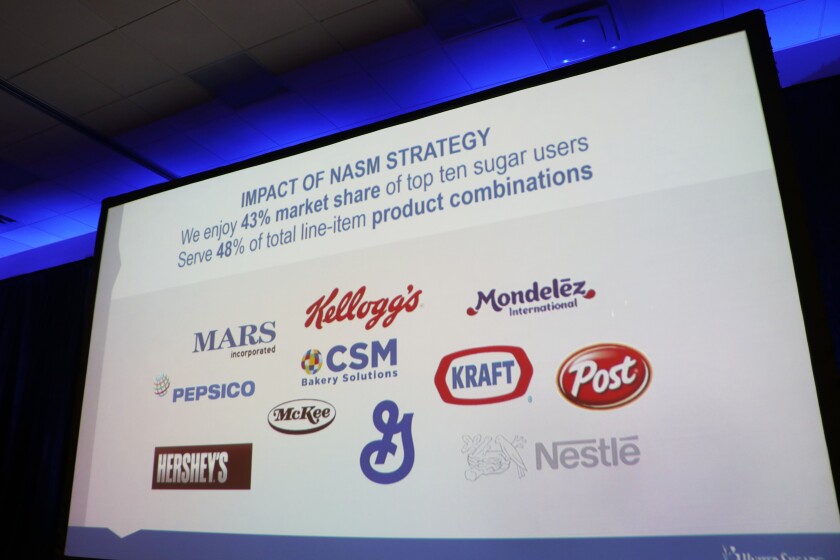 United Sugars sells sugar for American Crystal Sugar, a Moorhead, Minn., based farmer-owned cooperative, as well as Minn-Dak Farmers Cooperative of Wahpeton, North Dakota, U.S. Sugar Corp., of Clewiston, Florida. The company added Wyoming Sugar Company, LLC, in 2018.
Two significant improvements for beet producers marketing sugar have been longer slice campaigns and investments in a storage "dome" sugar storage in Montgomery, Illinois, near Chicago, installed by American Crystal Sugar in 2017.
That facility puts the United Sugars partners closer to customers and allowed selling more bagged products with better profit margins. Bulk deliveries into the Chicago area have doubled and bagged sales are 3.5 times greater than before building the facilities, he said.
Crystal is installing a second storage/delivery dome, which will be operational during this the processing/selling campaign from the 2021 crop.
It is difficult to win customers from incumbent suppliers, but the storage has helped sharply increase the number of active customers.
"Nothing says to customers, 'We are here to serve your needs,' as a $70-million transfer and storage facility, located 40 miles from one of the largest sugar markets in the world," Swart said.
United Sugars was formed in 1993, when American Crystal produced and sold 19 million hundredweights of sugar.
In 1994, when United Sugars was started it brought in production from other co-ops, increasing to nearly 30 million hundredweights — a 58% increase.
From 1998 to 1999, sales jumped again, rising 37% the Florida cane company, United States Sugar Corp., was added.
U.S. sugar production and markets have grown.
Cane sugar producers have increased raw sugar volume by more than 30% since 1985, even as the number of cane mills have declined by 63%. Cane sugar refineries, meanwhile, have declined from 20 to eight during the same period. Beet sugar production has increased more than 80% during the same period, while the number of beet sugar processing facilities has declined by almost half.
In 2019, crop failures forced United Sugars to declare "force majeure" and reduce contracted volumes by 18%. But the company made a "quick recovery, bouncing back quickly to get the 2020 crop sold without suffering lasting negative effects."
Non-traditional competitors include "melthouses" that produce only high-colored products, and distributors "armed with imported refined sugar," he said. "Today's domestic competitors are fewer, larger, stronger, and more capable than ever before."
Retail mass-merchandisers like Walmart and Target, Aldi and Dollar General have become more dominant. Today the top five grocery retailers account for almost 60% of total grocery sales, up from less than 25% in the early 1980s. Walmart and Target account for nearly a combined 35% of the total.
Today's industrial and consumer markets go beyond product expertise and customer service, and require "more statistically-driven factual analysis," Swart said. They do supplier audits that go beyond product quality to business ethics and employee health and safety.
Walmart, in retail marketing, and and PepsiCo, in industrial markets, lead the "sustainability" trend. They must appeal to Wall Street investors, employees and customers who want products produced in "environmentally friendly and sustainable ways." They want assurances that farms and factories are "aggressive" in cutting greenhouse gases and improving soil health.
United Sugars Inc. sells to 39 targeted companies, delivered to 298 distribution centers. That sugar went to 38,000 retail outlets in 41 states on its way to households. The company last year sold nearly 6 million hundredweights (600 million pounds) of sugar in its "retail segment," more than double what it sold in 1980.
Bulk sugar and bags of granulated, powdered and brown sugar was sold through nearly 500 customers and delivered to 1,100 use points in 46 states, used in thousands of beverage and food formulations by industrial clients.
America's taste for sugar has grown. In 1985 — at the height of sugar displacement by high-fructose corn sweetener in the U.S. — about 7.5 million short tons of sugar were consumed in the U.S. Today, Americans consume 12 million tons of sugar per year — a 60% increase.
Sugar is "fed to bees," Swart said.
And a market out of left field: sugar is even used in a "fruit fly neutering program," Swart said. "The U.S. Department of Agriculture feeds sugar to fruit flies in Texas and neuters the males (with radiation) to control the population."
"Yeah, you heard that right," he said, grinning.