What will the next farm bill look like? We asked some lawmakers who plan to play a part in crafting the bill
Agweek talked to Rep. Brad Finstad, Sen. John Hoeven, Rep. Dusty Johnson, Sen. Amy Klobuchar and Sen. Tina Smith about their views on and goals for the next farm bill.
The farm bill is once-every-five-years legislation that encompasses numerous priorities around food and agriculture. The 2018 version was signed into law on Dec. 20, 2018. It will expire on Sept. 30, 2023.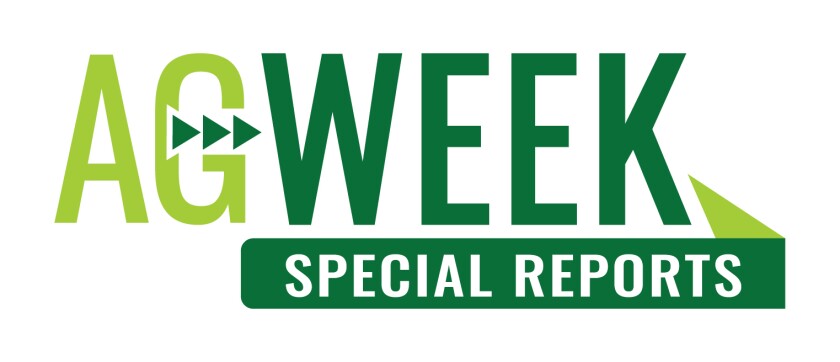 The farm bill is a massive piece of legislation Congress is called on to pass every five years. The bill encompasses farm policy and food insecurity, leading some members of Congress to call the farm bill a matter of national security. The current bill, passed in 2018, expires on Sept. 30, 2023. In this month's Agweek Special Report, we examine the farm bill — why it exists and what it does. That includes in depth looks at crop insurance and food insecurity.
While the farm bill will be voted on by all members of Congress, members of the House and Senate Agriculture committees are particularly invested in writing the bill. Agweek talked to five members of the committees from Minnesota, North Dakota and South Dakota to gauge how they view the legislation and what they see coming in the writing of the new farm bill.
Rep. Brad Finstad R-Minn.
Rep. Brad Finstad R-Minn., is just over six months into his new position as a representative for the 1st District of Minnesota. Already he's been selected to serve as a member of the House Committee on Agriculture and chairman of the Subcommittee on Nutrition, Foreign Agriculture, and Horticulture. His quick rise to agriculture leadership in politics is backed up by his life as a corn and soybean farmer from south central Minnesota, who drives John Deere tractors.
"I break things everyday and then figure out how I'm going to fix it," he told Agweek. He said he wanted to get involved because he felt he didn't belong in politics.
"When it comes to the farm bill, most folks in rural America would say we have a pretty good one that's set to expire," he said. "And I think as we move forward, my goals have been that we need to make sure that this next farm bill, we approach it, you know, that it's going to be written by the farmer, for the farmer. By rural America, for rural America. Not by bureaucrats for bureaucrats. Not by D.C., for D.C."
Finstad said the crop insurance arm of the farm bill is a key factor in farm stability.
"That has been the one safety net, or that one backdrop that has really allowed farmers to stay in the game," he said.
He said crop insurance has worked extremely well for the corn and soybean farmers, but he said some work could be done to expand it to animal agriculture.
Finstad is also interested in looking at the conservation chapter of the farm bill. His family owns a soil laboratory, so soil health is important to him. But he wants to make sure that conservation dollars are targeted towards the most vulnerable land, that the programs remain voluntary, and that they do not compete with production farming.
As the goal of creating food is to feed others, nutrition is another area Finstad thinks needs some work. He mentioned the food deserts that have been created in the last 10 years in rural areas. The traditional grocery store in some rural communities has been replaced with a convenience store. While fresh, healthy food may not be common there, what is available may not be eligible for purchase with a SNAP cards or similar funds. Finstad wants to look at how to bridge that gap to fill a need.
"What we do on the farm makes such a difference for a family that is struggling financially, to make sure that they're well fed and then they have that opportunity for a hand up, an opportunity to succeed," he said.
While that issue doesn't seem "sexy," Finstad said it's what needs to be done.
"This is like the blocking and tackling that make rural America work," he said.
Finstad opened up Farm Bill Coalition meetings on Friday, Feb. 10, 2023, in New Ulm, Minnesota. This meeting brought together farmers, producers and rural Minnesota stakeholders from the 1st District. He believes the farm bill can be done on time with enough conversations and working to help people understand. He thinks he can be the guy that can make that happen as he continues to learn this new role and bring his "boots on the ground" experience.
For Sen. John Hoeven, who has served in the Senate since 2011 and has moved up the ranks both in the Senate Ag Committee and the Senate Ag Appropriations Subcommittee, the farm bill is one of the most important pieces of legislation for the country.
"Our farmers and ranchers produce the highest quality, lowest cost food supply in the world, and that benefits every single American, every single day," he said.
For the upcoming farm bill, Hoeven said it's vital Congress "maintain and take whatever steps we can to strengthen" crop insurance — which he calls the No. 1 risk management tool for farmers.
The last two farm bills, Congress has made funding for crop insurance mandatory so that USDA can't use money intended for crop insurance on other things. Hoeven says that's vitally important.
Hoeven's No. 2 priority is to make sure counter cyclical programs Agriculture Risk Coverage and Price Loss Coverage (often called ARC/PLC) are updated for current times.
Since the 2018 farm bill, ad hoc programs for things like trade wars, the COVID-19 pandemic and natural disasters have pumped billions of dollars into the farm economy. Hoeven said by making crop insurance and counter cyclicals a priority, "we really mitigate the need for that other funding."
About 84% of the actual costs of the 2018 farm bill went to nutrition programs, Hoeven said. Historically, that has been about 80%, with farm programs accounting for 20%. The nutrition programs are important, but he said the creeping cost is a concern.
"At the same time, we want to create the right incentives for people to be self-reliant and work and all of those things," he said.
The nutrition programs also are important to getting the bill completed, as there are far more urban legislators than rural, because there aren't enough rural lawmakers to pass anything, he said. The nutrition programs give the farm bill something everyone can relate to.
"You can't pass a farm bill without the nutrition," he said.
Hoeven said part of what needs to happen is that rural lawmakers have to better explain what happens on the farm and how the true ag portion of the farm bill, if properly accomplished, can lead to a better food supply, more variety and more food, which in turn can reduce the cost of the nutrition program.
"They really have an incredible incentive in terms of working with us on the traditional farm bill," he said.
Other programs Hoeven thinks need to be highlighted include the following:

The sugar program — "vitally important" for the Red River Valley and for stable sugar prices.
Enhanced livestock programs, on which he has co-sponsored bipartisan legislation with Sen. Jon Tester, D-Mont.
Trade — "If we get them access to markets, we win."
Research, including on things like crop genetics, crop diversity, plant diseases and livestock diseases.
Hoeven anticipates a push for conservation programs. He said those programs are also important but need to be structured in a way that works for farmers and ranchers and can't be tied to crop insurance or counter cyclical payments.
"Conservation programs have to be farmer friendly," he said.
Hoeven is hopeful a new farm bill can be completed by Sept. 30, and lawmakers have been hard at work, including holding field hearings. If the current bill needs to get extended, it wouldn't be the first time, he pointed out.
"I hope we can get it done this year, but if not, we'll have to get it done next year," he said.
Getting it done fast shouldn't be the priority, he said: "What I'm most concerned about is getting it right."
Rep. Dusty Johnson, R-S.D.
Rep. Dusty Johnson took office in January 2019 — not long after then-President Donald Trump signed the 2018 Farm Bill. So this is his first farm bill while in Congress. He said he had an exceptionally high level of interest and understanding of the legislation because he previously worked in the area of rural broadband — one of the many vast subjects addressed in the legislation.
What he knows in particular is that the bill is complex legislation that serves as a "proving ground for lots of serious legislators who care about details." And he wants to be part of figuring out those details.
"So many issues in D.C. get packed up by one party or more often by both as bumper sticker slogans. Many politicians are more interested in using the issue as a wedge or as a way to call attention to themselves rather than solving the problem. The farm bill has never been like that," he said. "I'm happy to report that there remain plenty of serious legislators on both sides of the aisle who want to get a farm bill done on time and on budget."
The farm bill isn't just what keeps farms moving, he said — it's important to the health and security of the nation, he said.
"We know that food security is national security. The farm bill helps to make sure that we have some predictability and some risk management tools available to producers that otherwise might be lacking in the marketplace," he said. "Before we had farm bills, you could literally have a multigenerational agricultural operation go bankrupt because of bad storms or a couple seasons worth of bad prices."
And with more than 75% of the farm bill costs tied to nutrition programs, it's about more than on-the-farm security.
"It's not just about making sure that we can raise and grow our own food in this country; it's about making sure we have safety net programs like SNAP available to people," he said.
Keeping those farm and food programs together gives everyone a buy-in to the farm bill. Johnson pulls out anecdotes like that there are only around13 states with more cattle than people and only about 35 members of the House who represent districts that are more rural than urban by population.
"That's not to say that people in urban and suburban districts aren't going to care about production agriculture," he said. However, rural representatives are "most acutely aware" of what agriculture contributes to the economy, but "we would find it very difficult to get it done" without non-rural reps.
The farm bill has been a work of a coalition of Republicans, Democrats, Congressmen and Senators, city folk and country folk, he said: "The farm bill serves people who raise, process or consume our food — which is to say everyone."
For this year's bill, he said crafting a farm bill "that meets the needs of Americans while still being fiscally responsible" is key. He likened it to a cafeteria line, where some things won't make it on the tray.
"Clearly, we're not dealing with an unlimited amount of money," he said.
Chief among his goals is updating the reference pricing in some of the risk management tools to account for a "radically different" financial environment for prices and input costs than in 2018. He also is interested in finding ways to better encourage working lands conservation programs — like the Conservation Stewardship Program and the Environmental Quality Incentives Program — which he said have had impressive outcomes.
Also high on Johnson's list is providing additional risk management tools for people in the cattle industry.
Johnson also has some concerns about the ad hoc assistance that has gone out since the last farm bill.
"It's probably not the way we should be helping producers to manage risk," he said. "Are there some things we can do to products like crop insurance that might make ad hoc relief or disaster assistance less commonplace?"
That also comes back to fiscal responsibility, and while he is sure plenty of "city folk" are concerned about making sure the farm bill programs work, he's heard more scrutiny for the ad hoc assistance from producers themselves.
"Their first, second and third goal is to make a living by selling their products, making a living in the market, not making a living from government programs," he said.
U.S. Senator Amy Klobuchar, D-Minn.
U.S. Senator Amy Klobuchar, D-Minn., is preparing for her fourth farm bill since she came on as a senator in 2007.
Klobuchar looks to use her expertise in farm bill planning as she gears up to get this one passed in a timely manner. She learned early on from former Rep. Collin Peterson that what often matters most to farmers is a fair deal that allows them to continue doing what they love.
"Farmers want parity, they want a fair deal," she recalls Peterson saying when the two met in Detroit Lakes, Minnesota, when she was in the running for U.S. senator along with several other Democrats.
Focus of 2023 Farm Bill
Klobuchar sees the pandemic having a large impact on the next farm bill.
"There are some issues that have come up that we don't usually focus on with the farm bill," she said.
Part of that is the workforce shortages that have arisen. Some topics that have popped up and perhaps even worsened due to the pandemic include a greater need for child care and housing for workers.
Some things are working well, according to producers she and her staff heard from in Minnesota listening tours in January 2023. Crop insurance, dairy margin and the sugar program are safety net areas that have helped farmers stay in business.
One thing she heard repeatedly about was emergency relief and the need for a strong response to avian flu, which smacked the poultry industry hard in recent years.
While she helped push forward a biofuels agreement for E15, that work is not done. Year round E15 is a proposal she wants to see happen quickly. (E15 is gasoline blended with 10.5% to 15% ethanol.)
"We had it, and then we didn't because of a court decision," Klobuchar said. "So I think that would be a real game changer if we could get that year round."
While she wants to advance proposals across the farm bill, energy biofuels and rural development are areas she's especially interested in.
She also wants to make sure conservation and research programs continue to be a benefit to the farmer.
Klobuchar encourages people to watch the Senate and House Agriculture Committees hearings from home to stay up to date on what topics are currently being discussed.
People can stay in touch with farm related issues by staying connected with national associations like Farm Bureau, Farmers Union, or various grain and meat associations.
U.S. Senator Tina Smith, D-Minn.
U.S. Senator Tina Smith came to the Senate in January 2018 and has been involved in the Senate Agriculture Committee since then. She considers it the most important committee she serves on as she prepares for passing the next one.
She said the farm bill touches all areas of life. Minnesota is unique in that it's the only state in the nation with two Senate Democrats (including Klobuchar) serving on this committee. Iowa is the only state with two Senate Republicans serving on that committee: Sen. Joni Ernst and Sen. Charles Grassley.
"The farm bill is a really big deal," Smith said. "It is a nearly trillion dollar bill. It covers really every aspect of what happens; it touches every part of life."
Smith said she and her staff have had close to two dozen hearings or listening sessions since early 2022 to hear from producers and other experts involved in the process of sculpting the next farm bill. What she is hearing is that producers are feeling the pinch.
"As one farmer told me, 'Prices go up and it seems like they hardly ever come down when it comes to our costs,'" Smith said. "So that's very much on my mind, kind of what that economic environment is for Minnesota farmers."
She added that she's hearing concerns of consolidation, inflation, lack of meat processing, and a concern over fertilizer and seed costs.
"What's happening over time is that farmers and ranchers, the producers, are keeping a smaller and smaller portion of that food dollar and I worry about that because a lot of farmers are working a job off the farm or they have both spouses working a job off the farm in order to make the economics of it work," Smith said.
But there is also some energy around the future of farming. Smith spoke about ethanol, solar and wind as key areas of growth that can help Midwestern states grow their economy, lower energy prices and create clean power.
Smith believes that the pandemic revealed some fragility in the system. That includes a lack of health care, child care and housing, especially in rural areas. The farm bill won't make these problems disappear. Smith notes that it's not just about throwing more money towards these issues, but digging in to see if current programs are even working.
Smith has hopes that the farm bill will be passed in a timely manner.
While Democrats are in control of the Senate and Republicans in control of the House, there are people on both sides that want to see this done, Smith said, and many people that depend on it.
Smith will be serving as chair of the subcommittee on commodities, risk management and trade for the next two years, some key parts of the farm bill.
"It's going to be a great opportunity for me to be useful to folks in the ag sector and I am looking forward to it," Smith said.