Pork industry sees Prop 12 enforcement hurting pig farmers, consumers and animal health
The pork industry says the U.S. Supreme Court's split decision to uphold California's Proposition 12 law will create hardships for pork producers, consumers and animal health.
The pork industry says the U.S. Supreme Court's split decision to uphold California's Proposition 12 law that regulates space given to breeding pigs and their offspring will create hardships for both pork producers and consumers, as well as possibly having a negative impact on animal health.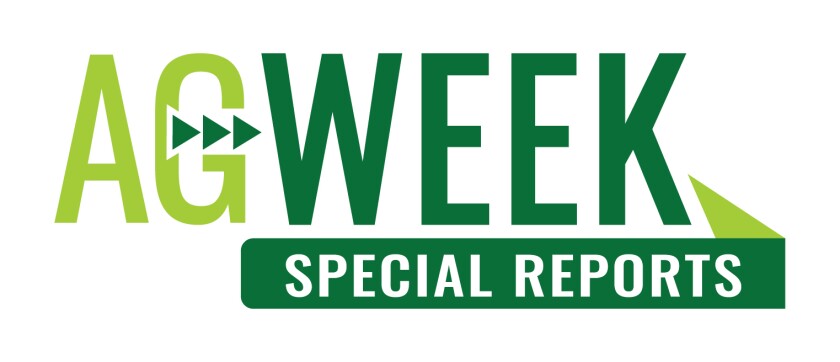 Meat processing was disrupted badly during the COVID-19 pandemic. The shutdown of major packing plants put a spotlight on local processors. Our Agweek Special Report looks at the current state of meat processing, including the impact of state and local funding and the impact of policy.
Proposition 12 is a voter-enacted law that considers confinement of pigs "cruel" if it prevents a pig from "lying down, standing up, fully extending (its) limbs or turning around freely." California voters approved an initiated measure proposing the law in 2018 with 63% of the vote.
While supporters of the law promoted it as a move to improve animal health, pork producers say that doesn't hold up. One major issue with the law is that it seeks to stop the use of gestation stalls.
Gestation stalls are small spaces in which sows are housed alone. While they have room to stand up or lie down, they often can't walk around or move freely. The American Veterinary Medical Association in a literature review noted that there have been found to be pros and cons with gestation stalls as well as with group pens or free range situations. Sows in gestation stalls can have confinement injuries or behavioral issues. But the advantages of gestation stalls, the AVMA review noted, was the ability to feed sows to meet individual needs, to view and evaluate conditions, and to protect sows from aggression. The AVMA has not found evidence suggesting that one method of sow housing is better for animal health than another.
"I think it was maybe not understood by the public that the gestation stalls actually help protect the sow," said Eric Weaver, assistant professor at South Dakota State University. "Yes, they don't have the freedom to move and turn around and they don't have as much space, but they are a social animal with a social hierarchy, and they sometimes can be hard on each other, so they can fight and that results in injury."
The U.S. Supreme Court has upheld California's Prop 12, but the decision and its dissents left open possibilities for new ways to fight the law that curtails tight confinement of some livestock.
The sows are kept in the gestation stalls for roughly 110 days.
"I am not sure (the law) did a lot for the sows themselves, because the care that we already give sows and I think that was the misconception in California, is that the care is really really good for sows housed in stalls," Weaver said. "I don't think it really improves the health of the herds — in fact it is probably just a slight negative to (not using the stalls)."
Jill Resler, CEO of Minnesota Pork, said consumers can be assured that Minnesota pork producers already take great care of their animals.
"Minnesota pig farmers' No. 1 priority every single day is going to be to provide quality care to the animals in their care," she said. "There's a lot of different ways to raise pigs, and as long as they're getting the care that they need, that's up to each individual producer to dictate what they do on their farms."
Scott Hays, president of the NPPC board of directors, said that for a fifth-generation pork producer like himself, the decision by the Supreme Court was a "real unfortunate turn of events."
"We've raised pigs for a long time on our farm, like many producers across the Midwest, and with help from our swine veterinarians, we know we're the experts in raising pigs," Hays said. "And now we may have to raise pigs in a way that is dictated by some folks who really don't know much about it.
But if producers want their products sold in California — which multiple documents in the Supreme Court case cited as 13% of the domestic pork market — they'll have to comply by July 1, 2023. And that will be expensive.
"It's a high cost to convert facilities for sure," Weaver said. "I would say the cost, conservatively I would think it is going to cost a few cents per pound of pork to implement the changes."
Resler said Prop 12 would require 24-square feet per sow.
"If you look at the footprint of a sow farm today, for example, you're either going to have to add square footage to comply with the 24-square-feet requirement, or you're going to have less animals on that site," Resler said.
Tamra Heins, North Dakota Pork Council executive director, said the implications for North Dakota pig farmers are as of yet unknown.
"We do know that very few farms across the United States are in compliance. These well-intentioned regulations will have enormous negative consequences for the small to midsize farmer. More consolidation will likely occur as the costs associated with retrofitting current barns will be astronomical," she said.
Resler estimates Minnesota pork producers have a "double-digit percent" of their market in California.
"It's a significant market for the U.S. pork industry, so I think we have to take that into consideration as we look at a decision like the Prop 12 decision here, and how that has a ripple effect on production practices and product availability in the country," she said.
What remains to be seen is how anyone will determine if producers are complying.
"It's a little unknown how those regulations are going to be implemented as far as on the farm, whether it will be an audit approval system or other ways to change how the producers raise animals," Weaver said.
The costs won't stop with producers. Resler called the decision on Prop 12 by the U.S. Supreme Court "disappointing" for producers as well as consumers.
"I think it's disappointing for pig farmers, but I think let us not also forget the impact that it has on consumers," Resler said. "The ones that are going to really be impacted at the end of the day are going to be California consumers. And in an environment in which California consumers are already dealing with some of the highest food prices in the country, this decision will just compound that impact."
"It is going to raise the price of pork in California. I don't think there is any doubt about that. These are very expensive changes that producers will have to take in order to produce pork under those requirements," Weaver said.
The pork industry feels that the California voters who put Prop 12 in place already had the option to choose how they wanted the pork they purchased to be raised.
"They had the ability to choose pork from different production systems, so they really didn't gain anything," Weaver said. "They could have been buying pork bought under those circumstances before the regulations were put in place."
But the increased regulations could create a premium for producers looking to sell pork in California.
"Pen gestation doesn't really cause a loss of productivity, it just increases the costs. So if there is a premium there that California consumers can pay, I think there will be some producers very interested in changing," Weaver said. "It will be an economic point, I think, at the end of the day."
Resler said if individual producers see an opportunity in the market for a specific genetics or production practice, they're going to follow that pathway.
"I think the key there is that it's driven by the market, and not by legislation," she said.
National Pork Producers Council CEO Bryan Humphreys said the ruling on Prop 12 comes at an especially unfortunate time for pork producers in the country.
"The industry is in a tough time, and this ruling comes at a difficult point for industry, where we are facing high input costs in some of the most challenging economic times that the pork industry has seen in 20 years," Humphreys said. "It's not only a difficult ruling, but it's a difficult time for our industry to navigate through this."
But he said the challenge of Prop 12 wouldn't be a knockout blow to the industry.
"The American pork producers are known for being resilient, and we have been dealt blows before, and we'll learn to navigate and work our way through as best as possible," he said. "Even in these challenging times, never underestimate the desire of the American pork producer to succeed even in light of these challenging struggles that we face."
Others agree.
"We've been through tough times before, and we'll figure this one out, as well," Hays said. "It's just a real unfortunate turn of events for us."
"Pig farmers are resilient, and they're going to figure out how to move forward, and continue to provide great animal care to the animals that they're responsible for, while also ensuring that they can provide a wholesome, affordable product for consumers in California and elsewhere," Resler said.
Weaver hopes that other states will do their research before considering implementing these same changes.
"I would hope all states kind of take a breath, take a fresh look at this and say 'Did it really help? Did it really help the animals or is this all just perception?'" Weaver said. "I would hope that all the other states as they consider any kind of change that they would be a little more objective to it with the legislation as well. I don't think there was as much known from the consumers viewing this about pig production as what I hope the future states will have."