Partnerships for Climate-Smart Commodities aim for big greenhouse gas reductions through agriculture
The USDA has put $3.1 billion into 141 projects expected to reach more than 60,000 farms and sequester as much carbon as removing 12 million gas-powered passenger vehicles from the road.
What would it mean to climate change to remove 12 million gas-powered passenger vehicles from the roads of the U.S.? Katina Hanson, acting senior advisor for climate smart commodities at the U.S. Department of Agriculture, said that would take 60 million metric tons of carbon dioxide out of the atmosphere.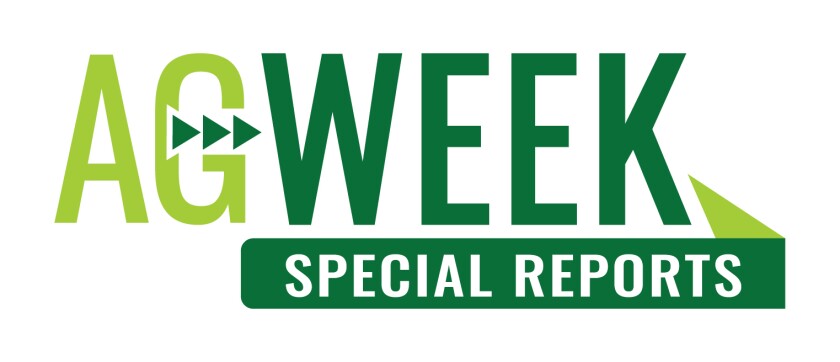 Climate plays an important role in agriculture, and changing — and sometimes more erratic — weather patterns can mean changes for agriculture. But programs addressing climate change also hold opportunity for the industry. We explore what's going on in the climate of the northern Plains, what it means for agriculture and food, and what new climate programs and projects can mean for farmers and ranchers.
But no one is talking about taking passenger vehicles off the roads at USDA. Instead, they're putting up money to see whether changing agricultural practices can have an equivalent impact, with $3.1 billion in funding from the Commodity Credit Corporation tied to 141 projects in the Partnerships for Climate-Smart Commodities expected to reach more than 60,000 farms and 25 million acres. In all, Hanson said the projects could sequester more than 60 million metric tons of carbon dioxide — the same amount that would be reduced by cutting all those passenger vehicles.
U.S. Agriculture Secretary Tom Vilsack in February 2022 announced the U.S. Department of Agriculture planned to invest $1 billion in partnerships to support "climate-smart farmers, ranchers and forest landowners."
But when the first round of proposals came in, there was $20 billion in interest, Hanson said during the USDA's Ag Outlook Forum.
"That spanned across groups from farm groups, to environmental groups to conservation to everywhere in between," she said.
Vilsack on Sept. 14, 2022, announced $2.8 billion in investments in 70 projects under the Partnerships for Climate-Smart Commodities. Those, Hanson explained, were large projects, each getting tentative grants of $5 million to $100 million.
"They're large pilots that can help us to understand at scale how we can benefit the climate," she said. Each of the projects also had to have a plan for reaching small and underserved producers. "We are reaching out to everyone to come in the door."
On Dec. 12, 2022, Vilsack announced an additional $325 million in 71 projects. Those were smaller projects, ranging in grant amounts from $250,000 to $5 million, Hanson said, explaining that not all partnerships could sustain a large project. All of the projects in the second funding pool were aimed at involving small, underserved producers.
In total, that's $3.1 billion in projects aimed at implementing climate smart production practices on working lands, measuring and monitoring greenhouse gas benefits associated with the practices and developing markets and promoting the resulting climate smart commodities. The money pledged by USDA is only a portion of the money being put into the projects, Hanson said. The majority of the projects also have matching funds tied to them.
"We know the climate challenge is tremendous," Hanson said. "And there is so much opportunity to agriculture to benefit as well as to provide benefits."
The Partnerships for Climate-Smart Commodities funding is in addition to other climate-related funding at USDA .
The projects for the Partnerships for Climate-Smart Commodities run the gamut of U.S. agriculture, including ADM and Partners' Climate-Smart Solutions, Low Carbon Beef's A Fully Integrated Lifecycle Approach to Reduce GHG Emissions from Beef Cattle at Commercial Scale , South Dakota State University's The Grass is Greener on the Other Side: Developing Climate-Smart Beef and Bison Commodities , and many more that incorporate row crops, specialty crops, livestock, forestlands and virtually every segment of U.S. agriculture. Hanson explained that the projects all are working toward final contracts with USDA.
Joining Hanson at an Ag Outlook Forum session on Partnerships for Climate-Smart Commodities were Field to Market president Scott Herndon, Dairy Farmers of America director of sustainability Hansel New and Intertribal Buffalo Council executive director Troy Heinert.
Each project is taking a vastly different approach to reducing greenhouse gas emissions, and the three highlighted at the Ag Outlook Forum show the breadth of the efforts.
Field to Market, for example, is the lead partner on the Climate-Smart Agriculture Innovative Finance Initiative. The project aims to use innovative finance mechanisms to accelerate climate-smart practice uptake by farmers and to leverage private sector demand to strengthen markets for climate smart commodities. Partners in the project will provide technical assistance and financial incentives to producers while tying climate-smart practices to commodity purchases.
The estimated $70 million project plans to operate in 30 states and focus on championing cover crops, low- or no-till, and nutrient management or enhanced efficiency fertilizers to increase supply of climate-smart corn, cotton, soy and wheat.
Herndon said Field to Market began 15 years ago to "unite the market toward sustainability," but "the interest has gone through the roof" more recently. The goal of the Climate-Smart Agriculture Innovative Finance Initiative is to "unite the value chain" toward incentivizing climate-smart practices.
Dairy Farmers of America, meanwhile, is heading the Scaling Methane Emissions Reductions and Soil Carbon Sequestration - A Value-Added Commodities Approach for United States Dairy project. That $45 million effort intends to connect the on-farm greenhouse gas reductions with the low-carbon dairy market opportunity.
New said DFA intends to ensure that the financial benefits from new markets related to climate-smart practices stay on the farm, further incentivizing more of its farmers to make changes. Given that many DFA farmers raise their own feeds, New said there are many practices in farming and in dairy production that can be implemented and measured. Farmers have been very efficient with their land and have been open to trying new things in regard to methane digesters, feed additives and other practices.
"There's still room for improvement," he said.
The InterTribal Buffalo Council illustrates the smaller of the Partnership for Climate-Smart Commodities' projects, with the $4.95 million project entitled Recognizing the Role of Buffalo Production as a Climate-Smart Commodity. Partners plan to distribute project funding to 76 tribes to incentivize their use of climate-smart practices related to buffalo herds. The Tribal Buffalo Market Initiative also plans to assist tribes in marketing their buffalo as a climate-smart commodity, develop sustainable programs for historically underserved tribal buffalo producers and create a tribal led national strategy for education and outreach of buffalo as a climate-smart agricultural product.
Heinert, a member of the Rosebud Sioux Tribe and a former South Dakota Senate Minority Leader, explained how buffalo have long been part of the prairie landscape.
"From the beginning of time, buffalo have been the original climate regulators on this continent," he said.
Heinert said their grazing stimulates plant growth through an enzyme in their saliva, which means grazing "leaves behind a wave of green." While buffalo may never return to their pre-colonization numbers, he said his organization has increased the number of the species by 23,000. The project aims at improving the practice of buffalo husbandry throughout the tribes involved in the InterTribal Buffalo Council and improve the markets, thereby continuing to improve the numbers of the animals and benefits to the land.
"We're going to be able to prove that buffalo is a climate smart commodity and it is good for the land and it is good for the buffalo and it's good for our people," he said.