North Dakota's first woman FSA executive director talks labels and agriculture common ground
Marcy Svenningsen, new state executive director of the Farm Service Agency, the U.S. Department of Agriculture agency that delivers farm support and loan programs to farmers, discusses the challenges of the times to a Democratic administration in an era of animosity when most farmers support Republican administrations.
FARGO, N.D. — Marcy Svenningsen recently was named the North Dakota state executive director for the Farm Service Agency.
Svenningsen, 60, is a political appointee of the federal administration — the 11th "SED" that North Dakota has had in the post. The FSA is responsible for implementing farm price support programs, disaster programs, and the Conservation Reserve Program, to name a few things. The organization has about 300 employees, statewide.
She acknowledges it when asked — yes, she's the first woman to hold the post in North Dakota.
The first one to ask about that was her seventh grade granddaughter at Hettinger, North Dakota. Svenningson answered that a collection of portrait photos of her predecessors indicated 10 men, and no women.
So, yes, it was true.
"Cool," her granddaughter said, saying she'd tell her friends at school.
Svenningson doesn't emphasize the fact.
"If talking about it inspires her and other kids — women — to seek out positions of leadership, then it's a great thing," Svenningsen said, of the gender aspect. The value the Biden-Harris administration puts on"diversity" may have been a factor. She said she had "no doubt that because I am a woman it didn't hurt my chances to be appointed to this position."
But she also has no doubt she's a "qualified woman" for the post.
All three top USDA jobs in the state now are held women. Besides Svenningsen at FSA, Mary Podoll has served as the state conservationist with the National Resources Conservation Service since 2011 , and Biden has nominated state Sen. Erin Oban, D-Bismarck, to head the state's office of USDA Rural Development .
Svenningsen was born in 1961 and grew up on a family farms in the Valley City, North Dakota. Her parents, Ray and "Lil" Borg, still raise cattle.
Marcy graduated high school in 1979 and married husband, Greg, in 1980, who farmed a few miles away. They started farming about 10 miles west of Valley City. They bought a line of used equipment and started by renting land, raising wheat, durum, barley, as well as the then "new" soybeans, and a little corn for silage.
She earned an associate's degree in accounting from Valley City State University, expecting simply to use it on the farm
"In 1983, we were paying 18% interest," she said.
Seeking off-farm income, she applied for a job with the Open Door Center, in Valley City, a not-for-profit corporation that provides services to people with disabilities. Within three years she became the business manager. She went to part-time as finance director in 2010 and continued that through 2021. Greg in 2021 completed 12 years on the North Dakota Wheat Commission.
Today, Marcy and Greg farm and ranch in tandem with their son, Adam, 36, and his wife, Tara. Their daughter, Sarah, is a preschool teacher at Hettinger, North Dakota. She and husband, Seth Skogen, branch manager for Dakotah Bank, also farm and ranch.
Marcy had an accidental start in politics and farm organizations.
In the mid-1990s, when farms were beginning to heal from the 1980s farm credit crisis, someone from the Barnes County Farmers Union called and asked if Marcy would run for a seat on the county board.
"I said, sure," she said, incorrectly thinking she'd agreed to a spot on a local Farmers Union supply cooperative board. She was unable to attend the meeting where she was elected.
Later, the North Dakota Farmers Union state office sent her a "policy and action" summary.
"I read that policy, cover to cover," she said, and realized the organization "stood up for the things I believed in."
In 1999, she ran for the state NDFU board. She served for 12 years, serving on national policy and action committees. In her time with the organization, the NDFU in 2006 launched Founding Farmers restaurants in Washington, D.C., and they are involved in seven Beltway area restaurants. The fare is listed as "sustainably grown" and "homemade." (The first two restaurants in the group are are Agraria LLC, in whom the Svenningsens are small investors. The rest are investor-owned, but the same management.)
"It was kind of a risky venture, but we felt it was so important to tell the story of agriculture outside of preaching to the choir here in North Dakota," she said, hoping to spread the message "that hey, people here in the Midwest are growing your food and you're benefiting from that."
In the Obama administration, Marcy was appointed to the five-person state FSA board, and would serve as its chair. The state FSA board meets monthly appeals from farmers who don't agree with a county FSA committee's determinations.
Among emerging issues at the time was the then-new Livestock Indemnity Program. Appeals often involved producers timely reporting losses for compensation. Producers could appeal the state committee decisions to the National Appeals Division.
In 2011, she voluntarily went off the NDFU board. In 2012, she won a seat on the Cass County Rural Electric Cooperative board of directors. She was one of eight candidates and the only woman running.
As a political appointee when "the Dems" are in, again, Marcy is acutely aware that only about 30% of the state votes for Democrats in elections, but she's also philosophical.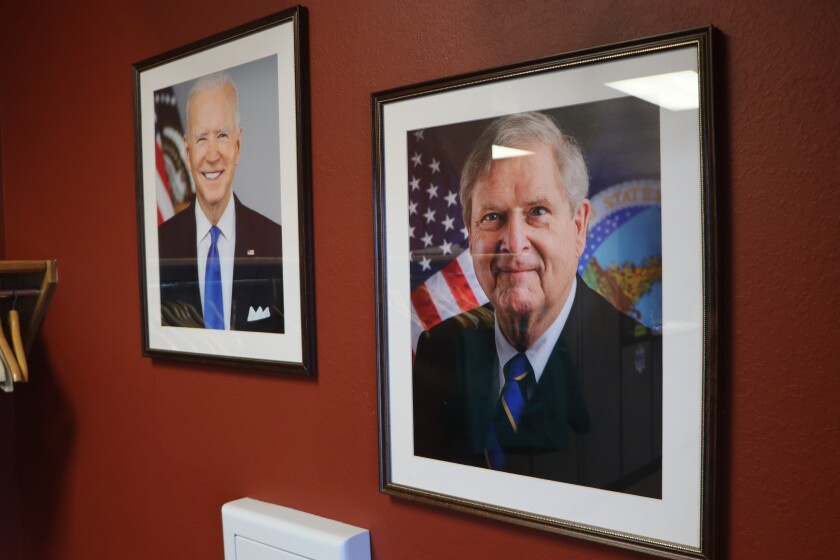 "In agriculture, I think when producers all sit down together, we definitely agree on a lot more things than we disagree on," she said. "Sometimes labels hurt us. Sometimes labels tend to be divisive — whether Democrats and Republicans, or Farmers Union and Farm Bureau."
What do they agree on?
"That it's difficult to find good help on the farm, that they want to get their income from the marketplace and not the government," she said. "We absolutely agree that we have to have a good, strong crop insurance program because the risks that we have out there on the farm are huge, and are going to be quite big this year."
Marcy hopes people will realize she has a strong agriculture background. She said she'll be "an advocate for all producers in North Dakota, not just 30% of the producers. I want all of the producers in North Dakota to succeed, to access USDA programs."
With farm program payments being so important these days, she acknowledges concerns that some farmers violate "the spirit of FSA rules" in payment limitations. Some have gotten away with simply paying back what they improperly received, with no criminal prosecution.
"As a producer, fraud really bothers me," Svenningsen said. "I have a very difficult time when somebody tries to use fraud when it comes to farm programs. What it does is cause the rest of us to jump through a whole pile of hoops that we wouldn't had to if somebody wasn't always trying to circumvent the rules."
She said it is government attorneys — not FSA — who must decide when to bring criminal charges.
"We've had people who have gone to prison before because of those things," she said. "Ninety-eight percent of people are doing the right thing, and they're trying to do the right thing. Those 2%? Shame on them."
As an appointee, Marcy will communicate Biden-Harris administration priorities.
Among the "pluses" are the American Rescue Plan Act, which provides infrastructure improvements on roads and bridges that will help farmers.
"The investments in the next ten years, producers are really going to welcome," she said. Emergency relief under ARPA hasn't rolled out quickly but will be available.
She looks forward to climate-friendly incentives for farmers.
"It's important to realize those are going to be incentive-based," she said. "There's not going to be any 'club' that says, 'You have to do this or you're not in the farm program.' That's not how USDA works. That's not how it's ever worked."
As an example of how the incentives work, she talked about how payments on her own farm helped them buy a no-till drill. She said she hadn't yet "delved into" concerns about less popular policies such as the Waters of the United States.
Before Svenningsen's arrival in late March, FSA veteran Brian Haugen served as acting SED. Some top positions — a compliance director and a district director post — waited for the permanent SED.
Todd Hall, a Killdeer, North Dakota rancher who had served with Svenningsen in the Obama years, was named chairman of the state committee. Svenningsen has nominated four new committee members to fill out the committee. She expects them to be vetted and confirmed within a month. Until then, Hall sometimes makes some decisions and others go directly to the National Appeals Division in Washington.
Svenningsen said the FSA will help in the volatile times ahead for agriculture.
March 11 was the deadline for the Conservation Reserve Program signup, with 372,000 acres expiring Sept. 30, 2022, in the multi-year land idling program. The staff runs "scenario" options for producers. Some producers are on a "register" after the deadline.
As of March 14, 2022, the FSA offices are back with doors open, no masks required.
On March 15, farmers signed up for the ARC/PLC (Agriculture Risk Coverage/Price Loss Coverage) programs.
Commodity prices — affected by the Russian invasion of Ukraine and by the weather — have made those decisions more difficult.
"I would like to say things are rosy in agriculture, but I don't think so," she said. She is concerned about a severe drought, and especially about producers in western North Dakota, where three counties are in the "D3" extreme drought category.
"Come April 15 (2022) producers in those three counties will be automatically eligible for the Livestock Forage Program," she said.
Some will also be eligible for the Emergency Livestock Assistance Program, which helps for hauling water and feed to livestock, among other things.
"My sense is that the government payments really helped carry producers," she said, in the past year. Like all farmers, she hopes for timely rains in 2022.