Livestock leaders say farmers need to engage in climate conversations
Minnesota dairy farmer Steve Schlangen and beef producer Don Schiefelbein say farmers need to be involved in environmental policy, even if they don't buy into all the climate change theories.
To Don Schiefelbein, whether a beef producer thinks fears about climate change are legitimate or not doesn't really matter, but they can't shy away from the issue.
"So regardless of your position as a cattle producer who may believe, 'That's just phooey stuff that they're talking about,' if we don't engage in that conversation, others dictate on how that conversation goes," says Schiefelbein, a Kimball, Minnesota, producer, who in February wrapped up a term as the president of the National Cattlemen's Beef Association.
Those others would include environmentalists concerned about how methane-producing cows might contribute to climate change and those trying to steer consumers away from beef and other meat products.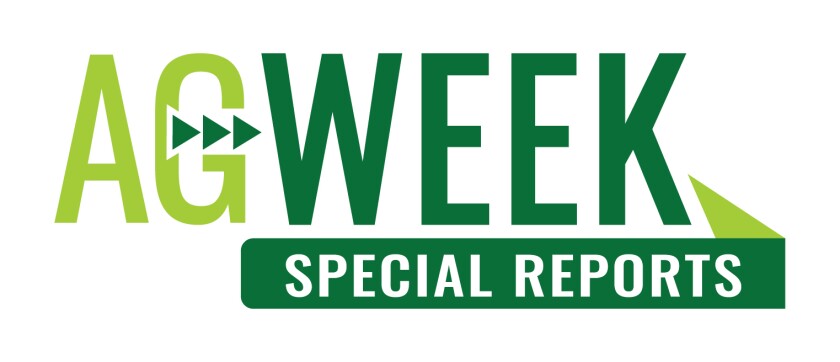 Climate plays an important role in agriculture, and changing — and sometimes more erratic — weather patterns can mean changes for agriculture. But programs addressing climate change also hold opportunity for the industry. We explore what's going on in the climate of the northern Plains, what it means for agriculture and food, and what new climate programs and projects can mean for farmers and ranchers.
A United Nations panel called the Intergovernmental Panel on Climate Change on March 20 released a report saying that 22% of global greenhouse gas emissions come from agriculture, forestry and other land use.
"We have to figure out a path forward that defends our industry but also talks logically and practically to consumers in terms they want to talk about," Schiefelbein says. "So they want to talk about, what is this industry doing to help the climate? What are we doing to help global warming?"
Steve Schlangen, a dairy farmer near Albany, Minnesota, and a member of the National Milk Producers Federation board of directors, has a similar message for the dairy industry.
"Whether we believe climate change is a big issue or not, we need to do the right thing," Schlangen says. "And if we can do the right thing and hopefully make our farmers more productive and more profitable … those are probably a win-win for everybody."
The National Milk Producers Federation has set a goal for the dairy industry to be carbon neutral by 2050, and Schlangen said farmers are "even ahead of schedule there," but dairy needs to keep telling its story.
"We have a great story, we just need to tell it, I think better and more often, because people are looking for something that they can feel good about consuming," Schlangen says. "And by telling our good story, that gives them the right to eat our good dairy products because they know that there's a good story behind it."
Schlangen in March traveled to Washington, D.C., for policy meetings and to help educate policy makers about agriculture.
"I just know that the ag community has to be involved and has to be part of the discussion in Washington," Schlangen said. "We have to be there because there's very few people there that understand agriculture much at all."
Schlangen and Schiefelbein both are pushing the message that cows aren't bad for the environment. In fact, they argue the opposite.
"We're actually a big part of the solution," Schlangen says. "And we've been that for a long time. And I think we're making progress to be more and more part of the solution to whatever issues are out there."
Years of sustained efforts earned Steve and Cheryl Schlangen an Outstanding Dairy Farm Sustainability award from the Innovation Center for U.S. Dairy in 2022.
In filling out an application for the award, Schlangen said they listed 30-some practices they had implemented on their 60-cow, 200 acre dairy over the years.
"There's just so many different things that you kind of do over time, that you do one at a time, and you don't think much of them, but when you go back and add them all together, they make quite a bit of difference," Schlangen said.
Schlangen, who is chairman of the American Milk Producers Inc. board, started farming in 1986. He said some of the first things they did was limit runoff and add vegetative buffer strips along the edge of a field.
"It took away 16 rows of some of the nicest corn I had," Schlangen said, but once the grass was established, it could be hayed and baled for feed.
"I really felt like we got a pretty good return out of the acres, even though it wasn't in corn," Schlangen said.
Schiefelbein Farms, which specializes in seedstock and includes Don and seven brothers and six nephews, farming south of St. Cloud, has evolved dramatically in the last 20 years, he said.
Technology, better hybrids and better manure management mean higher yields while using less synthetic chemicals and more efficient use of all inputs.
Better genetics means they are getting better quality beef even though they are using more feed that used to be thought of as waste products, such as sugarbeet pulp.
"We're using that magic rumen stomach to digest that," he said.
He said while it would make sense to most people that grass-fed beef would be better for the environment, the efficiency of operations like Schiefelbein Farms changes that.
The farm can have a steer ready for market at 13 months old already weighing 1,350 pounds. A beef cow in Brazil, for example, would take three years to get that size, he said.
"You would think logically if you went to grass, it would be better, until you say, 'Boy their footprint and their length of time on this earth is three times longer, then you're saying, boy, just from a carbon output standpoint, they are by far worse."
Schiefelbein said consumers can't be faulted for not understanding the beef industry.
"The first thing is understanding our enemies want us out of business and they're using climate discussions to do it," Schiefelbein said. But, he adds, "If you dive in about 2 inches deep, you'll find out that cattle are a solution to the environment and climate management, not a problem."
While methane is a greenhouse gas, Schiefelbein says not all greenhouse gasses are created equal. He said carbon dioxide has been found to remain in the atmosphere for decades.
"Then there's gas that cattle produce, methane, that basically works its way out of the environment after 10 or 12 years," Schiefelbein said.
So while cows are generating methane daily, it's leaving the atmosphere at about the same rate, and not building up like CO2.
Schiefelbein also says not enough is understood about methane and how livestock might affect climate change, for better or worse, to tie certain farming practices to public policy.
Schlangen, too, said it's not wise to tinker too much. For example, a trend in the dairy industry is to use biodigesters to turn methane from manure into natural gas and there might be government incentives to do it. But, he said, it requires having about 5,000 dairy cows to make the investment worthwhile. Smaller producers sometimes band together to make it work, but there might be the temptation to add milk cows to reach critical mass.
"So now they're expanding for reasons other than 'we need the milk,'" Schlangen said.
"And down the road, if you just have too much milk, we know what happens to the milk price. If we have 1 or 2% too much, it can really hurt the milk price.
"So all these things have got to be kind of balanced and hopefully done in a smart way, otherwise we're going to have some bigger issues."
One issue area for Schiefelbein as president of the cattlemen's group has been an effort from the federal Securities and Exchange Commission, to require publicly traded companies to track sources of carbon emissions, including suppliers to those companies, which may include livestock producers.
He said beef producers have to be willing to engage in that dialogue but is skeptical that such a requirement would benefit agriculture.
"What are the odds of them understanding our business?" Schiefelbein asks.