85 years after its inception, the Federal Crop Insurance Program has become a big part of agriculture
The Federal Crop Insurance Act was passed in 1938 to reduce farmers' financial risk during crop-related disaster like those that had occurred during the Great Depression and Dust Bowl years.
Federal crop insurance has undergone many revisions since its establishment by Congress 95 years ago, but its original intent to keep farmers on the land has remained steadfast.
The Federal Crop Insurance Act, passed in 1938 initially was an experiment designed to help agriculture recover from the double whammy of the Great Depression and Dust Bowl years. The act created the Federal Crop Insurance Corporation, which was owned by the U.S. Agriculture Department.
Before Congress created the FCIC the widespread catastrophic losses that occurred in agricultural production made it difficult for private insurance companies to provide affordable policies, the National Association of Crop Insurers website says.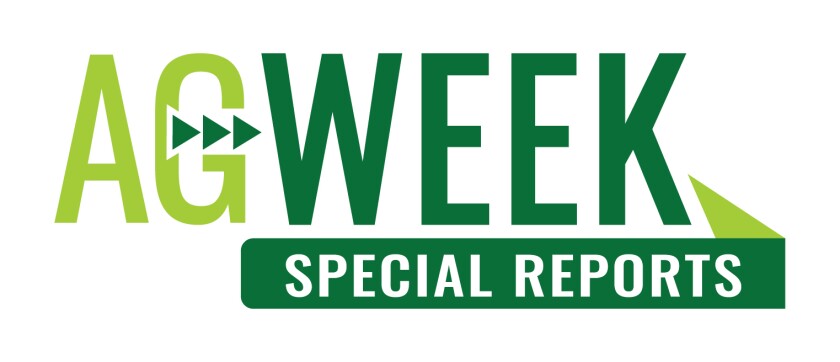 The farm bill is a massive piece of legislation Congress is called on to pass every five years. The bill encompasses farm policy and food insecurity, leading some members of Congress to call the farm bill a matter of national security. The current bill, passed in 2018, expires on Sept. 30, 2023. In this month's Agweek Special Report, we examine the farm bill — why it exists and what it does. That includes in depth looks at crop insurance and food insecurity.
The intent of the Federal Crop Insurance Corporation was threefold: Protecting farmers against crop failure or price collapse, protecting consumers against shortages of food supplies and extreme prices and assisting business and employment by providing an even flow of farm supplies and establishing stable farm buying power.
"It keeps farmers in business," said Howard Olson, AgCountry Farm Credit Services senior vice president of government and public affairs. "It makes it so they can farm again another year."
Federal crop insurance also provides stability to farmers lenders, said Olson, who is based at AgCountry Farm Credit Services in Fargo.
Tony Richards, a Hope, North Dakota, farmer, can't conceive of not taking out federal crop insurance because, although he may not need it every year, when he does, it helps keep him in business.
"It's crucial to protect risk. With the cost of everything, I don't how you don't take it out," Richards said.
In 2011, a year after Richards started farming with his father, for example, participating in the program covered input and other costs when his crops were destroyed by separate rain and hail events.
"It's one of those things that might happen once out of 10 years, but once out of 10 years can make or break a farmer, especially a young farmer," Richards said.
Before the program evolved to where it is today, though, it went through many revisions.
The program remained an experiment, covering only a limited number of crops, for 42 years until the Federal Crop Insurance Act of 1980 expanded it to include a wide variety across the United States.
The act was intended to encourage farmers to buy federal crop insurance to protect themselves from planting and yield losses instead of relying on the free disaster coverage that had been offered under Farm Bills in the 1960s and 1970s, according to the U.S. Agriculture Department Risk Management Agency website.
Instead of providing the free coverage, which had competed with the experimental program, the 1980 FCIC Act authorized a subsidy that was equal to 30% of the crop insurance premium, which was linked to the dollar amount at 65% coverage.
While many farmers participated in the FCIP program after that act was passed, it didn't achieve the level Congress had intended and four ad hoc disaster assistance bills that paid farmers for losses for both droughts and excessively wet conditions were passed between 1988 and 1993. The passage of the disaster assistance, which was competing with federal crop insurance program, led to another revision in the form of the Federal Crop Insurance Act of 1994, which made participation in the program mandatory for farmers who wanted to be eligible for deficiency payments, price support programs and other benefits
The 1994 program created catastrophic or CAT coverage — which had a premium that was fully subsidized — to compensate farmers whose losses were 50% of an average yield paid at 60% of that year's established price, RMA said. Participants in the program paid $50 per crop per county, depending on how many crops and counties farmers insured. The subsidies for enhanced coverage levels also were increased in the 1994 Act.
Crop revenue coverage, which was a precursor to today's revenue protection, was a big "plus," Olson said.
"Now you had price protection, and not just yield protection. That was just a huge positive for the farmers," he said
The revenue protection allowed farmers to forward price their crops because they know if they have a crop loss they can buy the bushels they need to fill the contract.
"That was just a huge positive for the farmers," Olson said
In 1996 Congress repealed mandatory participation. However, farmers who accepted other benefits were required to purchase crop insurance or otherwise waive their eligibility for any disaster benefits that might become available for the crop year. Those provisions remain in effect.
Congress also created the Risk Management Agency in 1996 to administer FCIC programs and other non-insurance risk management and education programs that support U.S. agriculture.
As the FCIP has evolved, it has become increasingly complex.
For example, in 1993, when Doug Hagel was regional director of RMA for North Dakota, South Dakota, Montana and Wyoming, there were two crop insurance handbooks, each totaling 200 pages.
The 2023 Crop Insurance handbook, which is one of five RMA handbooks dedicated to disaster coverage, has 903 pages. The other four range in pages from 36 to 240.
The revisions, though, also have resulted in an improved FCIP, said Hagel, who worked for RMA from 1993-2014.
"The cost of it increased for farmers and producers, but it became a much better product," he said.
Despite the increased complexity of the FCIP, participation in crop insurance significantly increased after the Federal Crop Insurance Act of 1994 and remains strong.
Farmers insured more than 90% of planted U.S. corn and soybeans and more than 85% of wheat acres through the federal crop insurance program in crop year 2019, the Congressional Research Service said. Farmers enrolled a record high of 379.9 million acres in federal crop insurance, which they purchased from 16 companies.
That crop year, farmers purchased more than 2 million policies and insured crops and livestock valued at $116 billion, which is the equivalent of nearly 30% the value of U.S. agricultural production. The FCIP provided coverage for a total of 124 commodities and offered 19 types of insurance policies, the Congressional Research Service said.
North Dakota, South Dakota and Minnesota farmers participate heavily in the Federal Crop Insurance Program, covering more than 99%, 98% and 95% of their soybean acreage, respectively, in 2018, the Farm Bureau said. Meanwhile, North Dakota farmers covered 97% of their corn acres, while South Dakota farmers covered 98% and Minnesota farmers covered 95%. Coverage of wheat acreage in 2018 was 97% in North Dakota, 93% in South Dakota and 92% in Minnesota in 2018, the Farm Bureau said.
The acreage numbers would be smaller if farmers didn't participate in the FCIP because some wouldn't want to risk planting them, Olson said.
For example, farmers in northern North Dakota wouldn't plant as many acres of corn and soybeans — crops that are fed to livestock and poultry — if they couldn't insure them through the FCIP.
Keeping farmers on the land to grow crops on those acres is important to national food security, Olson said.
Fewer acres of corn and soybeans would result in higher prices for feed, leading to a reduction in livestock production, and, ultimately, higher prices at the grocery store.
A drought-induced reduction on the cattle on feed in Iowa is an example of that, Richards said.
"It wouldn't take too many bad years or weather years or drought, it would take a lot of people out. You're going to run into a shortage pretty quick," he said.
Federal crop insurance also ensures that children will have food that is used in school lunch programs, Richards believes.
"It goes more than to the grocery stores; it goes to the kids at school," he said.
The Federal Crop Insurance Program is key to food security because it assures farmers will be able to stay in business when weather causes crop damage and disaster, Hagel believes.
"You're dealing with Mother Nature, and we've all begun to see across the country what Mother Nature can do," he said. "I think Congress and the Senate saw that, why it's always been so important and why they've tied it to" nutrition programs, also in the farm bill.