Crop insurance insider Mike Clemens sees program as 'private-public' partnership'
Mike Clemens, who farms at Wimbledon, North Dakota, has a hand in the program, serving a four-year term on the Federal Crop Insurance Corporation Board of Directors.
Mike Clemens recalls the state of crop insurance when he started back in 1975: It was cheap, didn't provide much coverage and a lot of farmers didn't bother buying it.
First established in the 1930s, crop insurance has evolved a lot in the decades since then, with federal programs covering more than 100 commodities from alfalfa to winter wheat, apples to oranges and covers both meat and potatoes.
"I call it a private-public partnership, that you have producers that paid premiums in through their insurance company. The insurance companies work with their underwriters, and then the federal government will get involved there also to make sure that the coverage is there," Clemens said.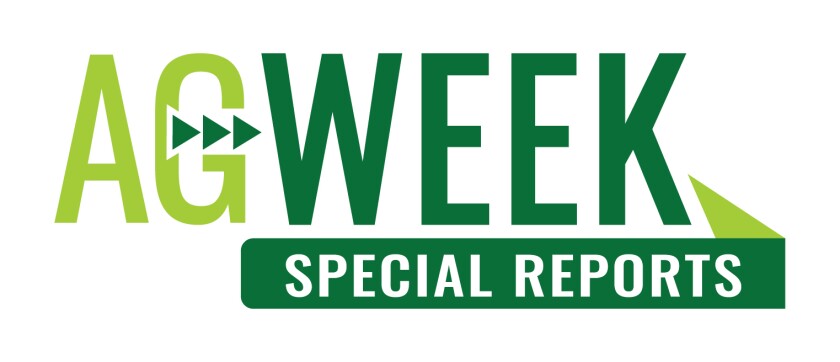 The farm bill is a massive piece of legislation Congress is called on to pass every five years. The bill encompasses farm policy and food insecurity, leading some members of Congress to call the farm bill a matter of national security. The current bill, passed in 2018, expires on Sept. 30, 2023. In this month's Agweek Special Report, we examine the farm bill — why it exists and what it does. That includes in depth looks at crop insurance and food insecurity.
Clemens, who farms at Wimbledon, North Dakota, has a hand in the program, serving a four-year term on the Federal Crop Insurance Corporation Board of Directors. He was appointed in 2018 by President Donald Trump's secretary of agriculture, Sonny Perdue, and his term expired in May 2022.
Coverage is subsidized by the federal government. A report by the Congressional Research Service stated that the Congressional Budget Office projects that net spending for crop insurance will be almost $40 billion for fiscal years 2021-2025 and more than $80 billion for 2021-2030 — including expenditures to subsidize farmers' policy premiums, compensate for private insurance providers' administrative and operating expenses, and reinsure losses from policies sold.
"I don't think the general public and many congressmen don't really realize how well this program really does work," Clemens said, who added that he has seen it change the decision-making for farmers and their bankers.
To get on the board, Clemens' resume included time on a public policy committee with the National Corn Growers Association after having worked on crop insurance issues at the state level in North Dakota, where he says crop insurance is vital.
"Enrollment in North Dakota is very high, because, guess what, it's either too hot, too cold, it doesn't rain, it rained too much. It froze last night, that was when the crop was coming up, and it froze again in the fall," Clemens said. "There are so many perils that seem like they get North Dakota, so crop insurance is a very important tool for producers in our state."
In 2021 in North Dakota, there were 23 different crops insured covering almost 22 million acres, 93% of the total acres.
The role of the Federal Crop Insurance Corporation board is to look at proposals and develop policies on new insurance products or modifications to existing products. One crop that was added during his time was hemp as it came back into favor.
And there were products for commodities that wouldn't fit the traditional definition of a crop — meat and dairy.
"The Farm Bureau came to us with a concept idea of having a dairy revenue policy. That was something that was going to be unique," Clemens said. Such new products need to be looked at from the producer perspective but also the insurance agent and underwriter point of view.
"So you had to put all that together to get an actual policy," Clemens said. "I would say that was a very successful product that came online."
And there has been a change away from insurance based on yield or production history.
"A lot of products that were being offered out there wanted to move into a revenue type of policy," Clemens said, that could reflect changes in the marketplace and factor in prices and production history.
Coverage also has evolved into bundling different commodities together.
"That's what it's all about is the revenue at the end of the day," Clemens said. "So that was a very instrumental part of it was to make sure revenue got covered, not just yield loss on a particular crop or vegetable or an apple issue, or peach issue or orange issue. To make sure that producers are getting the right type of coverage and hopefully at a reasonable price to them."
Serving on the board meant regular trips to Washington, D.C., for three days of meetings to go over different proposals.
"By the time you figure your travel in, you're gone a week at a time," Clemens said, plus homework before the meetings. But the COVID-19 pandemic interrupted those in-person meetings.
Being on the board helped him gain a national perspective and hear from other board members who had expertise in things such as orchards and cotton.
He recalls once the board being invited to have lunch with Perdue and having a chance to talk about issues other than insurance.
"That's where it was fun to have my producer hat on," Clemens said.