A 'meat and potatoes' look at what made up the 2018 Farm Bill
About $428 billion supports the dozen chapters of the farm bill over five years.
The Agricultural Improvement Act of 2018, or Farm Bill, had an outlay of spending $428 billion over five years. It was signed Dec. 20, 2018, and expires Sept. 30, 2023, though some provisions last beyond five years.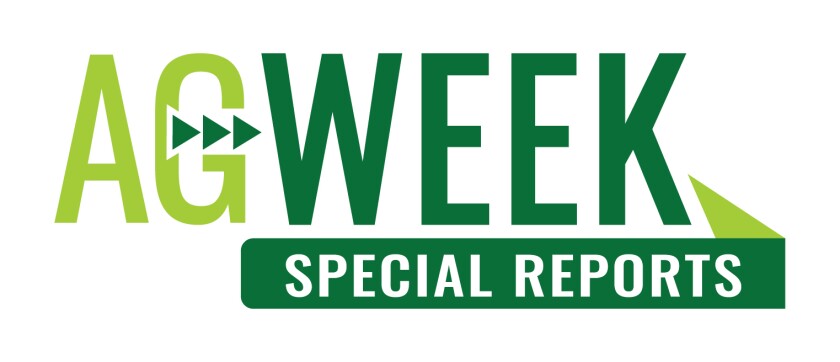 The farm bill is a massive piece of legislation Congress is called on to pass every five years. The bill encompasses farm policy and food insecurity, leading some members of Congress to call the farm bill a matter of national security. The current bill, passed in 2018, expires on Sept. 30, 2023. In this month's Agweek Special Report, we examine the farm bill — why it exists and what it does. That includes in depth looks at crop insurance and food insecurity.
Nutrition uses the bulk of funds (76%), followed by crop insurance (9%), commodity programs (7.3%), conservation (6.8%) and the remaining make up the final 1%.
Here's a breakdown of key areas, or titles, that the funding supports, according to the United States Department of Agriculture.
Title I – Commodity Programs
These programs provide pay for losses or in some cases reimbursements for both eligible dairy farmers and crop farmers. The three main commodity programs are Price Loss Coverage (PLC), Agriculture Risk Coverage (ARC), and the Marketing Assistance Loan Program.
The ARC Program is an income support program that provides payments when actual crop revenue declines below a specified guarantee level. The PLC Program provides payments when the effective price for a covered commodity falls below its effective reference price, according to the Farm Service Agency . Most commodity programs are mandatory and not subject to annual appropriations decisions by Congress.
Commodity payments can adjust to changes in market prices and yields, which makes the actual outlays just a projection. This means producers could receive higher or lower payments than projected.
This title is expected to use up about 7.3% of farm bill spending or $31.4 billion.
The conservation title of the farm bill contains reauthorizations, amendments, and new programs that encourage farmers and ranchers to voluntarily implement resource-conserving practices on private land , according to the Congressional Research Service. This includes working land programs, land retirement programs, easement programs, partnership and grant programs, and conservation compliance. Conservation Reserve Program is an example of a longstanding option for conserving resources on land. A big piece of the conservation component is focused on affecting climate change. Most conservation programs are mandatory and not subject to annual appropriations decisions by Congress.
This title makes up about 6.8% of the farm bill budget or $29.3 billion.
This title includes international food assistance programs, export market development programs, export credit guarantee programs and international science and technical exchange programs and provisions. These work to increase trade opportunities and provide much needed food aid for countries around the world. They include programs like the Borlaug Fellowship Program, Local and Regional Food Aid Procurement and Agricultural Trade Promotion and Facilitation.
A 2018 report showed that food security is expected to improve in countries across the world over the next 10 years, but challenges remain.
Title IV – Nutrition Programs
This makes up the biggest portion of farm bill spending, about 76% of the pie or $326 billion.
This title supports the Supplemental Nutrition Assistance Program (SNAP), the nation's largest food assistance program, maintaining the program's basic eligibility guidelines and work requirements while providing additional funding for enhanced employment and training activities. The 2018 farm bill increased funding for grants to promote healthy eating and established projects designed to reduce food waste in commodity donations to food banks and other emergency food providers. Other programs under the title include The Emergency Food Assistance Program, Commodity Supplemental Food Program and Food Distribution Program on Indian Reservations.
SNAP receives mandatory funding and is not subject to annual appropriations decisions by Congress.
The farm bill recognizes there are farmers with limited access to traditional lending and provides support by increasing direct loan and loan guarantee limits made by the Farm Service Agency. It places special emphasis on making loans to the next generation of farmers, including beginning farmers, farmers with limited means, and military veterans. It also relaxes limits to loans that can be sold to Farmer Mac by other institutional lenders, pending the result of a study by the Farm Credit Administration.
The 2018 farm bill boosted loan limits to be more in line with increases in land prices, inflation and an increase in USDA and Farm Service Agency programs.
Title VI – Rural Development
This part of the farm bill looks to invest in rural areas through health initiatives, broadband, economic development, utility facilities, business assistance, rural energy and cybersecurity. The 2018 bill supported measures to help rural populations recover from substance abuse; sought to increase access to broadband; and boost economic development projects through grants that assist business formations.
Title VII – Research and Related Matters
This portion of the farm bill handles matters of education — research, Extension funding, grants and fellowships for high-need areas — including veterinarians and agriculture education, research facilities, technology and much more.
Some changes in the 2018 bill included fixing discrepancies in how historically Black land-grant universities can use funds, authorizing competitive grants to land-grant institutions to support tribal students, targeting money to high-risk ag and food research unlikely to be taken on by private industry and to establish new Urban, Indoor, and Emerging Agricultural Production, Research, Education, and Extension Initiative, adding new priority areas for research funding, and making hemp eligible for research funding.
According to the Congressional Research Office, one-third of the land area in the United States is forestland. The federal government owns 238 million of the 765 million acres, and states and other public entities own 84 million. The rest is held by private entities.
Forestry has not been a title in every farm bill, but it has been in five of the past six, including making up Title VII of the 2018 version. The 2018 Farm Bill dealt with federal and tribal forest management and programs related to forests. The bill repealed a grant program aimed at minority and female students in forestry and one on bioenergy. It also authorized programs like the Landscape Scale Restoration Program — a Forest Service State and Private Forestry competitive grant program for forest restoration — as well as programs that promote wood use for energy, building construction and other uses that help remove forest biomass to prevent wildfires.
The Energy title in the 2018 Farm Bill focused largely on renewable energy. The bill authorized 12 programs and initiatives, many of which revolve around agriculture-based energy, including biofuels. Mandatory funding for Energy title projects made up just 0.1% of the total funding for the 2018 Farm Bill. However, funding for many programs in the title was considered discretionary.
Not included in the Energy title is the Renewable Fuel Standard, which is a program of the Environmental Protection Agency rather than the USDA.
The Horticulture title in the 2018 Farm Bill probably is most noteworthy for setting the stage for nationwide hemp production. While the 2014 edition had allowed hemp pilot programs, the '18 Farm Bill directed USDA to create a framework to regulate hemp cultivation under federal law and facilitate commercial cultivation, processing, marketing, and sale of hemp and hemp-derived products. The bill also created the Local Agriculture Market Program (LAMP), which combined and expanded existing USDA farmers' market, local food marketing and value-added processing grant programs.
Other topics in the title include matters related to specialty crops — like reauthorizing Specialty Crop Block Grants and Specialty Crop Market News data collection — as well as the USDA Organic Program — which included things to increase program enforcement and reduce fraud.
Title XI – Crop Insurance
The federal crop insurance program is one of the premier parts of the farm bill and an important part of the farm safety net. It also accounts for the second highest percentage of appropriations in the bill, with 9% of the 2018 bill. The USDA regulates crop insurance policies and subsidizes the premiums that farmers pay in. According to the Congressional Research Service, premium subsidies covered about 62% of the total average for policies sold in 2021 — a year in which 444 million acres and $150 billion in crop and livestock were insured through the program.
The Federal Crop Insurance Corporation — the agency that finances FCIP operations — is funded with mandatory appropriations of "such sums as necessary." The Congressional Research Center pegs that amount at an average of $9.1 billion, adjusted for inflation, from fiscal years 2012-21.
Title XII – Miscellaneous
The last title of the 2018 Farm Bill is a bit of a catch-all of programs and priorities that didn't fit in the other 11 titles. The includes programs and assistance related to livestock and poultry production — including disease preparedness a study on a livestock dealer statutory trust — and support for beginning farmers and ranchers, including historically underserved producers. Also included are ag-related directions the Office of Homeland Security, issues of food-related defense, the establishment of an Office of Urban Agriculture and Innovative Production and a Tribal Advisory Committee, and numerous programs. It even has portions dealing with pets and domestic violence.
The title also gives direction for the organization of the USDA, for trade and foreign affairs, for data collection and various reports.