Grand Farm announces 'permanent home' near Casselton, North Dakota
Officials of Emerging Prairie, a Fargo, North Dakota, non-profit technology and economic development group, on May 3, 2022, announced its new multi-million "Innovation Center" will be west of Casselton, North Dakota.
CASSELTON, N.D. — Officials and backers of the Fargo-based "Grand Farm" announced on May 3, 2022, that they will build a new "permanent" Innovation Facility, about two miles west of Casselton.
Proponents announced the selection in the theater of the Central Cass High School in Casselton, with an audience that included ag students. The event was headlined by North Dakota Lt. Gov. Brent Sanford, who said the site "drives a stake for autonomous ag innovation on some of the most productive land in the world." Technically, the address would be Wheatland, North Dakota, on the southwest corner of an exit off Highway 94, about two miles west of Casselton.
The multi-million-dollar Grand Farm Initiative — an entity of the non-profit Emerging Prairie in Fargo — has been working since 2019 to establish itself as a "maker space" for research and development of tomorrow's tools for farms.
The effort is focused on creating a "neutral" maker space, for attracting research and development projects involving artificial intelligence and autonomous function that researchers believe will help make tomorrow's farms the most efficient with labor and data-driven information.
Construction of the facility is expected to begin the fourth quarter of 2022. The announcement came on the heels of the Casselton City Council on May 2, 2022, approving a major soybean plant for the community .
Grand Farm's website mission is to "create the farm of the future by 2025 as the global example in solving challenges to farming worldwide." Visionaries for the entity include Barry Batcheller and Howard Dahl, agricultural equipment and technology entrepreneurs.
In 2019 Grand Farm announced its initial location, south of Fargo, and held events at the site from temporary tents and mobile structures. Now, they'll make rural Casselton Grand Farm's "permanent location."
In the May 3 announcement, Brian Carroll, director of the Grand Farm, said the initial "current" location had "exceeded expectations," but that Casselton offers "a network of established organizations from agriculture to transportation to finance," and the Grand Farm would join as "another piece of a deep-rooted ecosystem."
He said the site was chosen because the entity needed more than the 40 acres available at its initial "hub center" site, which itself involved 53 partners and 320 projects.
The Casselton site will be about 150 acres and will have visibility along Interstate 94, with quick access and availability to utilities. The facility will also be associated with a community that has long, strong agricultural business roots. The first phase of a structure could come into shape in the first quarter of 2023.
Carroll said he didn't yet know the cost of the structure, which will depend on the needs of "partners." It could cost a few million dollars, he acknowledged.
State Sen. Michael Howe, R-Casselton, said it was important that the site come to Casselton, which was the home of the Red River Valley's first large-scale "bonanza farm," with farming roots to the 1870s. Howe called it a "truly statewide project," which has national and worldwide implications.
"People from all over the world will come to Casselton to make farming more profitable, make it easier," and the developments there will help keep food costs down.
Melissa Beach, Casselton Community and Economic Development director, said her community should be a good fit because of "our long history in agriculture and abundant community and industry partners." She said she hoped the community could be a potential center for conferences, seminars and other activities.
Bernie Sinner, a city leader and president of BankNorth, said the project will be helpful to giving young people in the community a bigger reason to make their homes and careers there.
The Grand Farm idea is about three years old.
In 2018, Batcheller, a long-time agricultural equipment and technology entrepreneur, described a need to declare and develop a "major" area of expertise in ag technology for the Red River Valley and surrounding areas.
In April 2019, the Grand Farm Initiative project was launched with a ribbon cutting involving then-U.S. Agriculture Secretary Sonny Perdue. Since then, the Grand Farm team has launched numerous projects and events. The same year the effort got a $1.5 million boost from the Microsoft Corp.
The vision is developing projects that will reduce the amount of labor needed for such projects as grain harvest. Instead of four or three to five workers, the job could only take one, aided with the proper technology, Carroll said.
On Feb. 14, 2022, North Dakota Gov. Doug Burgum announced Grand Farm would receive a $10 million matching grant from the Department of Commerce .
"It's an investment that will further accelerate ag innovation, and it's going to have a transformative impact on the future of North Dakota and our nation's agriculture," Burgum said. (The announcement was in Emerging Prairie's "Prairie Den" new headquarters, in the historic Black Building, owned by the Kilbourne Group, an entity founded by Burgum.)
The one-time COVID funds are described as an "Autonomous Agriculture Technology Matching grant" of $10 million. For the private match, Gary Tharaldson, a hotel entrepreneur and owner of Tharaldson Ethanol plant at Casselton, has given $1 million, which itself is being matched by other area businesses for a $2 million local start. That will lead into a more public opportunity for the grant match effort, which will start next fall.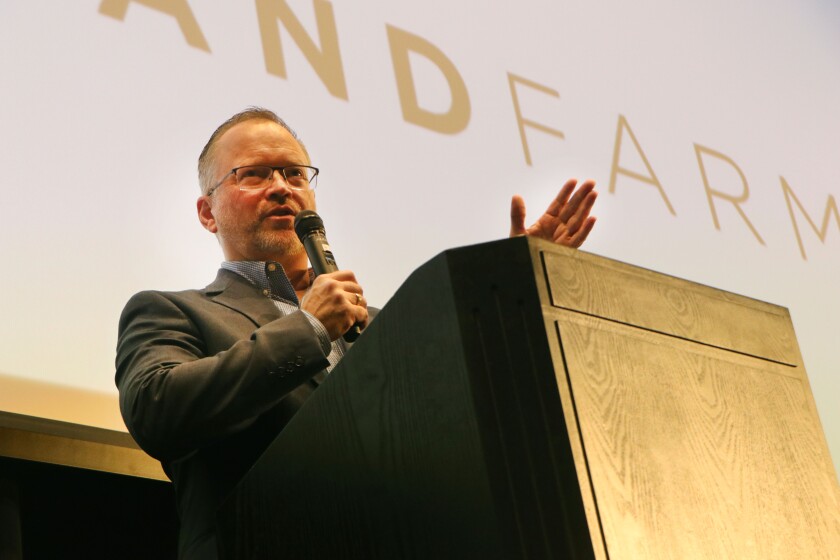 Besides strong ties to research involving North Dakota State University in Fargo, Sanford said expected themes include involving the Northern Plains UAS (Unmanned Aircraft Systems) Test Site in Grand Forks, North Dakota, and said there could be developments that link to the future — even growing food on Mars.
"Our companies have always been leaders in global innovation," he said.
"Autonomous ag has the potential to be good not only for efficiency in production, but also for our bottom lines and for environmental stewardship, which is foundational to North Dakota ag heritage," Sanford said.