Four finalists up for North Dakota FFA Star Farmer
One of the biggest honors to be decided at this week's North Dakota State FFA Convention is the selection of the state Star Farmer. This year's four finalists encourage younger students, regardless of connection to agriculture, to get involved in...
One of the biggest honors to be decided at this week's North Dakota State FFA Convention is the selection of the state Star Farmer.
This year's four finalists encourage younger students, regardless of connection to agriculture, to get involved in FFA. They all cited their parents as inspiration for their FFA involvement.
The finalists have the strong supervised agricultural experiences required of a Star Farmer and were quick to share their FFA experiences.
Cierra Dockter
Before Cierra Dockter got involved in FFA at Medina High School, she had a speech impediment. But she overcame it with the help of livestock judging reasons and other communications projects.
"I've come a long way with just my communication and public speaking," she says.
Dockter joined FFA in the seventh grade. Both of her parents and her sisters had been in FFA, her mom being one of the first females in her chapter, and Dockter already had a strong interest in agriculture.
Dockter's supervised agricultural experience keeps her busy. Her diversified livestock operation has included laying hens, butcher chickens, registered Gelbvieh cattle, farrow-to-finish hogs, and dairy and meat goats. Dockter says her only sport was cross country which has morning practices, so her afternoons after school were freed up to care for her menagerie.
Her favorite FFA activity has been livestock judging. She enjoys giving reasons, taking advantage of the opportunity to describe a class of animals and explain her rationale for her placings.
As part of the North Dakota Stockmen's Association mentorship program, Dockter was hooked up with KFGO Radio ag broadcaster Sarah Heinrich as a mentor. The experience helped Dockter decide to major in agriculture communications at North Dakota State University, with a minor in animal science. She hopes to work in print or broadcast agriculture journalism.
Dockter says FFA has taught her about teamwork, money management and time management.
"It's helped prepare me a lot more so than any other organization I've ever been in," she says.
Brandon Hoyme
Brandon Hoyme has been working on his family farm since he was 10 or 11, "driving every piece of equipment you can name," he says.
So, getting involved in FFA at Kindred High School, as his father did before him, was a natural fit.
Hoyme's favorite part of FFA has been agronomy. He enjoys competing in crop judging as well as learning about crops, seeds and weeds. That lines up well with his supervised agricultural experience, in which he farms 80 acres of cropland that he rents from his grandfather.
Hoyme says FFA has helped him build leadership skills, and he cites the organization's leadership events as important for preparing him for the future.
"It's a good, key part of life," he says.
Hoyme plans to attend Minnesota State Community and Technical College in Moorhead, Minn., to become a diesel mechanic. The knowledge he gains in college will come in handy when he returns to the farm and provide him with another way of supporting himself.
"It's a side job just in case anything goes wrong," he says.
Hoyme says FFA's variety of contests and activities make it something anyone should consider joining, regardless of their agricultural background.
"FFA was a big part of my high school career," he says.
Cole Ketterling
Cole Ketterling joined FFA at Wishek High School in the seventh grade. It was expected of him. His dad had been a state Star Farmer, and his two older siblings were FFA members.
Once he got through that first year, Ketterling knew FFA was a good fit for him. He's participated in activities across the spectrum of the organization: ag sales, farm business management, creed speaking, nursery and landscaping, parliamentary procedure and a variety of other events and speaking opportunities.
Ketterling's supervised agricultural experience combines a cattle and a crop operation. He has cow-calf pairs that he runs on grass and yearlings in the feedlot. He also farms 300 acres of cropland that he rents or owns.
Ketterling doesn't think the scale of his operation makes him any different than other farm kids in his area. There are others with their own burgeoning cattle herds and quarters of cash crops.
"It's kind of what you do when you grow up around here," he says.
The lessons in preparation, professionalism, communication, time management and balance Ketterling has gained in FFA will go with him in the fall to North Dakota State University, where he plans to major in agriculture economics and accounting. He hopes to work as a loan officer or ag lender and eventually transition back into working on the family farm.
"Agriculture to me isn't just an industry," he says. "It's a lifestyle."
Monica Schmitz
Monica Schmitz doesn't describe her pre-FFA personality as just shy.
"I would say I was pretty much a hermit crab," she says.
Her father, as well as Harvey High School FFA advisor Wade Anderson, began working on getting her into FFA when she was in eighth grade. She got involved to get out of her comfort zone.
"Now I've made so many friends," Schmitz says, recalling the new relationships sprung out of trips the National FFA Convention.
Schmitz was adopted out of Romania when she was younger than 2, and she fell in love with cattle while growing up on the family farm. She always wanted to own some of her own, so her dad sold her 10 cows when she was a freshman.
Since then, she's expanded her herd by seven. And even though she describes herself as "tiny," she has learned to take care of everything. Working at a local vet clinic has helped, too, so she's now able to tag, band and vaccinate her animals.
"It's my passion," she says. "It doesn't really matter my size."
Schmitz plans to take a year off of school, then take online classes to become a veterinary technician. She wants to stay in the area to be with her cattle.
"They are a big part of my life," she says.
Besides the friendships, communications skills and social skills she's gained in FFA, Schmitz says the record keeping and animal science skills she's learned while working on her SAE have been invaluable.
1
/
4:
Cierra Dockter of Medina FFA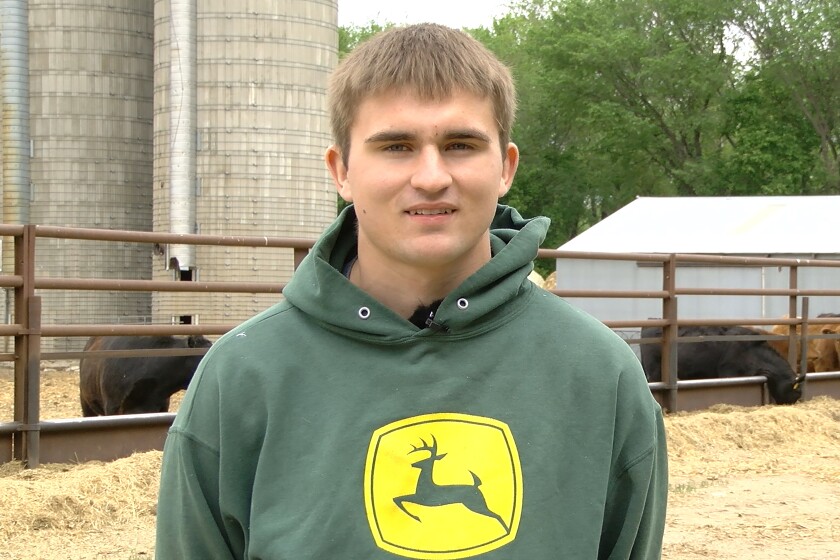 2
/
4:
Cole Ketterling of Wishek FFA
3
/
4:
Brandon Hoyme of Kindred FFA
4
/
4:
Monica Schmitz of Harvey FFA