Looking for a gift for the farm family in your life? Here are 11 ideas
The Agweek team offers gift ideas for the upcoming holiday season.
We are part of The Trust Project.
Christmas is around the corner, and the Agweek team wants to help you brainstorm some gift ideas for the farm family in your life.
No two farmers or ranchers are the same, of course, but many share similar traits and activities. Our team has both professional and personal connections to agriculture, so we understand the life.
You'll note that not all of these gifts are things that are going to be useful on the farm or ranch. Instead, they're gifts that recognize that farmers, ranchers and their families are complete people, who sometimes need something to relieve stress or get away from the grind.
Let us know of some holiday ideas you have for the farmers and ranchers in your life, too!
Keep your farmer from being cranky with an insulated Yeti coffee mug. From sunrise to sunset, farmers are out taking care of their livestock and their land. To help make those early mornings less of a struggle, get your favorite farmer an insulated Yeti coffee mug . Odds are, they'll be out the door before finishing their last drop of morning joe. With their new gift, they will be able to enjoy their much needed caffeine from the cab of their combine to the dew-covered pastures.
(Courtesy of Emily Beal, AgweekTV anchor)
Kids can carpet-farm on the 'home place'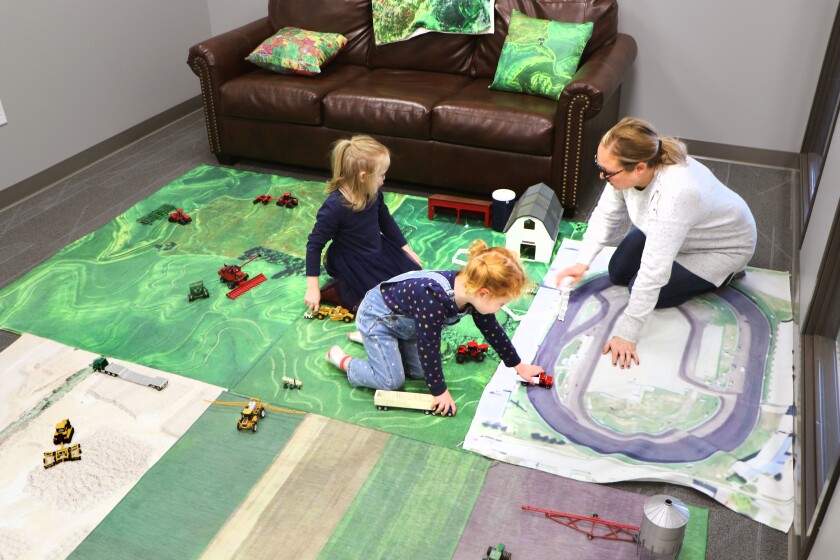 Order a generic farm land "play rug" or order up your very own farmstead. Agtech consultant Nathan Faleide of Wheatland, North Dakota, in 2022 started a novelty company that provides images on products from satellite, aerial photos in the U.S., Canada, and some foreign countries. Prices vary with size. (Example: 4x6 foot generic: $140, shipping included; Custom, $180.) Later, Boundri will provide custom wall hangings, planning maps and booklets other items. Order from websites: www.boundri.com , and www.boundrimaps.com .
(Courtesy of Mikkel Pates, Agweek reporter)
Jump starter booster pack
As a guy with a lot of things that need to start, who happens to live in a place where it gets really, really cold, I can't suggest a jump starter booster pack enough. From making sure my lawn tractor with a snowblower starts in the dead of winter to having a surefire backup in case the pickup or side by side decides not to start on the lake while ice fishing, I don't go far without a Noco jump starter. They come in a variety of sizes from booster packs made for small cars or motorcycles all the way up to the one I'm suggesting for Agweek readers , which will jump start large pickups or even tractors and can start your engine either from alligator clips directly on your battery or via cigarette lighter from inside the cab. They're super safe. The units themselves charge up quickly and most models have USB ports to conveniently charge your phone, tablet or other device while on the go.
(Courtesy of Al Winmill, Agweek sales consultant)
No matter how warm the rest of the body is, cold feet make being outdoors miserable. With that in mind, Darn Tough socks are designed to keep feet warm in winter's cold and what farmer or rancher wouldn't appreciate a pair or two? They come in men's and women's sizes, are guaranteed for life and you won't break the bank buying them.
(Courtesy of Ann Bailey, Agweek reporter and special sections coordinator)
You might call Pit a board game but there is no board. There's also no taking turns, which is a big part of the fun. Instead, players are shouting at each other in a frenzy to trade cards representing commodities such as soybeans and cattle in an attempt to corner the market (get all the cards of one commodity) like the trading pits of the old days. The game says it is for a minimum of three people but really at least four are needed for real fun. It is a fast-paced party game that is simple to learn and can involve multiple generations — ages 6 and up. Be warned: The game can get loud.
(Courtesy of Jeff Beach, Agweek reporter)
Who doesn't like a nice warm bath on a cold winter day? Birds do too! I bought my husband an electric heated bird bath from bestnest.com for Christmas a few years ago, and it has survived our cold winters just fine. There are several styles available, in a wide range of prices, from free-standing models to a bowl that attaches to a deck railing or other surface. Bonus, unplug it in the spring, it's still a bird bath! Fun winter viewing, especially when you pair it with a seed mix that attracts your favorite birds.
(Courtesy of Rose Dunn, AgweekTV producer)
Last year during the county fair, I saw kids spraying their livestock with soap. That seemed much easier and more effective than the method I grew up with, which was wetting down my animal, fumbling with shampoo bottles and inevitably tipping them over, then scrubbing down the animal with my hands and assorted combs and brushes before rinsing, only to find that I'd definitely missed a spot. This Weaver Leather Livestock Foamer is on my daughter's wish list this year. It's supposed to not only eliminate some of the fumbling, bumbling with shampoo bottles but also save soap and save time. The soap-filled apparatus hooks to a hose, and the suds spray out. You can scrub the animal, then remove the foamer from the hose and rinse. If you have a livestock showman on your list, this or other show utensils are always welcome. Check what they think would help them to get that blue ribbon next year.
(Courtesy of Jenny Schlecht, Agweek director of ag content)
This is the perfect winter hat for our farmers that love their ball caps. It has a ballcap brim, with flaps to keep your ears and neck warm! This Men's Superior Hat from Duluth Trading is my dad's favorite hat to wear during chores in the winter months.
(Courtesy of McKayla Eversman, Agweek sales consultant)
Last summer at the local county fair, my mom noticed our daughters didn't have their names on their belts. This was their first time in the show ring with beef heifers. The girls wore belts we had purchased at a local farm store. A belt with his name on it is what my grandpa always wore on the farm. Outside of the farm, ranch and rural corners, this is not a fashion statement, but where we come from, it's what the folks wear: a belt with your name on it. Last year at Christmas each daughter unwrapped a gift from my mom, leather crafted belts with Elizabeth and Anika written on it each, their own customized farm belts to wear. The girls' belts could be seen this year in the barn.
Gifts from the heart give a deeper value and intentional meaning from the giver to the receiver. And the receiver knows how much effort went into the gift. The last customized photo calendar I created for grandma still hangs in her kitchen, the year says 2020. I created it in 2019 with family photos of our extended family. This year, before my grandma's 93rd birthday just before Christmas, I hope my gift from the heart, an updated photo calendar, is complete and ready to hang fresh for 2023 in her farmhouse kitchen.
This year, consider a gift from the heart, customized for your favorite farmer or rancher.
Some things I have in common with farmers and ranchers are that I spend a lot of time outdoors, I'm bound to my daily chores and I hate being ripped off. For that reason, I'm recommending a pair of wireless bluetooth earbuds that cost less than a few gallons of gas. The product is JLab Go Air True Wireless Bluetooth Earbuds.
Chores like pushing cattle or unloading corn are much harder than my household ones like cleaning carpets and cat boxes, but all brains are alike when put through the tasks our bodies have memorized. And all brains need a break. Music, radio, podcasts or phone calls with a friend or family member can keep us from dwelling on mundane, or things out of our control.
You don't have to throw your wired headphones away, but it's time to embrace the best way of playing audio from a smartphone — which is wireless earbuds — especially while working outdoors or performing any type physical activity. All that's required for wireless listening is a device with bluetooth compatibility. Unlike shoes, you can't try on earbuds, but you can trust that every pair will come with a set of different sized plugs to fit any ear. I've received phone calls while biking 10-20 mph, with mine and the caller's voice coming through clearly via the earbud microphone. For farmers working with animals, needing to hear equipment running properly or just wanting to hear their surroundings closely, wearing just one earbud is a suitable option. Another great part about the JLab Go Air True Wireless Bluetooth Earbuds is the integrated charger, which means one less small cord in your life to be responsible for.
I bought a pair of blue JLab Go Air earbuds from Target in 2018 for $29.95. Five years later, the earbuds show no signs of a waning battery life, with a 40-minute charging session providing me with about 20+ hours of listening. The magnetic charging case allows the earbuds to snap into place easily and the charging cord can be plugged into any USB port. I've dropped both earbuds multiple times (from my own fiddling, not because they fell out) on pavement, snow, rain and even once sand, and I've used them in below zero weather to above 100 degrees. For around $15, these earbuds are an affordable and reliable gift that can be used on and off the farm.
(Courtesy of Noah Fish, Agweek reporter)
What's a gift that keeps giving, the whole year 'round? No, not the jelly of the month club, Cousin Eddie. (Sorry — I had to get in at least one Christmas Vacation reference this year.) It's an Agweek subscription.
At Agweek, we cover the news and information that can help you make informed decisions on your farm and ranch. We highlight new ideas and what's working and not working for farmers, ranchers and agribusiness professionals. And, agriculture publications are a deductible expense for farms.
Visit agweek.com/subscribe . Check back starting on Nov. 30 for our best deal of the year — 50% off your subscription .
Gardening columnist Don Kinzler teaches readers about the fruit many will consume over the holidays.