Let's brunch! A few ideas for a delightful spread
Cristen Clark offers tips for brunch success and recipes for pancakes and eggs.
We are part of The Trust Project.
There's much delight to be discovered in a thoughtful brunch spread. A variety of diverse dishes come together to keep the pickiest palates pleased with savory and sweet selections.
Several years ago, I visited New York City for the first time. I had won a national cooking competition and earned a trip to the New York City Food and Wine Festival. The hustle and bustle of the city made me somewhat anxious, but I found a restaurant called Sarabeth's Bakery where I felt right at home.
During my visit to Sarabeth's Bakery for a late breakfast, I ordered the famous Lemon Ricotta Pancakes. These pancakes were bright from the acidity of the lemon juice which cut through the richness of the ricotta so beautifully. It was a dish I couldn't get out of my mind and elevated a simple breakfast staple to a celebration worthy centerpiece.
Here are a few ideas for planning your next brunch!
Eggs are a staple in any brunch spread, serve an egg dish that is easily made ahead like quiche or frittata. If your kids love scrambled eggs like mine do, try their recipe for "Buttery Eggs," and make them right as brunch is served.
Pancakes can be made ahead the morning of and stored on a sheet pan, covered with foil in a warm oven for up to an hour or so. To keep the pancakes moist and soft, brush with melted butter before putting in the oven. French toast can be treated the same way. Serve maple syrup warmed and think outside the box for other toppings such as chocolate chips, berries or compotes.
Select a slow rising overnight cinnamon roll recipe. These recipes can be prepared to the second rise stage and placed in a refrigerator overnight. When you wake up, simply preheat the oven and bake the rolls.
Creative casseroles can combine a myriad of flavors and make the brunch assembly even easier! Breakfast sausage egg bake served alongside French toast casserole is one of my favorite combinations.
Bake breakfast sausage patties, bacon and ham in the oven in bulk. My favorite brunch idea comes from a friend in Texas who hosted a "Best Breakfast Sandwich" brunch party where she served bakery buns, miniature croissants, bagels and biscuits along with eggs and breakfast meats like sausage, bacon, ham and smoked turkey. There was an assortment of creative spreads like jams, flavored cream cheeses, honey and sliced vegetables and toppings like tomatoes and sautéed onion and bell pepper served to adorn the sandwiches.
For a brunch that's a little later in the day, lunchtime options can be included, and many are make-ahead friendly. Serve deviled eggs, shrimp cocktail, salad or tea sandwiches that can be assembled the day before and set out just in time for the party.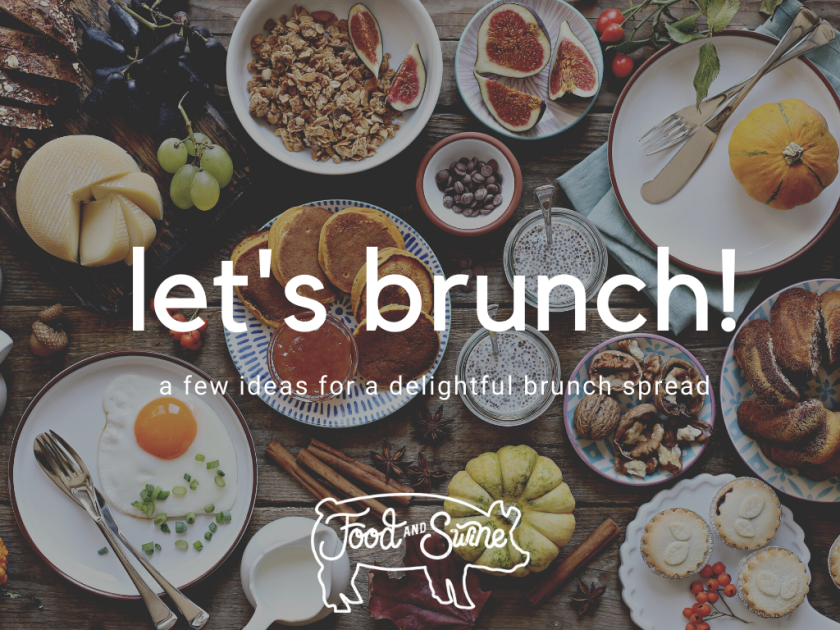 Makes 12 pancakes
Ingredients:
Zest of 2 lemons
3/4 cup granulated sugar
1/2 teaspoon kosher salt
1 teaspoon baking powder
2 cups all purpose flour
4 eggs, separated
1 cup ricotta cheese (full fat or low-fat)
1 cup whole milk
1/2 cup fresh lemon juice (2 lemons)
Powdered sugar, for dusting
Berries and lemon slices for garnish
Pure maple syrup, warmed for serving
Directions:
In a large mixing bowl, rub zest of lemon with granulated sugar to release oils of the zest into the sugar. Add salt, baking powder and flour to the large mixing bowl.
In separate bowl, whip the egg whites until stiff peaks form. Set aside.
In a large 4 cup glass measure or bowl, whisk together egg yolks, ricotta cheese, whole milk, and lemon juice.
Add wet ingredients to large mixing bowl of dry ingredients. Mix gently. Fold in whipped egg whites.
Heat nonstick griddle or pan sprayed with cooking spray to medium or medium low heat. Drop batter by a quarter cup cookie dough scoop to make pancakes. Swirl scoop atop of thick pancake batter gently in a circle motion for even cooking as batter can be thick. Flip when edges are dry and underside is golden. This pancake won't bubble on top like store mixes. Dust with powdered sugar before serving on warm plates with butter and warmed maple syrup.
Serves 4-6
Ingredients:
1/3 cup butter
8 large eggs
1/4 cup plus 1 tablespoon cold heavy cream, divided
2 tablespoons fresh herbs such as chives, dill or parsley
2 green onions, green tops only, chopped
1/2 teaspoon salt
1/4 teaspoon black pepper
Directions:
Place butter in a large skillet over medium low heat. Add butter to melt. In a medium mixing bowl add eggs and 1/4 cups of heavy cream, whisk until well mixed. Add to skillet. Cook while folding until curds form and no liquid egg is running from the curds. Add herbs, salt, pepper and remaining heavy cream. Turn out onto warmed serving platter, garnishing with additional herbs if desired.
Cristen Clark lives on an Iowa farm where her family raises corn, soybeans, pigs and cattle. She loves cooking and writing, and sharing contest winning recipes with people she knows. She can be reached at cristen@foodandswine.com or at foodandswine.com.