Will farmers catch the goodness of rye as a cover crop?
David Karki of SDSU underlined that planting cover crops like rye is not so much about big yield increases, but it will make the land more tolerant of fluctuations in weather.
SIOUX FALLS, S.D. — Fewer than 5% of farmers plant winter cereal cover crop for soybeans and corn in this area, but more farmers should consider it for soil health and to prevent soil erosion, an agronomy specialist says.
David Karki, a South Dakota State University Extension Service agronomy field specialist at Watertown, spoke Jan. 25, 2023, in the first of the three-day Sioux Falls Farm Show in the Denny Sanford Premier Center in Sioux Falls, South Dakota.
Karki said there are many factors, but hopes the practice will grow and that more farmers will choose rye for its winter toughness and biomass potential.
"The word is getting out more and more every day," Karki said.
Karki, speaking to a room of fewer than 20, underlined that planting cover crops like rye is not so much about big yield increases, but it will make the land more tolerant of fluctuations in weather.
"Mostly, it's for a sustainable and resilient system you are building for the future generations. It could be a slow ride, but you'll get there," he said.
Karki has held his post since 2014 and worked on rye as a graduate student in projects with Pete Sexton, an SDSU associate professor and Extension alternative crops ag specialist based at Beresford. Rye here is also called always "winter rye," or "cereal rye." It is a different species than ryegrass.
Farmers typically plant rye on a field after a corn crop and before a soybean crop, Karki said. He shared data from SDSU research trials.
"Now we're trying to get into rye, not only just for soil cover, but also for forages," he said.
They started a forage trial a couple of years ago.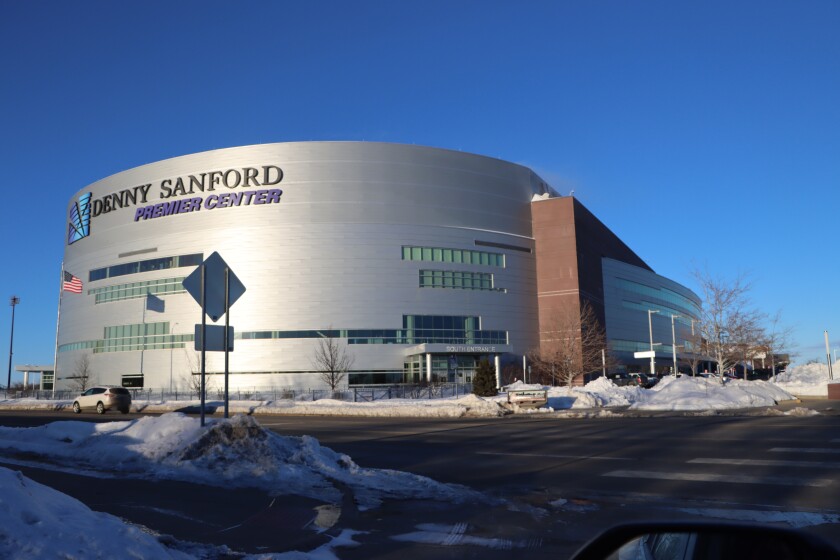 "Rye can be helpful in both," he said. "If you have small grain or wheat in the rotation, you have a bunch of different choices of cover crops you can grow after wheat is harvested in the summer. But if you have corn and soybean rotations, then your choices of cover crops get so limited. You have to choose a winter cereal."
In some of his charts, he showed how farmers in some part of the country plant rye because it competes with difficult weeds — even the dreaded Palmer amaranth.
Winter rye is "tougher" than winter wheat or winter triticale in its ability to survive northern winters. It grows very fast in the spring, producing residue which improves the soil and prevents erosion. The forage in the spring can be used for grazing, baling, or even chopping for silage.
"Lately, if there is good moisture and a little open fall, or some heat units in the fall, you can actually graze your rye," Karki said. "It regrows and you can regraze that in the field in the spring. Most producers use lower seeding rates and use it for soil health, or covering the ground."
SDSU and Karki recommend planting a cover crop of rye at 35 pounds per acre and up to 40 pounds per acre — broadcast or drill — after corn. Increase the rate up to 75 pounds per acre for weed control, and 90 to 100 pounds if it is strictly grown for forage.
Karki doesn't recommend it before planting corn in this part of the country. If that must happen, he urges killing at least two weeks prior to corn seeding.
Growth from fall-planted rye in the spring tends usually to be good, even if the fall was dry.
If the spring has been dry, spray it out by early May so that it doesn't compete for moisture or nutrients with corn and other crops.
Rye grows very quickly in May, he cautioned.
"So don't let it get out of hand unless the biomass is a target issue," he said.
In a dry spring, without significant precipitation on the horizon, farmers should terminate rye before planting soybeans. Waiting too long to kill the rye could impact soil moisture, sulfur and possibly potassium availability for following crops. Normal rates of glyphosate are sufficient.
Don't use rye if other small grains are planned, especially if that crop is grown for seed, Karki said.
If a farmer had planted rye as a cover crop in the fall of 2022, and the 2023 is wet, and planting is delayed or uncertain, Karki said it is the field planted to rye would be the best seedbed.
"So you could go out and plant your cash crop at an ideal time," he said.
Ron Bormaster has been the show manager for the Sioux Falls show for all of its 26 years, and expected the show to draw good crowds, with 330 exhibitors, marketing and agronomy seminars like Karki's.
The Sioux Falls Farm Show is one of six shows owned and run by Midwest Shows, Inc., of Austin, Minnesota.
"We are the largest indoor show producer in South Dakota," Bormaster said.
The Sioux Falls show has 330 exhibitors, from Canada to Texas — anything from combines, to seed, to feed to fertilizer, and a great variety, in three large buildings.
"Anything you might be looking for is right here at this show," Bormaster said.
Farmers at the show, like Chad Nelsen of Viborg, South Dakota, talked about uncertain delivery schedules for whole goods, including high-speed planters.
"Most guys who ordered planters mid-summer probably won't get them until this mid-summer of 2023," Viborg said.