The love story of the rancher and veterinarian at Dakota Winds Ranch
John and Sharon Leiferman's bale-grazing success at Dakota Winds Ranch Inc. is just the latest development in a life of frugality born in part by the 1980s farm crisis.
WHITE, South Dakota — The story of John and Sharon Leiferman's bale-grazing success at Dakota Winds Ranch Inc. is just the latest development in a life of frugality born in part by the crucible of the 1980s farm crisis.
John, now 64, grew up the youngest of six on a farm run by Ervin and Alice Leiferman, just south of Aurora, South Dakota. In 1971, the Leifermans added 400 acres about 15 miles to the north.
"My father loved raising cattle, and land was on the 'Buffalo Ridge,'" John said. The Buffalo Ridge is an expanse of rolling hills in the southeastern part of the larger Coteau des Prairies. It is on a drainage divide separating the Mississippi and Missouri rivers. It is about 60 miles long and runs through Lincoln, Pipestone, Murray, Nobles and Rock counties in Minnesota.
The new ridge location was rocky, an inexpensive pasture, with variable soils sometimes underlain with gravel. They spent a lot of time fixing fences surrounding the 1,000 acres.
At the time, Leifermans beefed up to 500 cows.
After John graduated from Brookings (South Dakota) High School in 1976, he immediately joined an operation that already included two older brothers, Pete and Tony, farming with their dad. (Pete had gone on to South Dakota State University and taught in the SDSU machine shop while farming.)
In those days, almost no one in the area raised soybeans. The Leifermans planted 500 to 1,000 acres of corn to make silage.
By 1978, the farm cost-price squeeze clamped down. Many farmers were quitting, in the crucible of rising loan interest rates and plummeting commodity prices. The Leifermans, who had gone through the Depression, cut expenses to the "bare bone." Alice died in 1983. Ervin died in 1985.
Pete and John formed Leiferman Brothers Inc. in 1992 and started buying their own land while still running Leiferman Farms Inc. with their three sisters and one brother). Dakota Winds was officially incorporated in 2003. (Another South Dakota outfit at Ipswich goes by Dakota Winds LLC.)
Unbeknownst to John, about three hours to the east, Sharon Kiehm was growing up on a crop and feeder calf feedlot farm near Delevan, Minnesota. Sharon graduated high school in 1974 and went on to the University of Minnesota. She received her bachelor of science degree in 1979. It was the year farmers (including from Minnesota) traveled in tractorcades in Washington .
Sharon, now 66, earned her veterinary degree in 1983, and — unusual for the times — she aspired to be in a large animal clinical practice. Sharon regularly checked job listings from UMN, but no one was hiring. So she worked for more than a year with her father's drain tiling business.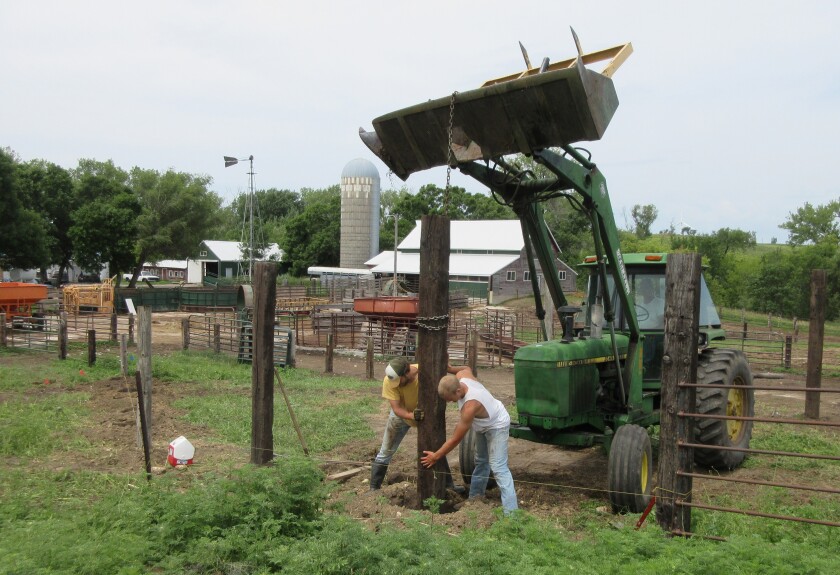 As farmers suffered under low grain prices, U.S. Department of Agriculture had an idea to get out of government-owned grain inventories. The USDA instituted the "Payment-in-Kind" program to idle land. The USDA offered farmers "PIK certificates ("certs") to "redeem" grain out of farmer-owned storage in exchange for idling land. This meant fields were idled. Some farmers took the opportunity to invest in tile.
In 1984, Sharon finally got a call from UMN. There were two opportunities — a nationally-known swine veterinary practice in Iowa and a solo practice at Ivanhoe, county seat of Lincoln County.
"I prayed that God would show me where he wanted me to go, and that's where He opened the door," Sharon said.
Ivanhoe was a flash point in the farm crisis.
On March 21, 1983, more than 200 farmers drove tractors around the Lincoln County courthouse to protest a sheriff's sale in the foreclosure sale of Don Norgaard, a Farm Bureau leader.
On Sept. 29, 1983, a mentally troubled former farmer who had been foreclosed, and his son, lured a pair of Ruthton, Minnesota, bankers and shot them dead at a farm about 23 miles from Ivanhoe, on the Pipestone County line.
In the summer of 1984, a farmer and his son at Ivanoe were trying to sell a veterinary practice that had become vacant when another son — a young veterinarian — a month earlier had died unexpectedly because of an appendicitis complication.
"It didn't faze them that I was a female graduate, just out of school," Sharon recalled. "There was no real estate to purchase. I just needed to purchase the present supplies and inventory."
A determined, focused Sharon threw herself into her work. She especially enjoyed beef clients.
"I was very career-oriented," Sharon emphasized. "I wasn't looking for marriage."
But in 1991, John Leiferman, 33, a rancher from 16 miles away at White, South Dakota, called the practice. He was having trouble calving. Could Dr. Kiehm come to assist?
Sharon, then 34, was quick to get to the ranch.
It wasn't love at first sight.
"We always say, 'We were underwhelmed with each other when we met,'" Sharon said. She thought he was a "jokester," and not serious enough about his situation.
John couldn't believe the diminutive vet could be of any real help with the calf.
"I'm thinking, 'Boy, I'm going to be doing most of the work here!'" John recalled thinking, before quickly adding, "But she gave an epidural, and that cow calmed down and she reached in with those little hands and had that calf out in five minutes. Now, I thought, 'Boy that gal's really impressive.'"
Before long, John called Sharon for personal reasons.
"We discovered that we were both born-again Christians, that we didn't want to go out to bars or things like that," Sharon said. "We thought it would be fun to just hang out together, go to movies, and do things together. It started as a friendship and just grew from there."
Sharon married John on Jan. 4, 1997, in a blizzard, in a terrible winter. Half the guests couldn't make it.
"I was greatly looking forward to getting into ranching as a lifestyle, and bringing my veterinary expertise with," she said. Sharon said her new marriage couldn't work with on-call nights, evenings and weekends. Their son, Matt, was born in December 1997.
Unable to sell the practice, she brought two cattle chutes to the marriage.
Over the years, the Leifermans "overhauled the ranch."
Significantly, they put all of their cattle records on a computer. The herd was "every color of the rainbow" and — at Sharon's urging — shifted to Black Angus, both for the meat (the "quality eating experience") and for the disposition. They instituted a four-point numbering system to rate and cull aggressive behavior.
"We came to see that no cow could raise enough calves in her lifetime to pay for one trip to the emergency room," Sharon said.
The NRCS urged Leifermans to consider "rotational grazing." They started subdividing a 1,000-acre pasture with an eye toward moving cattle among pastures every two weeks. It would improve the grass and allow a "buffer" among breeding groups.
The Leifermans chose the "five-barb" system for the cross fence, aiming for a 50-year lifespan. NRCS only cost-shared on 4-barb fences. They added a fifth barb and smaller T-post spacing to "over-engineer" the fence and add security and longevity. (T-posts are metal posts with an anchor built into the bottom. The anchor keeps the post buried securely in the ground so it can support wire fencing.)
For the cross-fences, they placed the middle three barbed wires close enough together so cattle wouldn't reach through for grazing and weaken it. Later, they went to three strands of hi-tensile wire — the top and bottom are high-tensile, "hot" (electrified) smooth wires. This provides the "control." The center is "cold." Then they put the T-posts 50 to 60 feet apart, reducing the amount of steel in the fence.
The NRCS offered field support, including analysis of the types of grasses — high-ground and low-ground.
After 10 years of work, they had enough cross-fence to make 15 pastures ranging from 35 acres to 60 acres to start the rotational program on the 1,000 acres of pasture around the home set of corrals. They've also purchased about 20 solar fencers through the years.
Through the years, the Leifermans qualified for grants in the Environmental Quality Incentives — or EQIP — Program and through the U.S. Fish & Wildlife program. They received cost-share to dam up four valleys to create larger water bodies and keep the cattle out of the small streams. The larger water bodies allowed more cross-fencing because the water supply was guaranteed on areas that had been dry most of the summer.
They decided that rather than turn out 20 bulls into a group of 500 cows, they would have a small group of cows with just one bull in order to evaluate sires by tracking their offspring.
"In order to do that we did not want them out on 200 acres each," John said.
John installed perimeter steel posts every 12 feet (instead of the common 16 feet). They chose "high-tensile" fencing as cross-fences, especially in interior pastures and in places where snow would take down barbed-wire fences.
"I know I have personally put in over 20,000 steel fence posts and cross-fenced giant pastures into smaller pastures, John said.
John said he pounded in every one of those T-posts.
"By hand," Sharon emphasized.
Frugality.
These were the lessons for the Leifermans taught during the farm crisis of the 1980s. A "bare bones" budget.