Sunflower oil content 'very good'
After a tough harvest last year, sunflower harvest in the Dakotas and Minnesota are two weeks ahead of the five-year pace. North Dakota may see a record-high yield and South Dakota's may be near a record.
MANDAN, N.D. — Sunflower harvest is moving quickly and can't go fast enough, an official of the National Sunflower Association says.
The U.S. Department of Agriculture's National Agricultural Statistics Service on Oct. 13 reported a big jump in harvested acres for the region. Completion percentages were North Dakota at 24% up from 16% the week before; Minnesota at 41%, up from 24% the week before; and South Dakota at 19%, up from 6%. Nationwide, about 25% of the crop was harvested as of Oct. 13, according to the report. With good weather, the harvest will last another two or three weeks, said John Sandbakken, executive director of the National Sunflower Association, based in Mandan, N.D.
Sandbakken said there are 12,000 to 15,000 sunflower producers in the region. Some had harvested parts of their 2019 crop as late as March 2020, due to snow. So they're happy for an easier time this year.
"We're easily four weeks ahead of where we were last year at this time," Sandbakken said, in an interview Oct. 14. "In the five-year average, we're about two weeks ahead of normal."
He said damage due to wind "can add up," but he knows of no figures about wind damage losses this year or in prior years.
"There's some pretty big heads on the sunflowers, and you might see some of them shelling out in places," Sandbakken said. "That's why the sooner producers can get those fields combined, obviously the better off they're going to be."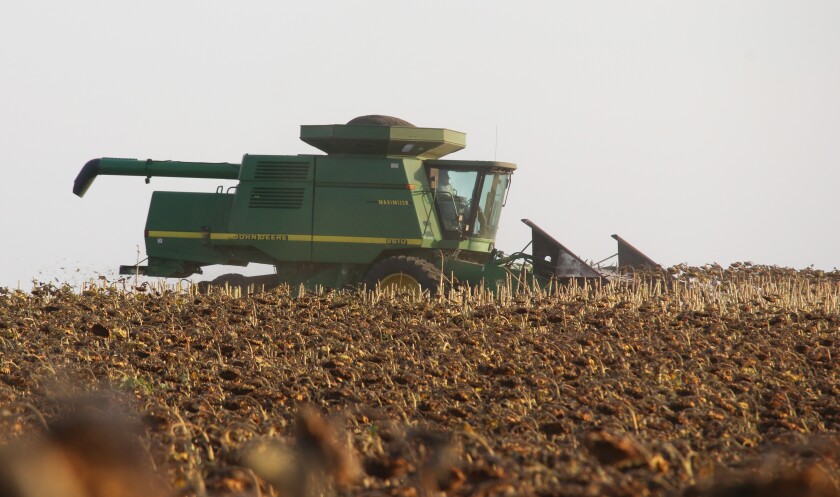 Frost in the northern areas may have caused a bit lower test weight in some areas, and a little bit lower oil content. "Overall, it hasn't had as much effect as we thought it was going to have," he said.
There haven't been many reports on quality, Sandbakken said, but oil content has been ranging from 40% to 48% — averaging about 45% to 46%. That's very good, he said, noting the crop pays a premium for anything over 40%, he said.
"So I know producers are very happy," he said, adding that earlier-harvested sunflowers often are lower in oil content than later-harvested.
The drier-than-average year reduced disease damage, Sandbakken said, other than some phomopsis fungal disease in areas of Minnesota that were wet at the wrong time.
"Even, surprisingly, insect pressure wasn't as strong as it could be in a dry year, and I'm not certain why that is," he said.
U.S. harvested acres of sunflowers are expected to be up 29% from the previous year, in part because of comparative profitability prospects and how it fit into rotations.
"Sunflower had some really attractive new-crop prices when it first came out this winter and last spring," he said. He said the crop looked very profitable, and producers are doing very well this year.
About 70% to 80% of the oilseed crop is crushed and used in the U.S. Much of the rest is exported as oil to Canada or Mexico.
On the confectionary seed side, the U.S. uses about 60%, and exports about 40% — primarily to Spain and Mexico.
"There's a little more demand for the confection seeds," he said. "I think there has been some drop-off in demand this year in confection consumption, but we had a small crop so might not have been as noticeable . . . The crop being harvested now will be consumed in the months ahead, and hopefully we'll get to a new normal and consumption will resume."
Sandbakken had reports of early-harvested acres in North Dakota at 1,800-3,000 pounds per acre and in Minnesota, 2,500 to 3,000 pounds per acre. These are from early harvested fields.
On Oct. 9, the USDA released its first production estimate report for the 2020 crop, putting it at 2.81 billion pounds, up 44% from the revised 2019 production of 1.96 billion pounds. Farmers planted 1.7 million acres, the report said, about 10% more than a June estimate, and 26% more than 2019.
The national yield projection is 170 pounds per acre higher than last year's, with higher yields in five of eight growing states. Minnesota is one of the states with lower projections.
North Dakota — the No. 1 producing state — has its yield pegged at 1.23 billion pounds, an increase of 64% from 2019, based on a 1,761 pound-per-acre yield, which is 16% higher than last year's 245 pounds per acre. It will be a record-high, if realized.
South Dakota's yield forecast is 1,867 pounds per acre, up 10% or 173 pounds per acre from last year, and the second highest, if realized. The next estimate is January 2021.