South Dakota Public Utilities Commission approves court case versus Fearless Grain Marketing and owner Jeremey Frost
The South Dakota Public Utilities Commission ordered staff to go to court against Jeremey Frost of Fearless Grain Marketing for buying grain without a license. Separately, he is being sued for contract violations by Indigo Ag, a company based in Memphis, Tenn., and Boston. Grain industry officials urged the SDPUC to back future bills that would further regulate "roving grain buyers" and "brokers," similar to North Dakota changes, in the wake of the Hunter Hanson fraud in 2018 and 2019.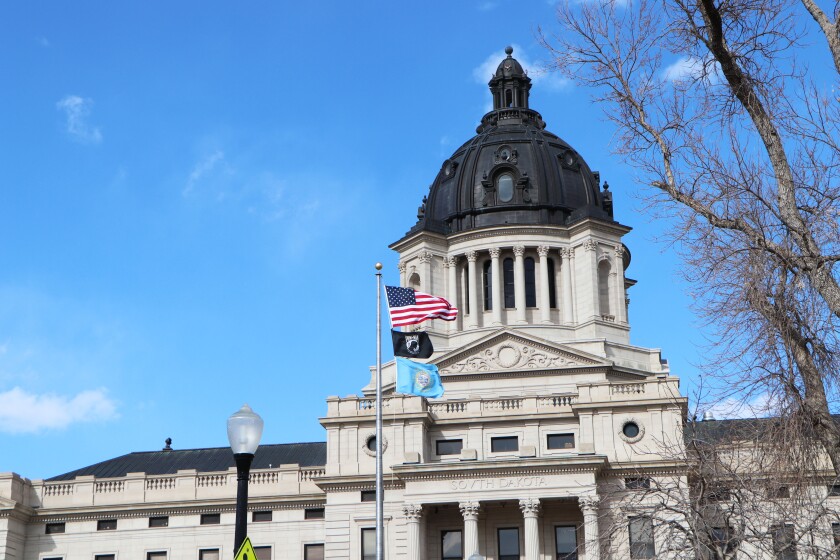 PIERRE, S.D. — The South Dakota Public Utilities Commission has authorized its staff to seek a circuit court injunction prohibiting Fearless Grain Marketing LLC, of Onida, S.D., and its owner, Jeremey Frost, from buying grain.
The case could have ramifications for South Dakota grain legislation, similar to what was passed in 2019 and 2021 in North Dakota.
SDPUC staff attorney Amanda M. Reiss said Fearless and Frost had illegally bought grain without a license. In a half-hour hearing April 7, 2021, in Pierre, the SDPUC unanimously gave the go-ahead for a court case.
SDPUC lawyers, in their March 31, 2021, complaint , alleged Frost is guilty of Class 1 misdemeanors for each of many unlicensed grain purchases, and urged a maximum penalty of $20,000 . It isn't clear how many farmers or dollars are involved.
Frost attended the hearing with his lawyer, Robert T. Konrad, of Pierre. Konrad did not oppose the motion to allow the court action, but couldn't predict he will support the injunction suit before reading it. He said Frost hoped the issue could be resolved outside of court, and that he "takes issue" with some "factual assertions" in the motion, but didn't elaborate on what those were.
Fearless and Frost had been a brokering agency and market advising company in South Dakota "for a period of time," Konrad said.
"Generally, all of those business relationships with the farmers and producers are in good standing," Konrad said, and that he knows of no one who had taken a financial loss from doing business with the company. Konrad said Frost was more concerned about whether farms were hurt than how Frost "looks" because of the allegations. He said Frost had received "several letters of support" after the allegations, listing names of some of the region's largest farmers.
Prior to starting his own company, Frost had been a grain marketer for the CHS Midwest Cooperative elevators, based in Pierre, S.D., and had performed that corporate position from its Onida, S.D., branch.
Besides grain buying, Reiss said staff is aware of "outside grain interests" that Frost was involved in that "aren't under SDPUC jurisdiction."
"We have been working through bank accounts, bank transactions, trying to ensure that we are bringing correct information to the PUC, making sure we're looking at the big picture," she said. "It doesn't change our concerns about financing, especially with multiple business transactions being made out of bank accounts we've seen to this point."
SDPUC staff had asked that the Frost be "blocked" in his Dec. 28, 2020, application for a grain buyer's license, but they didn't do that because he's already blocked, administratively.
The SDPUC staff motion said violations they'd seen should cause the agency to deny a grain buyer license to Frost and "to any entity with Frost serving as an owner, manager or chief executive officer, or any other managerial or advisory position of a grain buyer," the complaint said.
Konrad said Frost had applied for that license under a "different entity" and that it was automatically blocked for lack of required bond. Konrad didn't know why the application was still pending three months later, but said he'd "not seen a formal denial from the bonding company" and speculated the holdup could have something to do with a separate lawsuit.
Grain industry officials testified at the hearing, asking the SDPUC to support new state laws, and used the occasion to ask the agency to back grain regulation law changes involving "roving grain buyers," similar to a revamped system in North Dakota.
Tim Luken is the general manager-grain merchandiser for Oahe Grain Corp., at Frost's home base town in Onida. He also is a director of the South Dakota Grain & Feed Association, and said his company is inspected and regulated by the SDPUC, and that should be considered for roving grain buyers, too.
(Frost was a direct competitor as grain manager of the CHS Midwest Cooperative's six sites, and was based at its elevator in Onida, as well as being involved in a separate dispute involving selling shares of Oahe Grain, which Luken declined to confirm or deny.)
Kathy Zander, SDGFA executive director, asked the SDPUC to bring forth legislation that would regulate "grain originators or roving grain buyers."
"I'm not sure what term to use, but I'm referring to a person who acts as a 'middleman' between a producer and a grain buyer," she said. They should be licensed and bonded, and regulated to ensure that transactions are "tracked in writing" to make sure producers are paid within 30 days of "final delivery."
Zander said 33 states regulate grain and 31 require bonds.
"The North Dakota 'roving grain buyer' statute has language that I think would work in the South Dakota code," she said.
Finally, Brenda Forman, executive director of the South Dakota Association of Cooperatives, also asked the SDPUC to look at the licensing and bonding of brokers, similar to what North Dakota has done.
The North Dakota Legislature in the 2019 and 2021 sessions revamped grain regulation in the wake of the Hunter Hanson case , where a 20-year-old from the Devils Lake, N.D., area, without financial backing or education, in 2017 and 2018 traded $23 million in grain and left unpaid bills of $11 million to farmers and elevators. Hanson was convicted of federal charges of wire fraud and money laundering for running his grain operation as a Ponzi scheme and sent to federal prison for eight years. But his primary grain "broker," Daniel Stommes and his East Central Grain Marketing LLC, of Sioux Falls and Minnetonka, Minn., was not responsible. Stommes has declined repeated requests to comment.
According to the SDPUC staff complaint, Fearless Grain Marketing and Frost, the company's sole owner and registered agent, bought grain even though neither was a licensed grain buyer.
In the complaint, citing PUC staff investigation, here is the timeline:
2018 — The agency had provided Frost with licensing requirements.

Dec. 28, 2020 — Fearless applied for a Class B grain buyer's license in the name of "Fearless Grain Marketing, Storage and Arbitrage LLC." (Fearless MSA). The application didn't include bond or license fee, SDPUC warehouse inspector Paul Kenefick-Aschoff said. A Class B purchases less than $5 million and cannot offer voluntary credit sales contracts, such as deferred or price-later contracts.

Jan. 29, 2021 — Fearless MSA notified the SDPUC staff that he was "unable to obtain a bond," Kenefick-Aschoff said.

Feb. 18, 2021 — The SDPUC staff informed Frost that Fearless FSA would not qualify for the license because it lacked the required bond, and cautioned him "not to purchase grain without a valid license."

March 10, 2021 — The SDPUC staff "became aware that Fearless may again be purchasing grain without a license."

March 17, 2021 — SDPUC starts looking at the company's books and learns the company had made "more than 23 purchases of grain without a license going back to at least July 8, 2020." The investigation learned that Fearless/Frost had not provided payment for "a number of these purchases" within 30 days, which is required by law. That day they indicated the SDPUC willingness to "resolve the matter, with the expectation Fearless and Frost cease grain buying activities."

March 30, 2021 — The SDPUC staff further learned that Fearless/Frost had not disclosed some purchase contracts in their March 17, 2021, inspection.
"Considering Frost and Fearless' seemingly blatant disregard for state law and Staff's warnings and the financial condition observed in the inspection, Staff believes Fearless and Frost's conduct put producers in undue risk of financial harm and therefore the maximum penalty should be imposed," the complaint said.

On Jan. 25, 2021, Indigo Ag Inc. of Memphis, Tenn., sued Fearless and Frost for grain contract violations , potentially exceeding $8 million, or even more.
It isn't clear how many farmers or dollars are involved. Indigo alleged Frost overstepped contract bounds in bringing farmer grain suppliers to sell grain to Indigo Ag. Konrad said Frost "wholeheartedly denies" Indigo Ag's allegations, and noted he has a pending motion to dismiss the Indigo suit. Earlier, Frost told Agweek he'd filed a separate arbitration request between the two companies with the National Grain and Feed Association, and that he'd filed a "whistleblower" complaint against Indigo Ag with the Commodity Futures Trading Commission.
Indigo Ag is an agricultural technology company incorporated in Delaware, with principal offices in Boston and Memphis. Indigo originated initially as a developer of microbial technologies for treating crop seeds to improve yield and quality. The company also deals in carbon credits under the Indigo Carbon entity.
Indigo Ag said Fearless entered agreements in May 2019, and then again in 2020.
In a 40-page lawsuit, in federal court in Memphis, Indigo alleges a breach of contract, stating that FGM entered into "valid binding" grain marketing contracts, improperly binding growers to sell millions of dollars of grain, purportedly on behalf of Indigo to unnamed buyers.
Frost denied any wrongdoing. He and his lawyer in that case, Kay, on March 9, 2021, asked the court to dismiss the suit and put it into arbitration by the National Grain and Feed Association.
SDPUC officials repeated they are aware of the Indigo Ag lawsuit, but doesn't comment on complaints or investigations.
Separately, Frost has had other issues with state regulators. In Oct. 7, 2020, the South Dakota Division of Insurance reached a "consent order" against Frost for selling shares in a business without a state license. Frost neither admitted nor denied violating the law but with the agreement waived the right to contest the allegations and paid a $1,000 fine.
According to the insurance authorities, Frost was registered by the National Futures Association, as designated by the Commodity Futures Trading Commission, but didn't have a broker license in the state. The SDDI said Frost was a shareholder of a "closely held business" and had acted as broker-dealer in February 2020, "regarding the purchase and resale of thousands of shares of the closely held business" which were purchased by Frost and then "immediately resold" to other persons.
Frost said the share sales dispute involved shares of Oahe Grain Corp., a privately held company started in 1954 by several farmers. General Manager Luken, who testified at the April 7 SDPUC hearing, declined to confirm or deny that his company was involved.
"I have some farmers who wanted to get some shares of that company, and some visions of some different things happening with that company," Frost said, without elaborating.
1
/
3:
Tim Luken, general manager of the Oahe Grain Corp., of Onida, S.D., was one of those testifying at a South Dakota Public Utilities Commission hearing involving Jeremey Frost, and his Fearless Grain Marketing LLC, of Onida. Lukens urged the PUC to back future legislation to further regulate "roving grain" buyers, and brokers. Photo taken March 30, 2021, at Onida, S.D. Mikkel Pates / Agweek
2
/
3:
The South Dakota Public Utilities Commision on April 7, 2021, ruled that their staff should pursue court action against Jeremey Frost of Onida, S.D., and his Fearless Grain Marketing LLC, for trading grain without a license. Frost is also facing a separate federal suit from Indigo Ag Inc., in Memphis, Tenn. Photo taken March 30, 2021, at Pierre, S.D. Mikkel Pates / Agweek
3
/
3:
The general manager of Oahe Grain Corp., of Onida, S.D., was one of those testifying at a South Dakota Public Utilities Commission hearing involving Jeremey Frost, and his Fearless Grain Marketing LLC, of Onida. Lukens urged the PUC to back future legislation to further regulate "roving grain" buyers, and brokers. Photo taken March 30, 2021, at Onida, S.D. Mikkel Pates / Agweek