Sheep markets, too, rocked by virus
Trevor VanWell says his family's sheep market losses appear to be $45 a head in April, probably $60 per head in May. COVID-19 related losses started with critical Easter selling season, have continued with plant shut-downs.
WATERTOWN, S.D. — If the hog and cattle markets are now being hammered by effects of the COVID-19 crisis, the sheep industry was slammed sooner and harder.
The virus market effects started setting in about the time that slaughter numbers were increasing. The last load he's been able to ship was March 26, with no bids — none — on finished lambs.
Trevor VanWell, and his mother, Stephanie, and brother, Travis, run VanWell Livestock LLC, of Watertown, S.D. They are a family pivotal to sheep farming in the Dakotas.
Trevor said market losses appear to be $45 a head in April, probably $60 per head in May.
Initially, processing plants weren't taking the number of lambs they normally would because of the shut-down of restaurants and cruise lines, where premium lamb cuts are served.
"The timing of the virus was really unfortunate, because we were going into a critical time of the year in the sheep industry," he said. "It's actually our biggest order of the year with Easter and Orthodox Easter."
Stephanie and her late husband, Dion, moved to the farm in 1993 and have been in business since then. Dion, a key entrepreneur in the sheep industry in the Dakotas, died at age 47 in 2014, and the family has pressed on. The VanWells have 11 employees at the home place, including eight Peruvian workers — all with special skills and experience in the sheep trade. Peruvian crew-members have been hired for many years, coming on the H-2A temporary agricultural worker visas.
With the COVID-19 crisis, it's been a challenge to pay the men and even find the rice and other provisions they prefer. Because they are foreign workers, the VanWells are ineligible for the company to get Paycheck Protection Program compensation through the CARES Act. They've written to U.S. senators, asking for help to get workers their paycheck.
"We wouldn't be able to make it without them — just like the rest of the country," Stephanie said.
Major factor
The VanWells have been hit by market shocks before. Stephanie remembers the market shock in 2011 when feed prices spiked. In 2018,the largest U.S., packer in Denver, was down for five months for plant updates, lowering the price of slaughter lambs.
But this is worse, with no income from fat lambs, "it's hard to pay the bills," Stephanie said.
VanWell Livestock has more than 6,000 ewes, lambing October through May. The VanWells maintain a growing facility south of Watertown, from lambs or home-raised lambs, weaned at eight weeks.
The company also buys feeder lambs to take to finish — roughly up to 140,000 lambs a year. This time of the year, the lambs usually are shipped to Chicago, Detroit and Ohio packing plants.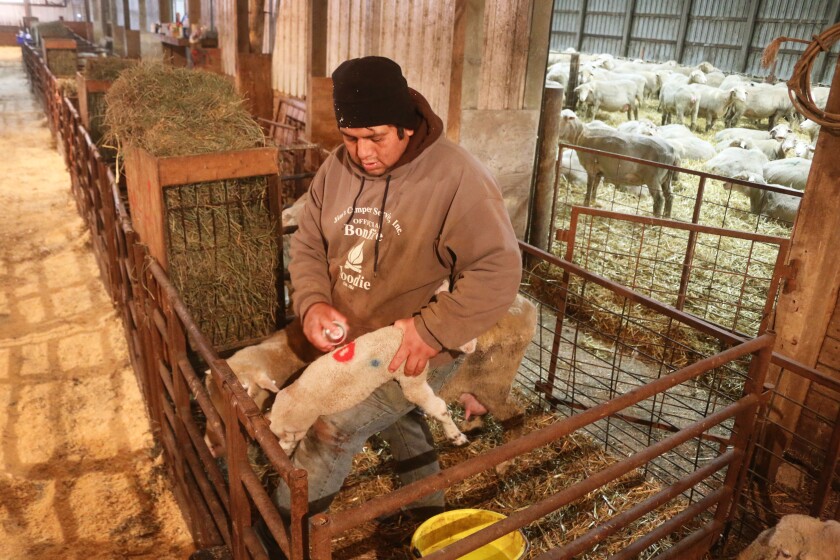 From Watertown, they go to feedlots in the Watertown area, or to seven custom feedlots in South Dakota, northwest Iowa, and occasionally Colorado. At seven to 11 months old, the lambs go to harvest — ideally at 150 to 165 pounds.
Typically, about 90% of them go markets in the east. Prices have plummeted 35% from before the COVID-19 crisis. Some slaughter facilities have been affected by employees declining to show up for work out of concern for their own health, or because employees that have tested positive for COVID-19. Some have shut down because of lack of orders for the meat they might produce.
In February and March, the VanWells purchased more feeder lambs from California than normal.
"At today's market, we're going to be lucky to get the money back for lambs we originally purchased the feeder lambs for," he said.
The VanWells have been an important market for small producers. They historically have run a buying station at Glacial Lakes Livestock in Watertown every Monday, but that has been closed down since March 16.
"Right now, we're backed up around 5,500 lambs that should have already been through the chain," Trevor said. "The problem with being backed up at this time of year, there is no major holidays coming up."
Cascading effects
Normally, a packer might accept a load of about 300 to 330 head of VanWell lambs on a semi-trailer. These days, the VanWells have proposed sending double-deck horse trailers, shipping 150 to 160 at a time, but because of the shortage of help and demand for the product, people aren't even wanting that.
"I've been telling those guys (packers) that any little movement would help us right now, to stay current," he said. "It's been nearly impossible. We can't even get bids for packers that are east of the Dakotas. No bids at all."
Two plants in Colorado were continuing to slaughter but weren't having issues with employees being absent.
Nationally, industry sources say processors are killing 11,000 fewer U.S. lambs than without the COVID-19 crisis Still, the U.S. Department of Agriculture reported that 2.19 million pounds of imports the first week of April, as carcasses or boxed meat products in major cuts —roughly the equivalent to about 27,000 live animals.
The lambs usually gain weight at a rate of up to .75 pounds per day. Changing rations, they can safely slow them to .5 pounds per day. When they get 200 pounds, nobody wants them. Trevor says he isn't considering euthanizing. Nothing like that will happen for at least a month. In three months, it might be a different story.
Says Stephanie: The problem is dire but not hopeless.
"It's going to hurt us, but we're going to get through it," she said. It's too soon to say how.
1
/
5:
VanWell Livestock on April 15, 2020, was facing an unfolding crisis with lambs that are ready but without bids because key slaughter facilities in key markets from Chicago and east have shut down or slowed due to COVID-19.Photo taken April 15, 2020, at Gary, S.D. Mikkel Pates / Agweek
2
/
5:
VanWell Livestock has on April 15, 2020, had cheaper feedstuffs than usual, but must feed animals including these ewes-in-waiting at their farm south of Watertown, S.D.is in a marketing crisis because slaughter plants are closed or slowed due to COVID-19. Photo taken April 15, 2020, at Watertown, S.D. Mikkel Pates / Agweek
3
/
5:
VanWell Livestock, a sheep enterprise based south of Watertown, S.D., is trying to "slow down" road traffic, but also the growth rate of their animals in contract farms in South Dakota, Iowa and Colorado. Their laughter markets have been disrupted by the COVID-19 pandemic. Photo taken April 15, 2020, at Watertown, S.D. Mikkel Pates / Agweek
4
/
5:
Lambs were already market-ready at 180 pounds in a custom finishing barn at Gary, S.D., and gain from a half- to three-quarter of a pounds a day, depending on the day. VanWell Livestock at Watertown, S.D., is nearing 5,500 head of market-ready animals without processing plants to take them. Photo taken April 15, 2020, at Watertown, S.D. Mikkel Pates / Agweek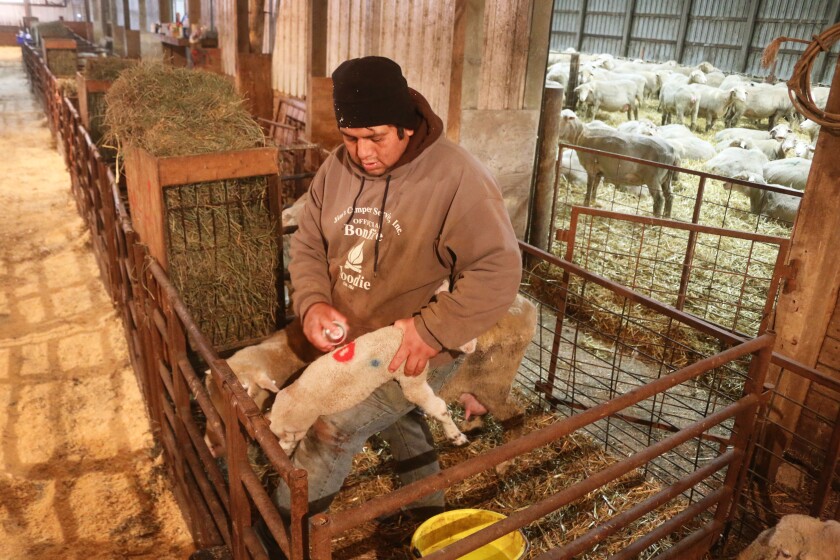 5
/
5:
Jesus Castillo, is one of eight H-2A worker from Peru on the VanWell Livestock sheep farm south of Watertown, S.D., on April 15, 2020, sprayed numbers on ewes and new lambs, so they can be matched up in community pens.Photo taken April 15, 2020, at Gary, S.D. Mikkel Pates / Agweek
1
/
5:
VanWell Livestock on April 15, 2020, was facing an unfolding crisis with lambs that are ready but without bids because key slaughter facilities in key markets from Chicago and east have shut down or slowed due to COVID-19.Photo taken April 15, 2020, at Gary, S.D. Mikkel Pates / Agweek
2
/
5:
VanWell Livestock has on April 15, 2020, had cheaper feedstuffs than usual, but must feed animals including these ewes-in-waiting at their farm south of Watertown, S.D.is in a marketing crisis because slaughter plants are closed or slowed due to COVID-19. Photo taken April 15, 2020, at Watertown, S.D. Mikkel Pates / Agweek
3
/
5:
VanWell Livestock, a sheep enterprise based south of Watertown, S.D., is trying to "slow down" road traffic, but also the growth rate of their animals in contract farms in South Dakota, Iowa and Colorado. Their laughter markets have been disrupted by the COVID-19 pandemic. Photo taken April 15, 2020, at Watertown, S.D. Mikkel Pates / Agweek
4
/
5:
Lambs were already market-ready at 180 pounds in a custom finishing barn at Gary, S.D., and gain from a half- to three-quarter of a pounds a day, depending on the day. VanWell Livestock at Watertown, S.D., is nearing 5,500 head of market-ready animals without processing plants to take them. Photo taken April 15, 2020, at Watertown, S.D. Mikkel Pates / Agweek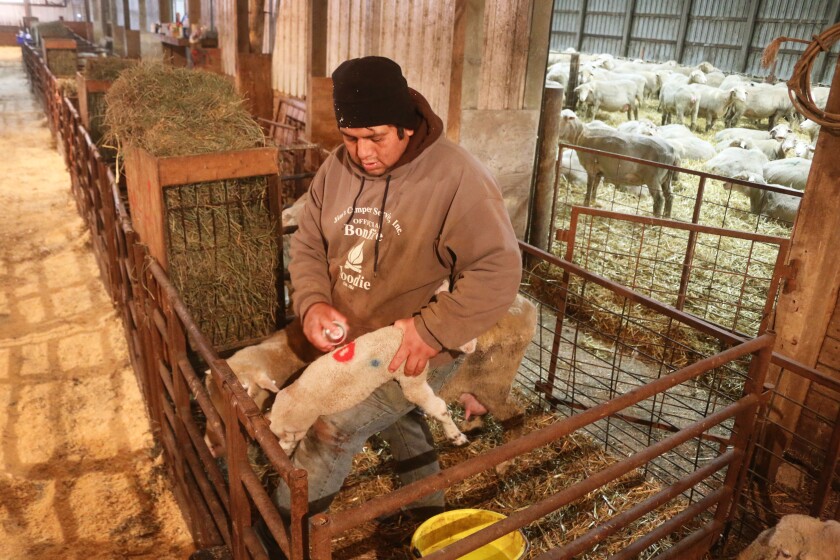 5
/
5:
Jesus Castillo, is one of eight H-2A worker from Peru on the VanWell Livestock sheep farm south of Watertown, S.D., on April 15, 2020, sprayed numbers on ewes and new lambs, so they can be matched up in community pens.Photo taken April 15, 2020, at Gary, S.D. Mikkel Pates / Agweek