SD ag innovators showcased at Dakotafest
South Dakota Gov. Kristi Noem emceed an agricultural technology showcase panel at Dakotafest on Aug. 16, 2022. Innovators in cattle handling, dairy and autonomous equipment were part of a disparate group of agricultural stars.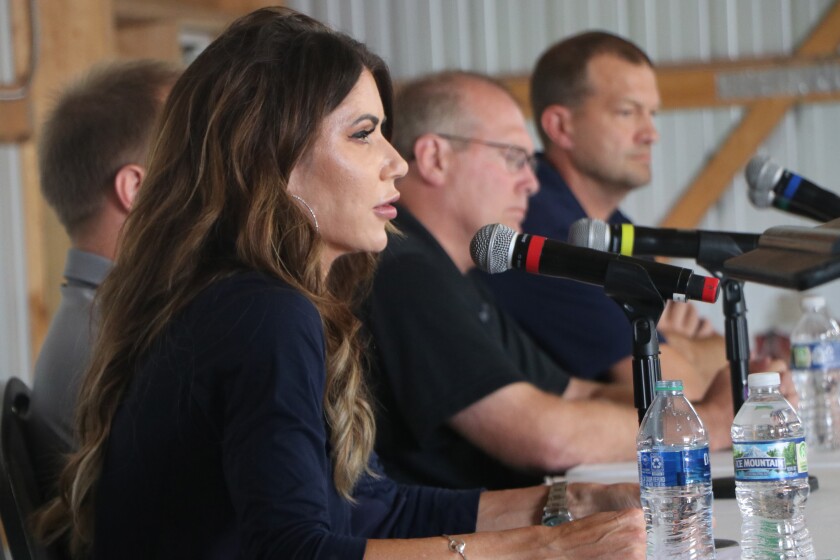 We are part of The Trust Project.
MITCHELL, S.D. – South Dakota Gov. Kristi Noem moderated a mini-showcase of three of three state's ag innovators at Dakotafest on Aug. 16, 2022.
The three panelists, in an event, cohosted by Scott VanderWal, president of the South Dakota each offered a window into how they are using technology to make their operations or businesses more sustainable into the future, with each example heavily connected to broadband data access.
Here are some of the high points.
Beef. Nick Jorgensen is the chief executive officer and owner of Jorgensen Land and Cattle Partnership at Ideal, South Dakota, in the Winner, South Dakota, area. The company is a beef seedstock operation, actually the largest of this type in the U.S., selling or leasing 5,200 bulls a year, with customers from coast to coast. They have 1,000 cows at their ranch and work with 15 cooperator herds that use their genetics, practices and procedures.
Jorgensen focused on technology involving "virtual grazing collars" and "precision grazing management," a technique the company has been using more in the past three years. This allows the company to more intensely manage cows in the pasture.
"We know where they are all of the time. We can control their movement," he said. "Therefore, we can control how the grass is grazed and therefore how it grows." We can run more animals, which is a good thing for our (grazing) resource."
The system costs between $40 per animal per year, but eventually will save money on fencing. The PS collars "fence in cattle without any physical fence whatsoever." They stay in a given area based solely off of the GPS in the collar and the sound and the electrical stimulus they receive if they cross the fence." The system allows using "rotational" grazing without putting in physical fence. The animals must be trained to be conditioned to the virtual fence.
"It's surprisingly easy," Jorgensen said. "We don't give cattle enough credit. They are very intelligent." It takes a couple of days to train the animals." You have to train them in a paddock that has real fence around it, so they understand how the sound and the shock works." Very few receive any electrical stimulus at all because they hear a "beep" and realize, "Hey, I'm somewhere I shouldn't be," Jorgenson said.
Dairy. Lynn Boadwine, of Boadwine Farms of Baltic, S.D., operates an extensive dairy farming operation.
Boadwine noted that even though he runs a 4,000-cow dairy in South Dakota's most populated counties, they had terrible internet broadband before state initiatives that corrected the problem. Boadwine dairies use cameras and have colored tags that monitor animals like a pedometer, but also tags that sense rumination. All of these techniques depend heavily on good internet connectivity.
He said the barns are negative-pressure barns with fan systems. "I probably have 35 barns on my computer laptop that I control," he said – variable-frequency drive fans, cooling system, high-pressure fog. "And when w don't have high-speed internet, guess how easy that is. Not."
The company is putting in a new set of cameras. that will help supervisors ensure that procedures are being done properly. In fact, he said one company provides technology that includes algorithms that can ensure that can detect that milking procedures are being adhered to.
Lately, the company is getting into a methane digester, partnering with a San Francisco, California, company, to create renewable natural gas, which will go into a natural gas pipeline. He said many consumers today are "keen on climate, so we've got to be part of the solution. "U.S. agriculture must be advocates," Boadwine said. "The Coasts are always going to be there. And we've got to bridge that gap."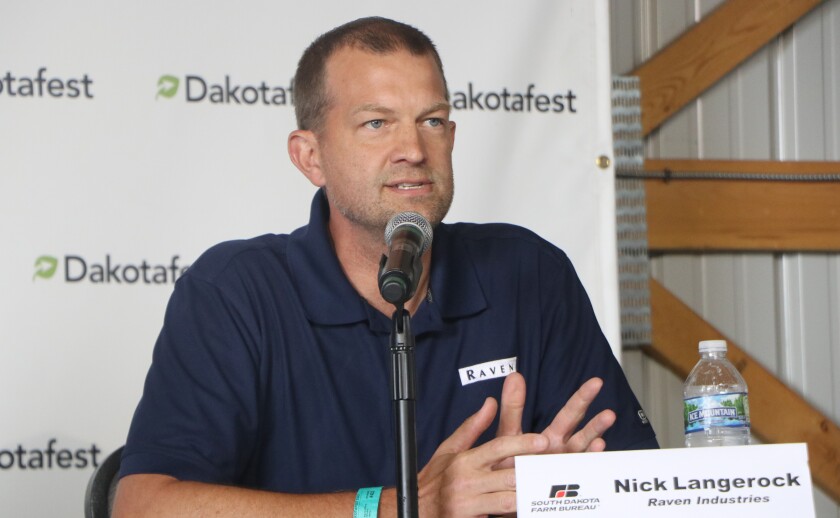 Cropping. Nick Langerock, global product marketing leader for Raven Industries in Sioux Falls, S.D. an ag technology innovation company. The company launched the first autonomous tractor with a grain cart that syncs with a combine to safely unload grain on-the-go.
The state has made large investments in a Raven Precision Ag Center at South Dakota State University in Brookings.
Recently, Langeroc noted, Raven was acquired by CNH Industrial, which also owns Case-IH and New Holland brands. Langerock said the common threat for the company's innovation is data. "We have a 120-foot boom sprayer," he said. "There's 72 nozzles and we can vary the rate and accuracy of each nozzle, independently," he said.
Raven has invested heavily in inter-machine connectivity issues, as well as sensor technology.
The company launched a visual guidance solution that allows the machine to "understand where the rows are, help "steer where the rows are, versus using GPS."
This provides help when equipment drivers need to be watching a machine behind them while driving ahead. Raven company employs an "autonomy tech stack" which includes OMNi POWER, which carries three platforms – a sprayer, spreader and a seeder. They also have the OMNiDRIVE harvest system, with the autonomous cart system, which should help with labor issues.
"Don't be afraid of autonomy," Langerock said. "Don't think you have to jump into autonomy to experience it," adding, "a lot of the technologies that you're doing today are part of that autonomy journey."