Scratching around: Sisseton, S.D., cousins ready seeder for custom-seeding
SISSETON, S.D. -- Sam Hanson, 39, and his cousin, Ben Hanson, 38, are partners in a custom-seeding business in the most northeast county in South Dakota.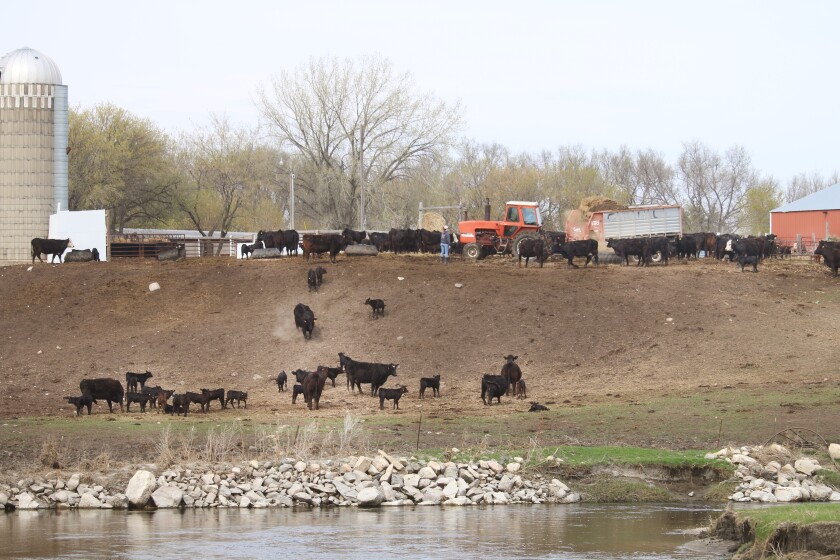 SISSETON, S.D. - Sam Hanson, 39, and his cousin, Ben Hanson, 38, are partners in a custom-seeding business in the most northeast county in South Dakota.
The Hansons this year bought a seeder that had been owned by Doug Martinson, who seeded for the Hansons.
Now, it's theirs. "We've got about 3,000 acres to get seeding," Sam said May 5. "The ground's just too wet yet." This is the third year running that spring fieldwork has been slow in the Upper Midwest.
Sam said he'd only heard of a couple of farmers getting in the field the first week of May: "Just scratching around, testing equipment."
Trade uncertainties and price outlooks didn't seem to be changing any planting intentions so far, Sam said.
"What's changing most of their minds right now - what they're going to put - is the timeline. Because we're getting backed up so far," he said. He said he thinks there will be a "lot less small grain," in his area - wheat and barley - and more corn and beans.
Soil temperatures have been less than 50 degrees Fahrenheit much of the region - less than the mid-50s needed for good corn seed germination. Planting is about 15 days behind, with only a few fields touched in the Roberts County area, according to the Hansons.
April precipitation was about an inch higher than averages, making it likelier that more planting will slip out of an optimal period before May 10, although ultimate yields are dependent on the rest of the growing season. Ideal soybean planting for optimal yield can run through May 25, or beyond.
The soggy tale
Sam and Ben were busy getting the machine adjusted, getting excited about getting into the field to get some work done. "We're just excited to get in the field and help these guys out and get their stuff planted."
They'll do anything: cover crops, alfalfa, soybeans, oats, wheat -"whatever the guys are looking for." The corn they plant is mostly for silage. Soil is good near Sisseton, but runs into some "'gravely, sandy areas" and wet ground in "the hills."
The Sisseton area picked up about 90 inches of snow this winter. The most impactful was the was 20 inches of wet snow. "Plenty of moisture, that's for sure," he says. The last rains have brought 3/16ths of an inch.
Most of the custom-seed acres are within a 25-mile radius. They're hoping to pick up another 1,000 acres, for a total of 4,000 acres.
They'll also use it on about 600 acres they own. They were starting to plant some oats on Ben's place, just to the northeast of Sisseton, to the east of Interstate Highway 29. "We take that oats off and use it for the cows, and sell some of the bales," Sam says. "Use the straw."
The Hansons breed some heifers, calve them out and sell the pairs. They have some older cows they hold onto throughout the year.
Bit of a struggle
Calving was a "little bit of a struggle through those snows" but "if you take your time and keep an eye on them, things work out." They started March 20 and had about 20 cows left to calve. Mortality results weren't significant as the Hansons were able to bring cows into the barn when they're getting close to birthing. "We let them get a couple days old and they're out the door," Sam says.
But on May 5, they were thinking about how to get the computer in the cab to link up with a new seeding system. "Once we get that, we're going to stick it in the ground and take off," Sam says. "If the rain will hold off, we'll be able to get in the field."
0000017e-7902-dead-adfe-7b0b26e30000
1
/
3:
Sam and Ben Hanson, cousins in their late 30s who grew up together near Sisseton, S.D., work on ensuring electronic signals between the tractor operator and a seeding system they bought from a neighbor this year to do custom-seeding. Photo taken May 5, 2019, at Sisseton, N.D. (Forum News Service/Agweek/Mikkel Pates)
2
/
3:
From left: Sisseton, S.D., farmer and cattleman Sam Hanson; his partner and cousin, Ben Hanson, and Ben's son, Hunter John Hanson, listen to how they'll fix a technical glitch as they prepare a newly-acquired seeder for action on some oats on May 5. The cousins hope to custom-seed 3,000 to 4,000 acres in a 25-mile radius as spring. Photo taken May 5, 2019, at Sisseton, N.D. (Forum News Service/Agweek/Mikkel Pates)
3
/
3:
Sam and Ben Hanson of Sisseton, S.D., take a seeding system they bought this year from a neighbor out on a test run -- "scratching in the dirt" -- and putting in some oats in anticipation of custom-seeding some 3,000 to 4,000 acres this year. Photo taken May 5, 2019, at Sisseton, N.D. (Forum News Service/Agweek/Mikkel Pates)