Prairie AquaTech commercializes first soy-based aquaculture feed
Prairie AquaTech, located in Volga, produces 30,000 tons of fish feed annually.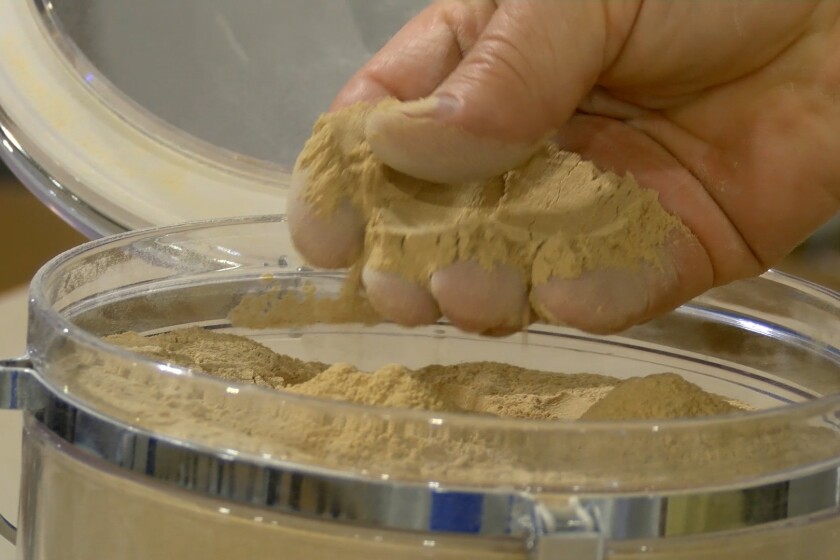 VOLGA, S.D. — The nation's first commercial scale soy-based aquaculture feed plant is up and running in South Dakota.
Prairie AquaTech, located in Volga, produces 30,000 tons of fish feed annually.
"There are none that we know of that are to this scale yet, there's a lot of pilot scale testing going on, but the commercial facilities are not built yet," says Dennis Harstad, Prairie AquaTech manager.
The aquaculture feed is marketed under the name ME-Pro, which stands for microbially enhanced protein.
"The product that we use is soybean meal that comes to us at about 47% protein, and we do a microbial fermentation process to it," Harstad says.
That process converts meal into a highly digestible 70% protein feed that replaces fishmeal in various fish diets. He says their patented fermentation process is unique because they can turn the soybean meal into ME-Pro and have it out the door in less than 24 hours.
Interest in soy-based aquaculture feeds is growing because of the high price of fish meal, which has traditionally been used as a feed source. Fish meal supplies are also limited because the world's oceans are overfished, while soybeans are a sustainable and renewable alternative.
Harstad says they're concentrating on feed for fish species that are higher in value and used mostly in restaurants.
"The three main ones that we are focused on are trout, salmon and shrimp, and all three of them have huge market potentials," he says.
While Prairie AquaTech is now commercialized, the research for the feed started with funding from the South Dakota Soybean Research and Promotion Council. The state's farmers underwrote a three-year project at South Dakota State University to develop a soy-based aquaculture feed that fish could digest.
"And then Prairie AquaTech licensed this from South Dakota State University to take to commercialization," he says.
Prairie AquaTech provides a great market for South Dakota soybeans.
"For the 30,000 tons that we currently operate we will utilize about 2.5 million bushels of soybeans," Harstad says.
They source conventional soybean meal from South Dakota Soybean Processors in Volga, as they are located adjacent to their plant. However, they predominately use non-GMO product from South Dakota Soybean Processor's Miller facility since one of the producers they sell to is the largest trout supplier to Whole Foods, which is a non-GMO product.
The high quality of South Dakota soybeans makes them a superior aquaculture feed, according to Harstad. Crude protein levels have been falling in U.S. soybeans as yields have increased. However, South Dakota soybeans are higher in essential amino acids, which he says results in better gains in aquaculture operations feeding ME-Pro.
Prairie AquaTech expected to sell about 75% of its product to international markets. However, with the COVID-19 pandemic, sales slowed due to lower demand for aquaculture feed.
"About 80% of the fish that is consumed is consumed in restaurants, and of course the restaurants were all closed down and people were not eating out. They don't eat as much fish at home, so the demand for fish has dropped dramatically," Harstad says.
They still have some containers going to foreign countries, including South America, and they're selling ME-Pro in the United States for use in both fish and baby pig diets. Plus, Prairie AquaTech is working with trū Shrimp on starter feeds for their planned shrimp production facility in Madison, S.D., and hope to be a future supplier.
The company is also developing a traceability system.
"We are working on a Certified Grower Network so we can track that soybean from the farmer that plants it all the way to the fillet. What we term it is field to filet," Harstad says.
He says consumers could then scan a QR code on the package with their phone and find out where the soybeans and the fish were raised and processed.
Prairie AquaTech has been operating just a year but is already looking to the future. They have requests from aquaculture companies, mainly in Europe, and are already looking at doubling the capacity of the plant.
"My goal for this facility in Volga is in five years I would like to see us be a 100,000-ton facility," Harstad says.
That would also increase soybean use at the plant to 8 million bushels per year.