Pastoral flag a symbol of unity
The U.S. flag goes up on Memorial Day and comes down "for the winter" after Veteran's Day on Nov. 11, on the dairy farm run by Daniel and Ruth Pohlmann of Sauk Centre, Minn., with their son, Aaron, who is moving into management.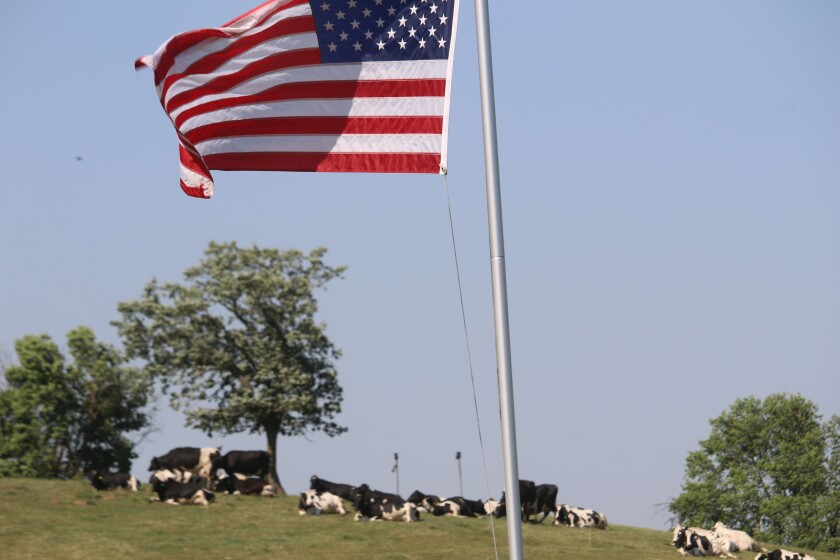 We are part of The Trust Project.
SAUK CENTRE, Minn. — Ruth Pohlmann and her husband, Daniel "Dan" put up a flag on their yard, in a picturesque yard north of Sauk Centre, Minn.
The flag goes up on Memorial Day and comes down "for the winter" after Veteran's Day on Nov. 11. The flags are replaced when they're worn and torn. At night, the flag has a distinct lit cross — a gift at the time of the passing of Ruth's mother.
The Pohlmanns initially lived at Dan's hometown of Melrose. Ruth, originally was from Sauk Centre, worked in a beauty shop and he drove a milk truck. The couple moved here Sept. 1, 1979, and started milking cows. But 21% loan interest rates influenced Dan to go back to milk truck driving as a side business.
The couple started with about 20 cows, but increased to about 34 head of cows. Ruth helped with the milking and feeding the calves. They initially sold milk to Kraft.
"That's who he drove for, and now it's Land O'Lakes," she said.
The Pohlmanns raised four children. Today, Ruth, 69, and Dan, 67, and son, Aaron Pohlmann, 32, continue with the dairy. Dan is often off trucking. Aaron lives in Sauk Centre and comes out to milk and raise hay and corn silage that go into bags as feed for the dairy herd. Aaron is married to Chasity, and they have a son, Austin. Chastity operates a child care business in their home..
Aaron started full-time with the farm five years ago and acknowledged he "hasn't had a great year yet" for returns. The end of last year was "pretty good," financially, but then "COVID" hit, dashing revenue.
Looking into the future, Aaron said he expects he'll always want to see a flag on the farm. Besides being handy for determining the direction and strength of the wind, it makes a "nice picture" on the hillside, with the dairy herd as a backdrop.
"I miss it when it goes down, right away," Aaron said. 'You look at it all the time, subconsciously, even."
Ruth's and Dan's fathers both served in the military. Ruth's father was in mechanics. Dan's father had been in combat.
"They never talked about it much," she said. The flag represents a freedom that has special meaning for farmers.
"It's still your land; you can still do what you want to do," she said. "Hopefully it'll stay that way."
The flag should be a unifying symbol for the country, Ruth added and noted she's sad when it isn't.
"I think the flag means even more now than it did before," she said. "I appreciate our country. I like to see the flag."
Catch AgweekTV on July 4-5 for more on Mikkel Pates's Flags on Farms features.
1
/
5:
Aaron Pohlmann, 32, of Sauk Centre, Minn., dairy-farms with his parents, Daniel and Ruth. Photo taken June 16, 2020, near Sauk Centre, Minn. Mikkel Pates / Agweek
2
/
5:
Ruth Pohlmann, 69, of Sauk Centre, Minn., dairy-farms with her husband, Dan, who also drives a milk truck, as well as their son, Aaron, 32. Photo taken June 16, 2020, near Sauk Centre, Minn. Mikkel Pates / Agweek
3
/
5:
Ruth Pohlmann, 69, and her son, Aaron, 32, stand in the dairy farm yard north of Sauk Centre, where the family flies a U.S. flag from Memorial Day to Veteran's Day every year. Photo taken June 16, 2020, near Sauk Centre, Minn. Mikkel Pates / Agweek
4
/
5:
The base of the flag on the dairy farm Daniel and Ruth Pohlmann operate with their son, Aaron, near Sauk Centre, Minn., is provided with a cross that lights up at night. Photo taken June 16, 2020, near Sauk Centre, Minn. Mikkel Pates / Agweek
5
/
5:
The U.S. flag stands on June 16, 2020, against the backdrop of a family dairy operation on the Daniel and Ruth Pohlmann farm at 20108 Balsam Drive, in rural Sauk Centre, Minn. Photo taken June 16, 2020, near Sauk Centre, Minn. Mikkel Pates / Agweek