New winery opens on Lake Irene
The Minnesota state motto, L'Etoile du Nord -- which means "The Star of the North" -- is not a trademarked name and is used around the state for several business, including a brand new winery on Lake Irene.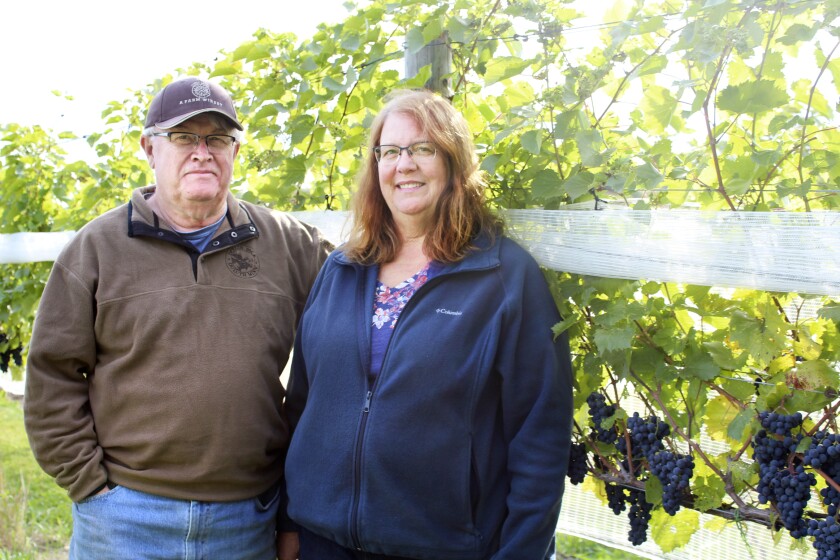 The Minnesota state motto, L'Etoile du Nord - which means "The Star of the North" - is not a trademarked name and is used around the state for several business, including a brand new winery on Lake Irene.
L'Etoile du Nord Farm Winery, owned and operated by the husband-wife team of David Christianson and Polly Perkins, officially opened the weekend after Labor Day. The small, family-operated winery is located along Highway 29 between Miltona and Parkers Prairie on land where Perkins grew up.
In fact, some of the pine trees at the winery were planted by Perkins when she was a little girl.
Coming home
Her parents bought the 10-acre plot of land in 1963. The family lived in Alexandria, but spent their summers at the lake.
In 2008, Perkins and her sister inherited the land after their father died. A farmer had been renting the 10 acres to farm alfalfa and corn, but the adjacent busy highway proved hazardous for moving farm equipment and the farmer decided to quit farming, according to Perkins.
Perkins and her sister wanted to keep the land, but didn't exactly know what to do with it.
Fast-forward to 2010, when Perkins and Christianson, who lived in Chanhassen at the time, were at the Minnesota State Fair and stopped by a booth with information about growing grapes in Minnesota.
A short time later, they both attended the University of Minnesota's informational meeting at the Horticultural Research Center in Chaska about cold-climate hardy wine grapes that are bred to grow in Minnesota.
Christianson, who grew up on a small dairy farm near Crookston, was eager to get his hands dirty again after living the city life for the past 30 years. Perkins, who grew up on that land, had been looking for a way to return home.
And that is how the decision to open a winery was made and L'Etoile du Nord Farm Winery was born.
A harsh winter
Three acres of the 10-acre farm are now dedicated to growing cold-climate grapes. The planting of the grapes began in the spring of 2011. Unfortunately, Christianson said, the "polar vortex" of 2013 hit them hard and all the plants died to the ground, but not down to the root.
The couple thought everything was dead and gone, but Christianson said grape plants are in essence like weeds and all of their plants were lost but not the roots.
"I'm good at growing weeds," Christianson said, noting that many of the plants came back.
Last year was the winery's first production year. They have three red grape varieties and three white. The reds are Marquette, Petite Pearl and Sabrevois, and the whites are Prairie Star, Frontenac Blanc and Itaska, which is the newest variety from the University of Minnesota.
All of the grapes at the winery are hand-pruned and hand-picked. Friends and family members typically help during harvest season, but this year, Perkins said, the winery had outside help.
They have an intern from Kosovo, Imran Haxhimurati, who is a student in an agriculture educator program and is in the United States on a J1 Visa, which is a student exchange program. Perkins said he has been living with them since June and will stay until November. His parents own a winery, and she said that they have learned so much from Haxhimurati.
"It has been such a wonderful experience," said Perkins. "We have all learned so much from each other."
Because the three acres of grapes are on different planting seasons, they are not all ready to be picked at the same time. Typically, it takes about two days of picking for each variety, said Perkins. They produce about 1,000 gallons of wine, which is about 5,000 bottles.
They wanted to keep their winery small and something that fits the character of the land and the view of the lake. Both just want to produce "good wine that goes with good food."
The winery is open Thursday through Sunday and is available for wine tastings and retail wine sales.
More information can be found on the L'Etoile du Nord Farm Winery website at www.letoiledunordvineyard.com .
1
/
4:
Cold-climate grapes, such as Marquette, Petite Pearl and Sabrevois, can be grown in Minnesota. (Celeste Edenloff / Echo Press)
2
/
4:
L'Etoile du Nord Farm Winery offers both red and white wine, a rose and meads. The winery is located along Highway 29 between Miltona and Parkers Prairie. (Celeste Edenloff / Echo Press)
3
/
4:
Imran Haxhimurati, an intern from Kosovo, picks grapes by hand at the L'Etoile du Nord Farm Winery. He is a student in an agriculture educator program and is in the U.S. on a J1 Visa, which is a student exchange program. (Celeste Edenloff / Echo Press)
4
/
4:
David Christianson holds grapes that were hand picked last week at their vineyard along Highway 29 between Miltona and Parkers Prairie. (Celeste Edenloff / Echo Press)