New UAV rules should help farmers, ag businesses
David Dvorak's summer, like that of most other people involved in the fast-growing drone industry, has included some not-so-light reading: the Federal Aviation Administration's more than 600-page Part 107. The much-anticipated rules outline the l...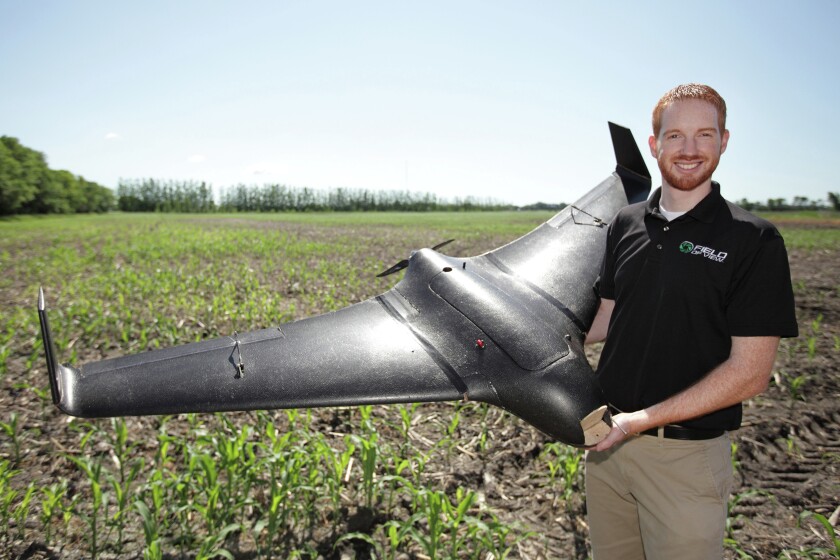 David Dvorak's summer, like that of most other people involved in the fast-growing drone industry, has included some not-so-light reading: the Federal Aviation Administration's more than 600-page Part 107. The much-anticipated rules outline the legal commercial operation of small, low-levels drones in agriculture.
And like others in the industry, Dvorak, CEO of Grand Forks, N.D.-based Field of View, which seeks to bridge the gap between unmanned aviation and precision agriculture, says Rule 107 is an important and positive step.
"It will help," Dvorak says of Part 107. "It will remove some of the uncertainty."
The new rules were released in June and go into effect Aug. 29. They're the FAA's best effort at balancing safety concerns with drones' economic potential, which some estimates put at $82 billion annually by 2025.
Part 107, which by all accounts will make it easier to operate drones, has critics, especially aerial applicators.
"We think the FAA set the bar a little low" on safety and certification requirements, says Andrew Moore, executive director of the Washington, D.C.-based National Agricultural Aviation Association.
But Part 107 generally draws praise from agriculturalists.
The rules, on balance, are positive for agriculture, says John Nowatzki, a North Dakota State University agricultural machine systems specialist who has studied drones.
Bryce Nelson, president of the Minnesota Independent Crop Consultant Association, likes them, too.
"They're based on common sense and don't require jumping through a loop of hoops," Nelson says. He's been a crop consultant since 1980 and works with Advantage Crop Consultants of Rose Creek, Minn.
Drones fit in well with precision agriculture, and hold particular promise, at least initially, for agronomists and crop consultants, experts say.
Among drones' many other agricultural uses, both current and potential, are evaluating the condition of livestock in pastures and confinement lots.
Part 107 doesn't answer all the questions or resolve all the challenges of drones in agriculture. Experts say technology, particularly cameras and sensing equipment, still needs to evolve, as does insurance.
But the new rules will hasten the process, says Tim Kidwell, editor-in-chief of Drone360, a Milwaukee-based magazine that specializes in the aircraft.
With the release of Rule 107, "We know what it will take to get the drone in the air," he says. Now, the task is to "capture the data and analyze it to get actionable data. Without the actionable data, all the other stuff is superfluous."
Rules, reaction The FAA says flights will be allowed in agriculture for UAVs that weigh less than 55 pounds, fly up to 400 feet high and travel up to 100 miles per hour, provided the flights are within sight of an operator and not over people.
UAVs will need special lighting to fly at night and must stay at least 5 miles away from airports. Operators must be at least 16 and have a remote pilot certificate.
Aerial applicators, once known as crop sprayers, fly in the same air space as drones. Drones are too small to see easily, but large enough to do major damage when they strike a plane. Even birds, which are much lighter than UAVs, can do serious damage in mid-air collisions with planes, Moore says.
Aerial applicators wanted stricter certification requirements than what the FAA decided on. People need to pass a hands-on test to get a driver's license for a car and something similar should be required to operate a drone, he says.
The FAA also should have imposed tougher requirements for certifying and maintaining drones, he says.
On the other hand, the FAA did respond to aerial applicators' concerns by lowering the maximum height at which commercial drones can operate to 400 feet from the original 500 feet, which creates a bigger buffer zone, Moore says.
By all accounts, there's room in agriculture for drones, manned aircraft and satellites. For instance, satellites provide big-picture information that manned aircraft and drones can't, while the latter two offer immediacy and personalized control that satellites lack.
A survey of National Agricultural Aviation Association members earlier this year found 3 percent already use UAVs and 14 percent are interested in doing so.
"They see this (drones) as a potential opportunity to diversify," Moore says.
The process has begun already, he notes.
In late May, Texas-based AirTractor, a leader in agricultural aircraft, bought Hangar 78 UAV, a drone company that produces the Yield Defender unmanned aerial system, which is designed specifically for agriculture.
The acquisition will help Air Tractor remain an industry leader as UAVs evolve and are integrated into aerial ag application, Air Tractor officials said at the time.
Other questions Safety and insurance is one of six areas of concern identified by Jamie Nafziger, a Twin Cities-based partner in the Dorsey & Whitney law firm. She's worked on drone issues with agricultural clients.
Some companies already offer insurance for drones, although Nafziger and others say drone insurance will improve as more information and statistics about their use is assembled.
Insurance is particularly important for businesses that provide drone services, she says.
The other areas of concern she identifies are:
Nafziger ranks complying with federal laws as the biggest concern, with data ownership second and privacy third.
Economic possibilities Kidwell sees five general areas in which drones hold particular economic promise: agriculture, infrastructure inspections, real estate, construction, and photo and video. Drone insurance also has strong economic potential, but as a component of those five, rather than as a standalone area, he says.
Much of agriculture's economic potential comes in developing and selling cameras and software that will provide farmers and ranchers with useful, "actionable" data, he says.
Drones provide "a lot of business opportunities for people in rural America," Nafziger says.
Dvorak is one of them. GeoSnap, his company's flagship product, is an add-on device for multispectral cameras mounted on either manned or unmanned aircraft. It generally has drawn more interest overseas because other countries have fewer restrictions on air space, but Part 107 should increase interest domestically, he says.
Agricultural opportunities will expand as technology improves and more is learned in other countries with less-restrictive policies on small, low-level drones, Nafziger says.
For example, a small fleet of drones eventually could work in unison over the same field, which would save time and cut expenses, she says.
Nelson, the Minnesota crop consultant, says while specific uses of drones in agriculture are difficult to predict, the best is yet to come.
"We're in the beginning stages. It's just going to keep growing as the technology gets better," he says.
Learning more/getting started Interested in using drones on your farm, ranch or agricultural business? If so, the Federal Aviation Administration offers the following online assistance:
The National Agricultural Aviation Association is working to educate farmers, members and others on reducing the danger that UAVs pose to aerial applicators. For more information visit:

The National Telecommunications and Information Administration's "best practices" recommendations for privacy and accountability in drone use can be found at ntia.doc.gov .
Of names and privacy They're aircraft without a human pilot aboard, and they go by many names. UAVs (unmanned aerial vehicles), UASs (unmanned aerial systems) and drones are the most common. For a time, UAVs or UASs were the generally preferred term, in part because many in the industry thought drones carried unwarranted military and privacy concerns.
But the public has clearly settled on drones, says Tim Kidwell, editor-in-chief of Drone360, a Milwaukee-based magazine that specializes in the aircraft.
"It's drones. Some people out there don't like that, but it's caught on," he says. "We aren't just associating drone with air strikes on the other side of the world. It's not just a military term anymore."
There's value in that because in "an industry like ours, flooded with acronyms, everybody knows what we're talking about (when you use drones)," he says.
At the same time, the industry will need to continue to point out that "drones are being used for good, that they're UAVs and UASs being used for good," he says.
Kidwell discounts concerns that drones pose a privacy concern.
"The truth of the matter is, unless you're the military or the CIA, drones are almost completely useless as a spy tool," he says. "The privacy issue is a red herring."
Jamie Nafziger, a Twin Cities-based partner in the Dorsey & Whitney law firm who has worked on drone issues with agricultural clients, also downplays privacy concerns
"People don't worry about satellites flying over their farms, but they do worry about drones," she says. "Conceptually, it's not all that different."