Minnesota seeks to improve working, living conditions for ag and food workers
Minnesota Governor's Committee on the Safety, Health and Wellbeing of Agricultural and Food Processing Workers releases 13 recommendations on areas such as housing and providing information in languages other than English.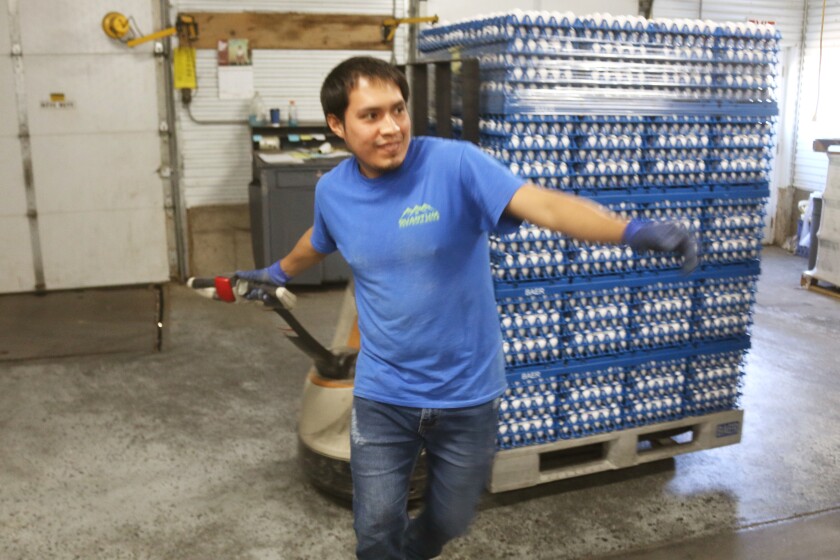 ST. PAUL — A committee is making 13 recommendations to improve working and living conditions for agriculture and food processing workers in Minnesota, which includes many immigrants to the state.
The Governor's Committee on the Safety, Health and Wellbeing of Agricultural and Food Processing Workers released a report Wednesday, Jan. 19. The committee's recommendations are focused on coordination and communications, housing, safety, and fair labor standards.
Among the recommendations are:

Create an ombudsperson position for the safety and well-being of agricultural and food processing workers. This will help with centralizing functions that are housed in separate state government departments.
Ensure that employers provide information about workplace safety, worker rights, and how to get help in all languages spoken by their employees and provide support for employers to access translated materials. Workers' advocates told committee members that written materials often were provided only in English.
Make employers who provide housing to agricultural and food processing workers register those housing units. The state also would provide regular inspections.
On housing, the reports note that inspections of housing units may rely completely on a complaint-based process. This is the case if an employer provides fewer than five units.
The report says that the agricultural production and processing industries generate over $112 billion annually in total economic impact and support more than 431,000 jobs in Minnesota.
The state has about 12,000 workers in meat processing, the majority of them immigrants from Mexico, Central America, East Africa and Southeast Asia. The meatpacking workforce in particular is highly mobile, with a 20% to 40% annual turnover rate, and as a result, many workers may not know their legal rights. A 2015 evaluation report on State Protections of Meatpacking Workers by the Office of the Legislative Auditor found that very few of these workers understood the workplace protections available to them.
The 15-member committee was formed in response to the COVID-19 pandemic that added to the challenges faced by agricultural and food processing workers. In meatpacking and other agricultural processing facilities, workers may not be getting health and safety information in a language they can easily understand.
"The pandemic has caused serious health and financial setbacks for many of our agricultural and food processing workers and their families," Department of Agriculture Deputy Commissioner Andrea Vaubel said in a news release. "The committee's recommendations offer long-term solutions for ensuring their health, safety, and overall well-being."