Miffed over navy bean muffin recipe, Michigan students take on federal school lunch program
The U.S. Dry Bean Council, which includes members from North Dakota and Minnesota, have worked for years to increase the commodity's presence in U.S. Agriculture Department food programs, such as school lunches, and now they're getting support from an unexpected proponent –- a high school Culinary and Catering Management class.
We are part of The Trust Project.
A muffin may be the key that opens the door to new opportunities for dry edible bean use in school lunch programs.
The U.S. Dry Bean Council, which includes members from North Dakota and Minnesota, has worked for years to increase the commodity's presence in U.S. Agriculture Department food programs, such as school lunches, and now they're getting support from an unexpected proponent — a high school Culinary and Catering Management class.
Juniors and seniors in the class at the Muskegon (Michigan) Area Career Tech Center have gone to bat for beans' inclusion in the school lunch program in a pureed form, hoping to hit a home run for students' nutrition and the edible bean industry.
The impetus for the hospitality and management students to change USDA policy was the discovery that a muffin made with a pureed form of edible beans was not eligible for reimbursement in the school lunch program because the commodity wasn't recognizable.
The irony of navy beans not being considered a protein because they are pureed doesn't escape Joe Cramer, Michigan Bean Commision executive director.
"We have this one little rule that says a bean is not a bean, if you smash it," Cramer said. "What a simple thing to change that would make such a difference, not just for the kids, but for the economic impact to growers in states like Michigan and North Dakota."
The U.S. Dry Bean Council has worked for decades to increase the usage of edible beans in the school lunch and other USDA food aid programs, said Patrick King, a member of the U.S. Dry Bean Council and owner of P.W. Montgomery LLC, an edible bean marketing and distributing company in Fargo, North Dakota.
One of the challenges with incorporating edible beans into school lunches has been finding palatable ways to achieve that goal.
"That's our challenge, to get something kids would eat — not just beans out of a can," King said.
If the USDA rule is changed so it recognizes pureed edible beans as a protein, that would help accomplish the goal.
"Our whole goal is to get more food in the food aid market," he said. "There's a tremendous need for food aid."
Meanwhile, the increased demand for edible beans would benefit the farmers who grow them.
"Beans are a really important part of the rotation, especially here in North Dakota," King said.
Elissa Penczar, a food industry veteran and the students' teacher, was flabbergasted when she learned about the USDA rule that pureed edible beans are not reimbursable in school lunch programs.
Penczar for about 10 years has taught the Culinary and Catering Management class, which includes in its curriculum development of a recipe that will help a statewide farm-to-school program called "10 cents a Meal for Michigan's Kids and Farms." Penczar is a strong advocate for local foods and encourages her students to find ways to develop recipes that can incorporate Michigan-grown foods, including apples, mushrooms and winter squash into USDA school lunch programs.
"The big hook for the kids is that if it is approved for the K-12 schol lunch program, USDA will publish their recipe," Penczar said. The recipe will be available in school lunch program cookbooks and online.
Penczar begins the recipe development section of her class by asking students to brainstorm ways to incorporate locally grown foods into their recipes, which must meet USDA guidelines for school nutrition. A few of the students have a recipe in mind that they want to modify, but many look online and in cookbooks for ideas. Once they choose recipes, they tweak it until it meets the guidelines.
Muskegon Area Career Tech Center does not have a school lunch program, so Penczar partners with Dan Gorman, food service director at nearby Montague (Michigan) Area Public Schools. Gorman has expertise in USDA nutrition guidelines and can apply for USDA grants, such as a nutrition grant that he received a couple of years ago that was for developing menu items featuring local foods.
During the 2021-22 school year over the course of eight weeks, Zoe Fauble, a 12th-grade student in the Culinary and Catering Management class, developed a muffin recipe using locally grown pureed navy beans, grated sweet potatoes and diced apples. A whopping 91% of the Montague elementary and high schools students gave the muffin a thumbs up.
It also appeared that the muffins, paired with a glass of milk, met the USDA requirement for a reimbursable school breakfast. According to the nutritional analysis of a Montague Area Schools dietetic intern who works with Gorman, the muffins also have less than 60% of the fat of a typical hand-held waffle microwaved in a food manufacturing company package, said a news release from Groundwork Center for Resilient Communities, a communications partner with the Michigan Department of Education.
Meanwhile, the muffin and milk breakfast contains nearly eight times as much fiber, twice the Vitamin D and 36% protein — 12% more protein than the waffle breakfast — according to the Groundwork Center for Resilient Communities news release
But the intern also pointed out to Zoe and her class that USDA won't count navy beans as a protein unless they are in whole form.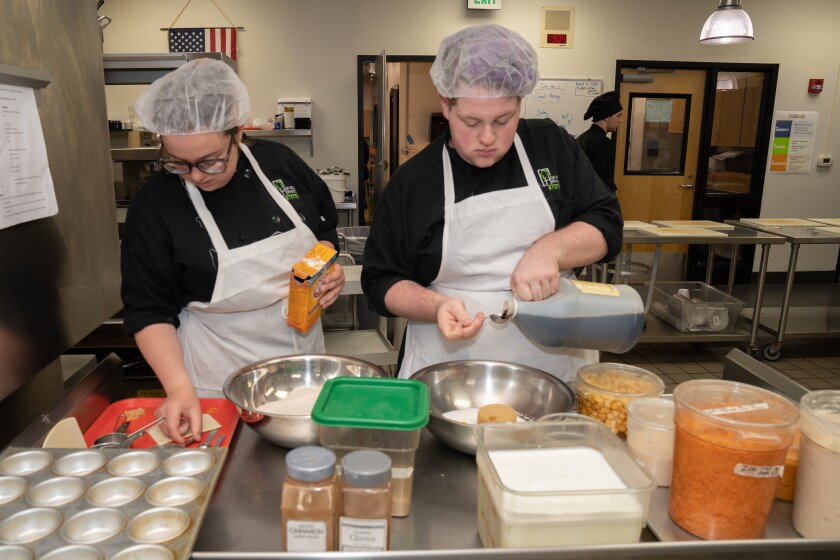 When the students and Penczar conducted research and read USDA's 40-page guidelines for reimbursement, they learned the intern was right.
"They don't count unless you can actually see the beans in it," Penczar said. "Who the heck is going to eat a muffin that has big ol' beans in it?"
Zoe and her classmates were disappointed in what they perceived to be a "dumb rule," so Penczar encouraged them to work to change it, instead of just complain about it.
Meanwhile, Gorman believed there was a possibility for change because until recently USDA didn't reimburse school lunch programs for smoothies because the fruit wasn't recognizable. Samia Hamdan, Food and Nutrition Services Agency Special Nutrition Program director at the Midwest Region office in Chicago, maintains that disguising vegetables by pureeing them may not teach and encourage students to recognize, eat and enjoy a variety of healthy fruits and vegetables, according to the Groundwork Center for Resilient Communities news release.
"We want to teach kids what a balanced diet looks like," the news release quoted Hamdan as saying.
However, hummus, which is pureed chickpeas, and refried beans, which is pureed pinto beans, are approved by USDA to be in the reimbursable school lunch program..
Penczar's Muskegon Area Career Tech Center Culinary and Catering Management students believe that there should be "bean equity," and whole beans and pureed beans should be treated the same, just as yogurt, fruits and vegetables that are blended into smoothies are allowed as fruit and protein.
When Penczar's students expressed disappointment and frustration about the USDA rule she encouraged them to take action to change it, noting that they would encounter what they were calling a "dumb rule" throughout their lives.
Working to change the policy was a civics lesson in governmental bureaucracy.
First, the students contacted Hamdan's regional USDA office in Chicago and made an appointment to pitch their reasons that the rule should be changed and then put together a slideshow to convince them. The slide show included information from Cramer about edible beans, the sustainable way that beans are produced and the nutritional value of the commodity.
After viewing the slideshow, the USDA regional staff told the students that they were powerless to change the rules, which had been made by Congress. Undaunted, the students modified the slide show and made a video, which included more information about edible beans and "influencers'' to talk about the commodity, then contacted the office of U.S. Senator Debbie Stabenow, D-Michigan, who chairs the Senate Agriculture Committee.
Stabenow's office, in turn, referred them to and spoke via Zoom with Jacqlyn Schneider Senate Agriculture, Nutrition and Forestry Committee deputy staff director, policy.
Schneider met with the students, Penczar and Gorman, over Zoom for more than an hour and a half, listening to their presentations and asking questions, Penczar said.
Then Schneider told them that Congress didn't make the rule about whether pureed beans can be included in school lunches — USDA did.
This past May, the students attended a Michigan Local Food Council network meeting legislative day to learn about ways they could contact the federal USDA to affect policy changes that included writing letters and obtaining letters of support from local Michigan legislators.
In late June the students had drafted a letter, which they will send to U.S. Agriculture Secretary Tom Vilsack, letters of support from local legislators. Meanwhile, the Michigan Bean Commission had passed a motion to support the students' efforts to change the rule.
Cramer is impressed by the students' drive to change the rule and their perseverance. "As a commission, we're supporting them as best we can," he said.
Hamdan commends the students for looking for ways to make meals more nutritious and the regional USDA agency will do its best to support the students' in their quest for change in the policy.
The outcome of the students' efforts wasn't determined by late June, but the project has been a lesson in learning about a commodity from the ground up, and that's what Penczar strives to teach in her hospitality and food service class.
For example, during the recipe development project, the Muskegon Area Career Tech Center principal Kyle Fiebig, who farms in the "Thumb region of Michigan" talked to the class about edible bean production.
"Every time we do local foods, we talk about sustainability and nutrition," she said. "Besides those, this time her students learned the process involved in making policy and how to change it, gaining knowledge and respect and promoting the edible bean industry along the way.
For example, at a May 2022 field hearing on the 2023 Farm Bill held this spring in East Lansing, Michigan, the students handed out brochures about the nutritional benefits of edible beans, wore polo shirts with a bean logo and testified in support of changing the rule.
"I don't think there was that much representation of bean farmers, ever," Penczar said.