Maddock Ranch has a history of success with regenerative grazing and putting marginal land into prairie grass
Maddock Ranch has a commercial herd made up of 100 cows and feeds about 400 to 500 calves annually.
MADDOCK, N.D. — Maddock Ranch is in the business of turning healthy cattle into nutritious beef.
Travis and Mistte Maddock, Shane and Lindsey Maddock and Brian and Vicki Maddock own the ranch northwest of Maddock in north-central North Dakota. Travis and Shane, who are brothers, ranch part time, and their father, Brian, the ranch's founder, helps his sons with the operation.
Maddock Ranch LLP has a commercial herd made up of 100 crossbred cows and feeds about 400 to 500 crossbred calves annually. Besides ranching, Travis Maddock, who earned a master's degree in meat science from Texas A&M and a doctorate in ruminant nutrition from North Dakota State University, owns and operates Dakota Global Consulting LLC, which advises meat and food companies about food safety, consumer issues and regulatory requirements. Shane, meanwhile, is a contracted mail carrier for the U.S. Postal Service.
The Maddocks use a regenerative grazing system to finish their cattle. The cows calve in June, are weaned in the fall, fed through the winter, and then turned on pasture before they are marketed at about 15 months when they are "long" yearlings. The ranchers also buy calves, weighing from 400 to 500 pounds, in the spring and put them on pasture during the summer and market them in the fall.
Early regenerative farming
Brian Maddock started rotational grazing in the 1980s.
Rotational grazing, which is the heart of Maddock Ranch's cattle feeding program, both improves grass production through strengthening the plants' roots and builds soil health, said Greg Lardy, vice president for agricultural affairs at NDSU and an animal scientist. The Maddocks passion for regenerative grazing illustrates the family's dedication to land stewardship, he said.
Stewardship has been the Maddocks' philosophy for generation.
"My dad was a regenerative farmer before anybody talked about being regenerative. He took the marginal land on our farm and put it back into grass," Travis said. "Our philosophy is, cattle are a means to build soil and build healthy land."
The ranch acreage is made up of hundreds of grass paddocks that range in size from 2 acres to 10 to 15 acres. During the past 30 years, the Maddocks have continued to take marginal land out of production and put it back in grass.
"Some of those paddocks can be very intensively grazed," Travis said. For example, depending on how much grass is available and how many cattle are grazing it, paddocks sometimes are reduced in size from 8 acres into six sections, which are rotating daily or even twice daily, he said.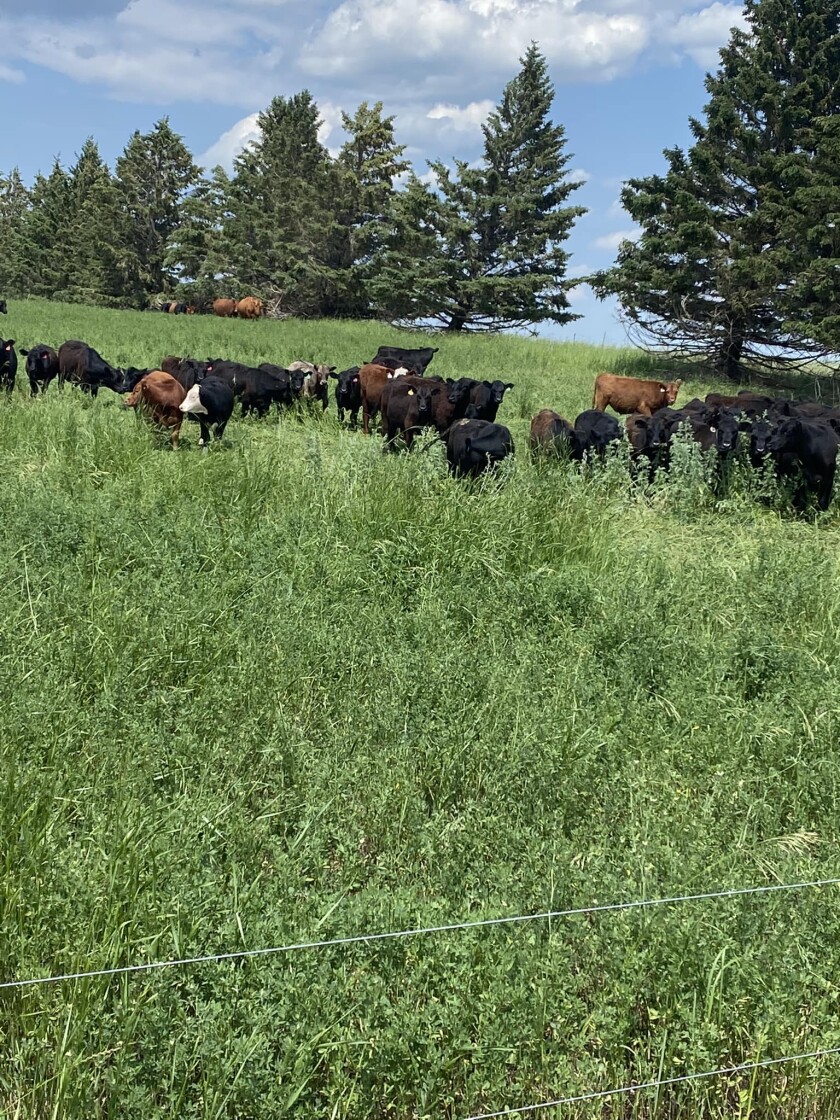 Acres that once produced wheat yields of only 20 bushels per acre now are producing 3-feet-deep grass.
The Northern Plains' long periods of daylight during the summer, summertime temperatures and typically adequate moisture make it an ideal environment for growing cool-season grasses.
Besides being beneficial for the soil, finishing calves using the regenerative grazing system is cost-effective because it reduces labor needs and equipment purchases, Travis said. The Maddocks also keep their operation simple by purchasing most of their feed, which reduces the need for equipment.
"We don't have a lot of machinery around. We've got loaders so we can feed cattle.
"Our ranch is pretty simple; not a lot of buildings, not a lot of infrastructure," Travis said as he pulled his pickup truck into the ranch yard on a late January day.
The tradition of Maddock Ranch is to calve in the summer when the cattle are out on grass.
"Some people like to calve in February and March. They're set up for it. They have the barns and equipment," he said. "We like to calve when the sun is shining and the temperatures are a little warmer."
Sheltered from the wind by a barn on one side of the corral and a grove of trees on the other, a bunch of black calves crowded around a bale feeder on a January day. Others rambled around the corral. Some stood chewing their cuds.
Beyond the calves' corral, cows curiously watched as visitors climbed out of the pickup and walked through the gate and stood near the calves. The calves stood watching, until Travis grabbed a couple of buckets from the barn and filled them with wheat middling pellets, then poured them into troughs, where they lined up to eat. Besides pellets and alfalfa and grass hay, the Maddocks also feed the calves corn screenings in the winter.
"The goal here is to gain a pound, pound and a half a day during the winter," Travis said. The Maddocks strive to feed the calves so they are in an optimum condition in June to go out and "explode" when they're turned out in the pasture.
"You don't want them too fat. You don't want them too lean. You want them to be thrifty and grazing and ready, so when they get out on the right type of grass, they can really gain well," he said.
The weights at which Maddock Ranch markets its yearlings varies from as light as 700 pounds to as heavy as 1,000, depending on what the market is signaling, Travis said.
The Maddocks market most of the calves through a video auction. Maddock Ranch also is part of 6 in 1 Meats, a group of ranchers who own a federally inspected processing facility in New Salem, North Dakota . Maddock Ranch direct-markets their beef that is processed at 6 in 1 Meats to several customers.
Travis' work as a consultant in the meat and food industry gives him a unique understanding of the industry, said Lardy who was Travis' advisor when he earned his doctorate.
"He has an appreciation for the beef production chain all the way from cow-calf to retail," Lardy said.
In the end, though, Maddock Ranch, like other cattle producers, is raising a commodity.
"There aren't any secrets; there's no pot of rain at the end of the rainbow," Travis said. While he enjoys the day-to-day operations of the ranch, it's the end product that is his passion.
"I like going out and sitting on a hill and watching those calves and seeing those calves frolic and playing in the green grass. That's a really neat sight," he said.
But it's the bigger picture that really resonates with Travis.
"This idea, that we're, at the end of the day, producing a product that's so nutrient dense. It's so darn good for you, and we get to do it in a way that leaves the land a little better than we found it. We get an opportunity to feed the world. That's our goal on the ranch," he said.
Though Travis' expertise and knowledge help him achieve that goal, raising cattle, like raising crops, requires a huge leap of faith.
"We're filled with faith and we try to do everything for God and Jesus.… We always figure if we take care of our land and we take care of our faith as best as we can, our faith and our land will take care of us," he said.