Jenniges Meat Processing among small meat processors expanding to meet demand
Small meat processors were thrust into the spotlight early in the COVID pandemic and now are benefitting from grants and programs to help them expand. Jenniges Meat Processing in Brooten, Minnesota, is a prime example.
We are part of The Trust Project.
BROOTEN, Minn. — Early in the COVID-19 pandemic, outbreaks at large meat processing facilities thrust small businesses like Jenniges Meat Processing into the spotlight.
"I think our two lines rang for two days straight," said Nathan Jenniges, looking back on March 2020.
Jenniges Meat Processing was able to bring in some extra help and add a second shift to try to help out livestock producers who were suddenly without a market for their animals.
Now with the help of grants, Nathan and Angela Jenniges are undertaking a $5.7 million expansion to become a U.S. Department of Agriculture inspected facility and triple its slaughtering and processing capacity. It is one of many smaller livestock processors looking to expand.
"We're just hoping it will be a big asset to our community," Angela Jenniges said.
That community is Brooten, a town of about 750 people in central Minnesota. But the business serves producers in about a 60 mile radius around Brooten.
Ben Hawkins raises about 15 to 20 head of cattle as a side business at Lowry, about 25 miles west of Brooten.
He said the growth of Jenniges allows him some more flexibility.
"We might add a few more animals to grow along with them," Hawkins said.
He said the are a number of small beef herds in the area with 20 to 40 cattle that rely on small processors.
Not only will the new facility help livestock producers, the new building along Highway 55 will have a retail store to offer fresh meats directly to consumers. They also plan to partner with local businesses like the bakery so folks might be able to pick up a loaf of bread at the same time, as well as things like chips, condiments, and paper plates.
"It's really important to help out our fellow neighbors that have supported us for the last 10 years and now it's time for us to give back," Angela said.
Among the changes the new facility will bring:

A USDA inspected facility will allow meat to be sold in their own retail store or at farmers markets and to restaurants.
The new facility will have one larger cooler instead of several smaller ones, increasing efficiency.
Jenniges Meat Processing currently does its livestock kills at the farm. The new location will allow for the animals to be put down on site, saving miles and time.
The new location will be big enough to accommodate a semi-load of livestock being trucked into the site, allowing them to serve customers from farther distances.
Jenniges Meat Processing recently topped a list of meat processing businesses that were awarded grants by the Minnesota Department of Agriculture. The business will have $100,000 for equipment in the new building.
"The past couple years has clearly shown us the need for Minnesota farmers to have expanded options for processing their livestock and related products," Agriculture Commissioner Thom Petersen said.
While Jenniges Meat Processing got the largest grant of the Agricultural Growth, Research, and Innovation program grants announced in April, there were 14 other processors in Minnesota awarded money for things like coolers and meat smokers.
The Minnesota Legislature just approved another $750,000 for the Minnesota Department of Agriculture to pass along to meat processors through grants.
There's also money in the budget for training and for Central Lakes College at Brainerd and Ridgewater College at Willmar to set up training programs for meat processing. The Legislature has set aside money for training at the high school level.
Agriculture Secretary Tom Vilsack in May announced that USDA is making available $200 million under the new Meat and Poultry Intermediary Lending Program as a way to address the limitations on processing capacity that have come with consolidation in the meatpacking industry. The money is for independent meat and poultry processors to start up and expand operations.
The program will provide grants of up to $15 million to nonprofit lenders to create a loan fund for meat and poultry processing businesses.
USDA also announced $25 million for workforce training programs for meat and poultry processing workers.
Jenniges Meat Processing is waiting to hear on a USDA grant application that would provide more than $1 million toward the expansion.
Angela did much of the work on the grant-writing front, winning a previous round of state funding for equipment as the business started to eye an expansion.
Samuel Gazdziak from the American Association of Meat Processors said providing help with grant writing is one of the benefits of belonging to the organization.
"If you've not done that before, that can be very difficult and confusing," Gazdziak said.
The national association will be holding its 2022 convention July 14-16 in Des Moines, Iowa. Registration is encouraged but not required.
Nathan and Angela hope to attend and say their business has benefited from the Minnesota Meat Processors Association.
Nathan said they have been able to tour other facilities to get ideas and see what else is possible.
Gazdziak said another benefit of an association is helping navigate complex state and federal regulations like the situation where Jenniges Meat Processing is going from a custom exempt processor to a USDA-inspected facility.
Most of the 1,500 members of the American Association of Meat Processors are small family-run businesses.
"The head of the company has to wear a lot of hats," Gazdziak said. "We try to take some of the worry off, which goes a long way."
Nathan and Angela Jenniges admit that they have concerns about their expansion and expect some sleepless nights.
Angela said the main concern is staying on budget in the face of the inflation and on time with supply chain issues. They hope to open the new facility in May 2023.
One pitfall they have been able to avoid is staffing. They just went up to eight employees with a college student returning to Brooten for the summer.
Nathan, who grew up on a cattle farm, started working for the previous owners while he was still in high school. He and Angela, a native of nearby Glenwood, worked for the previous owners for a couple of years and bought the business in 2012.
Nathan's mother works there, but they also have been able to retain younger employees, some of whom also started in high school.
With the expansion, they hope to eventually reach 30 employees.
They will also be a much more visible part of the community, with the location being right across Highway 55 from the elementary school for the Belgrade-Brooten-Elrosa School District.
Nathan said there was one summer where traffic was detoured off Highway 55 past their current location. They said they had many people stop, looking to see what they could buy.
But as a custom-exempt only processor, there is no retail section. But the inquiries give them confidence in their retail plans.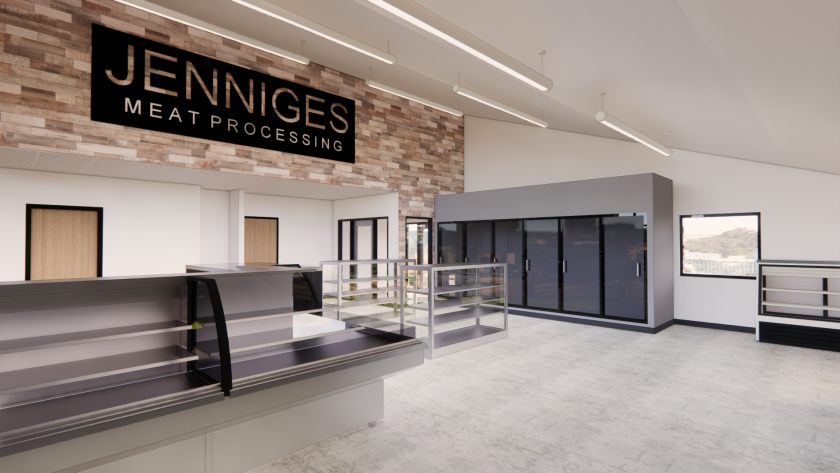 It's right on Highway 55 to make it accessible to farmers driving by or people pulling campers or fish houses, or semis," Nathan said.
The larger space will also make it easier for livestock producers, who now will be able to bring in animals for processing, even by the truckload.
Jenniges Meat Processing in the past has only been able to put animals down on the farm. It's a service they say only a few processors in Minnesota offer. But it was done somewhat out of necessity, since their current facility isn't set up for on-site kills.
They still hope to offer the on-farm service, which is especially in demand among smaller farms that may not be equipped to haul livestock.
Hawkins appeciates the on-farm service for himself but also admires how Jenniges Meat Processing cares for his customers.
He was having seven cattle processed for about 20 customers and said Jenniges will speak with each one about what their needs and preferences are, using previous orders as a reference.
"Their packaging and processing is second to none," Hawkins said.
The expanded site and ability to handle a truckload of livestock will better serve bigger livestock operations, perhaps even from the Dakotas.
And it will cut down on the lead times for scheduling animals for processing. They are usually booked out six month in advance now.
Even with other operations like theirs trying to expand, there is plenty of need for their services.
"We just see a huge demand," Nathan said.