Industry: Potatoes positioned for growth
Officials optimistic despite 'tater haters'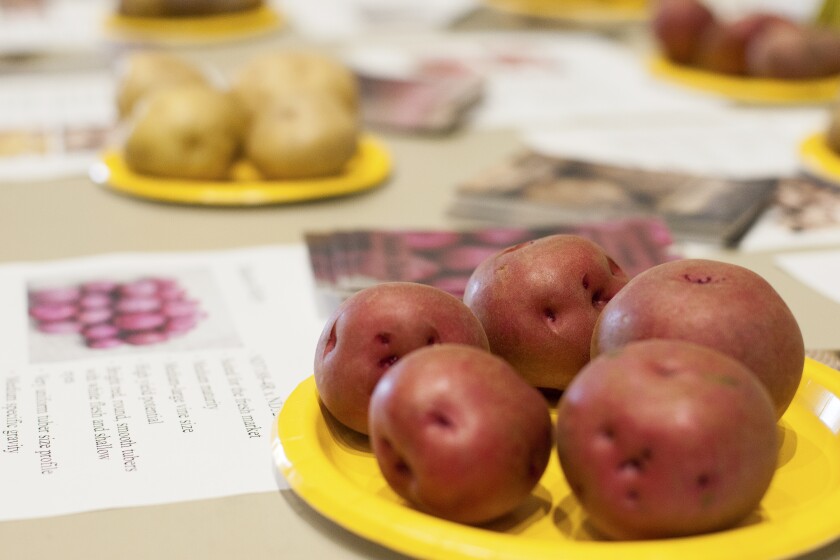 We are part of The Trust Project.
GRAND FORKS, N.D. — The U.S. potato industry likes to promote spuds as America's favorite vegetable. Now, industry leaders say their product is positioned for even greater popularity.
"I have some good news to share. And that is, the demand (for potatoes) is growing," both at home and abroad, said Kendra Keenan, global market manager/foodservice for Potatoes USA, the industry's marketing arm.
She spoke Feb. 19 in Grand Forks, N.D., on the first day of the two-day International Crop Expo. The annual event, which typically attracts about 4,000 people and 170 exhibitors, is sponsored by small grains, soybeans and potato groups.
Presentations by potato industry leaders are among highlights of the Crop Expo. Speakers this year included Keenan, Kam Quarles, CEO of the National Potato Council, which is involved in regulatory and legislative issues, and Mark Klompien, CEO of United Potato Growers of America, which seeks to improve the prices that growers receive for their potatoes.
The Red River Valley of western Minnesota and eastern North Dakota is the nation's leading producer of red potatoes and the only region that grows in volume for the chip, fresh, red and process markets. Many of the Crop Expo attendees are from the Red River Valley or southern Canada, which helps to explain the event's full name.
Klompien noted that 2019-20 shipments of fresh red, yellow and russet potatoes fall both nationwide and from the Red River Valley. That reflected the exceptionally wet 2019 wet harvest in the Red River Valley, which slashed the amount of harvested potatoes there and consequently pulled down total U.S. production as well.
We're No. 1
"We're America's favorite vegetable," Keenan said, repeating a frequent statement by her industry.
Potatoes rank first in consumer preference, followed by broccoli, tomatoes and corn. According to a Potatoes USA survey, 78% of consumers eat potatoes at least once a month at home, while 72% eat spuds at a food service facility at least once a month.
Domestic potato production is rising, helping to meet growing consumer demand, Keenan said.
Potato imports into the United States are growing, too. "The demand in the United States is just so high," she said. "So many people want potatoes."
About 80% of U.S.-grown potatoes are eaten by U.S. consumers. The remaining 20% are exported.
In recent years, the U.S. industry has promoted potatoes as highly nutritious and well-suited for athletes who want to improve their performance. So the industry is encouraged by survey results that found a sizable increase in the number of consumers who say they eat potatoes because spuds are "used and approved by athletes."
The potato industry's "performance campaign" has shifted the focus from "Can people eat potatoes?" to "People should eat potatoes" because of the vegetable's nutritional value — which the emphasis on athletes' use of potatoes fosters, Keenan said.
Keenan said there are critics of potatoes, whom she called "tater haters." Her industry is "taking the fight to them, providing them with facts and education — everything that we can."
Trade issues
Quarles said the U.S. potato industry has enjoyed several victories recently.
"The common refrain (among the general public) is, nothing gets done in Washington. But a few things have gotten done," he said.
Passage of the U.S.-Mexico-Canada Agreement was positive and important, he said.
Japanese ratification of its trade agreement with the United States was another win. The agreement included providing year-round access to Japan for U.S. chipping potatoes; before, there had been significant limitations on that access, Quarles said.
And the China phase one agreement is positive for the U.S. potato industry, although specifics remain unclear, he said.