Home gardeners can boost pollinators, Extension official says
FARGO, N.D. -- Pollinators are in trouble, but home gardeners can make a difference, says Esther McGinnis, North Dakota State University horticulturist and director of the Extension Master Gardener program.
FARGO, N.D. - Pollinators are in trouble, but home gardeners can make a difference, says Esther McGinnis, North Dakota State University horticulturist and director of the Extension Master Gardener program.
Honeybees have faced problems from varroa mites, diseases, nutritional deficiencies and pesticide issues, leading to steep losses.
"Historically, we've been losing a quarter to a third of all colonies each year," she tells AgweekTV.
Native bees, including bumblebees, are in the worst shape, with some species going extinct and others considered endangered.
Without pollinators, many fruits and vegetables will not produce.
"A lot of our cucumbers, squash, pumpkins, zucchinis, melons - they all depend on pollinators to transplant the pollen from flower to flower," she says.
While it's possible to find the male flower on a plant and use it to pollinate the female flowers, most people would prefer that pollinators do the work, McGinnis says. She says home gardeners can help provide plants beneficial to pollinators to keep them around.
"When it comes to pollinators, we can build a garden in our own yards, on our farms and really be an oasis for both the native bees and the honeybees that are in the area," she explains.
McGinnis suggests starting with native plants and making sure something is blooming from early spring through fall so that many different pollinators with different life cycles can take advantage.
"We want to nourish our pollinators by providing both nectar and pollen, so in essence we're providing carbohydrates and proteins to them by having blooming flowers," she says. "And we want to have flowers blooming from early spring all the way through the end of fall, to nourish all the native bee species that we have."
NDSU Extension in 2016 funded pollinator gardens throughout the state as examples and educational tools. Now Extension also has started a pollinator garden certification program. The program requires gardens be built or retrofitted to include certain combinations of plants, water sources and nesting places and that gardeners use pesticides properly. For more information about the program, visit https://www.ag.ndsu.edu/mastergardener/pollinator or https://www.ag.ndsu.edu/springfever/NDSUEXTENSIONMASTERGARDENERPOLLINATORGARDENCERTIFICATION.docx/view .
NDSU Extension isn't the only entity with a pollinator certification program. According to the U.S. Department of Agriculture, the Xerces Society has used a 2016 Conservation Innovation Grant from the Natural Resources Conservation Service to certify pollinator habitat under a new Bee Better Certification that identifies for consumers agricultural products were produced using pollinator-friendly practices. Seven farms on 4,000 acres have been certified so far, and the program hopes to add another 18,000 acres in the next two years.
Among the seven projects Xerxes has certified are two in Minnesota. Open Hands Farm, located south of Minneapolis, runs a 180-member community-supported agriculture program and works with the Minneapolis school system. The farm owners, Erin Johnson and Ben Doherty, have installed two acres of pollinator habitat, as well as a water retention basin and water-loving plants. York Farm, west of Minneapolis, grows strawberries, applies, table grapes and pears. The farm is certified organic and a water quality certified farm under the Minnesota agricultural water quality certification program, and it continues to build and maintain more pollinator habitat.
For more information on Bee Better, visit https://beebettercertified.org .
McGinnis says she'd like to see pollinator gardens across the state of North Dakota.
"Pollinators are responsible for one out of every three bites of food that you eat," McGinnis says. "We wouldn't starve without pollinators, but we wouldn't have as many of our fruits and our vegetables so our diets would be less nutritious and less colorful."
1
/
3:
Both honey bees and native pollinators, like bumblebees, have been in decline in recent years. (Trevor Peterson/AgweekTV)
2
/
3:
Esther McGinnis, North Dakota State University horticulturist and director of the Extension Master Gardener program, says pollinator gardens can help keep bees healthy. (Trevor Peterson/AgweekTV)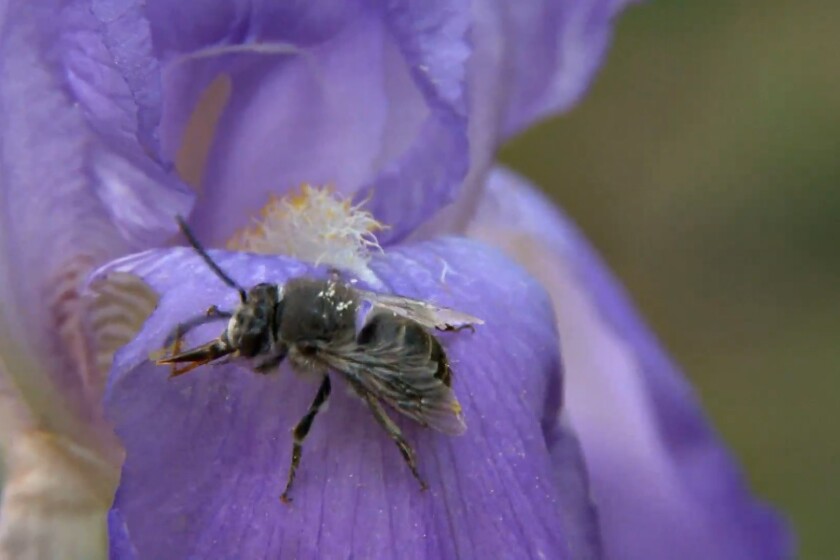 3
/
3:
Keeping flowers blooming throughout the growing season helps feed a variety of pollinators. (Trevor Peterson/AgweekTV)