Grand Forks County's Extension agent lives her work
Katelyn Landeis has been on the job in Grand Forks County since December 2019, after five years as Extension agricultural and 4-H agent in Nelson County.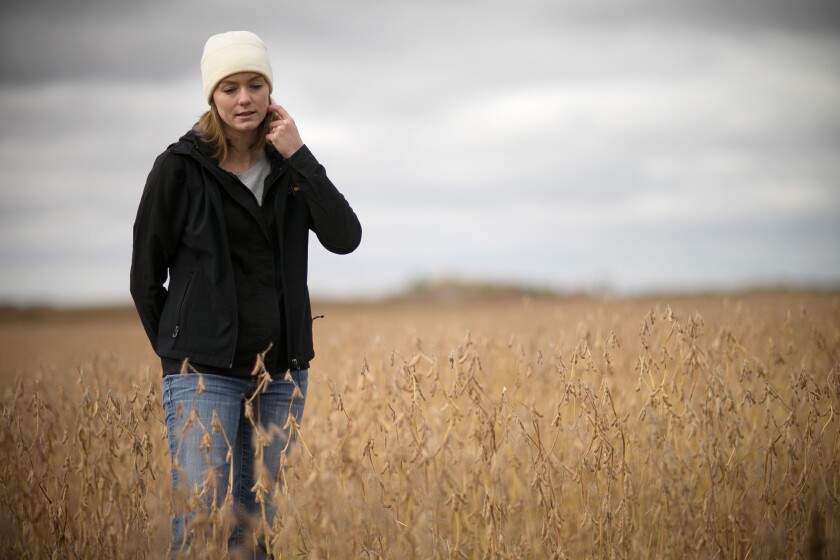 PETERSBURG, N.D. – Trowel in hand, Katelyn Landeis kneels in a soybean field, digging soil and dumping it in a nearby plastic bucket.
Comfortable in the outdoors and dedicated to helping farmers and ranchers raise the best possible crops and cows, the NDSU Extension agricultural agent of Grand Forks County is in her element. Landeis has been on the job in Grand Forks County since December 2019, after five years as Extension agricultural and 4-H agent in Nelson County.
Landeis, who grew up in Chatfield, a small town near Rochester in southeastern Minnesota, was introduced to Extension during a college internship. An environmental sciences major at the University of Wisconsin-Stout, Landeis interned with AmeriCorps at Dunn County Extension in Menomonie, Wis.
"I did that for a year, and that's really how I got into Extension," Landeis said. Part of her internship job duties included tending to a community garden, which piqued her interest in growing food.
In 2014, Landeis did a second AmeriCorps internship with Extension, this time for Walsh County in Park River, N.D., where agent Brad Brummond mentored her.
Landeis chose to work in North Dakota Extension because of its reputation of having a strong program, and Brummond showed her why farmers turn to the organization when they have questions about plant and animal production, she said.
"He taught me everything. He's such a wealth of knowledge," she said. "He's holistic about how he thinks about things."
After working with Brummond for about a year, Landeis moved to Lakota, N.D., to work for Nelson County Extension. She worked in the county until December 2019, when she became the Grand Forks County Extension agent.
During the past six years in her work with NDSU Extension, Landeis has immersed herself in her job, traveling the counties to take soil samples for farmers, get water specimens for ranchers and to write newsletters informing them of the latest agricultural news.
The coronavirus pandemic has limited her ability to have face-to-face visits with farmers, so the newsletters are a way to connect with them.
"I've really tried to focus on writing Ag Alerts, to connect with individuals that way," she said. During the pandemic she also has worked with the Natural Resources Conservation Service on water quality issues that may affect ranchers.
Meanwhile, she frequently travels Grand Forks County to get the lay of the land, carrying a laminated map of the county's townships in her four-wheel-drive vehicle.
Landeis also gets daily on-the-job experience working with her husband, Rob, a Nelson County farmer and rancher. The couple run an angus cow-calf operation and raise dry edible beans, soybeans, wheat and sunflowers on their farm, situated south of Petersburg and four miles west of the Grand Forks County line.
"It helps knowing how he's doing and how it's going with him," she said. Meanwhile, her husband is teaching her about cattle production.
"I don't have a lot of livestock experience, so he's definitely helping me on the cattle side," she said. "I really enjoy it. It's one of the most fun things on the farm."
In turn, her husband turns to her when he has a question about an agricultural production challenge he hasn't seen before.
"He's always asking me questions. He's got his own personal Extension agent," Landeis said with a laugh.
During her years working for Extension, Landeis has developed a strong appreciation for the work the organization does for farmers. She believes it gives unbiased information for farmers, which they may not get from a private organization.
"At the end of the day, it's not about me making a profit. It's about farmers making a profit," she said.
1
/
2:
Katelyn Landeis, NDSU Extension Agricultural Agent-Grand Forks County, gets hands-on experience with crops such as soybeans. Eric Hylden/Grand Forks Herald
2
/
2:
Grand Forks County Extension Agent Katelyn Landeis samples soil for soybean cyst nematode near Petersburg, ND, this week. Photo by Eric Hylden/Grand Forks Herald