Grand Farm: 'planting seeds' for autonomous farm aids
HORACE, N.D. -- The region's Grand Farm autonomous farming research initiative got a big boost on April 27 when U.S. Secretary of Agriculture Sonny Perdue was on hand for its ribbon-cutting ceremony for an autonomous farming technology developmen...
HORACE, N.D. - The region's Grand Farm autonomous farming research initiative got a big boost on April 27 when U.S. Secretary of Agriculture Sonny Perdue was on hand for its ribbon-cutting ceremony for an autonomous farming technology development project.
About 75 backers of the futuristic farming project gathered at the rural Horace property after a Perdue farm policy roundtable.
Perdue was flanked by a slew of North Dakota Republicans - including Gov. Doug Burgum, and Sens. John Hoeven, and Kevin Cramer - at its future location just east of Exit 54 on Interstate Highway 29, south of Fargo.
Perdue told the Grand Farms backers that the project will be important for the noble work of "producing feed for a growing, hungry world." "You're planting; you're planting the seed here," Perdue said.
Hoeven said the initiative will "bring precision agriculture to the next level." Burgum said it will "show the world a path forward and show what North Dakota can do."
The Grand Farm initiative is designed to address what promoters say is the "pain points" of farm labor shortage and lack of venture capital to develop technology. Autonomous farming means farming robotically using artificial technology, even through the grain marketing phase, promoters say.
Brian Carroll is director of the project. Carroll also is director of operations at Emerging Prairie, a Fargo non-profit organization that promotes entrepreneurism through programming and networking events.
The big five
Carroll says project will involve unspecified millions in capital investment, and thousands of people involved, including participation from federal, state, local and private contributions. Carroll said the initiative has five strategic parts:
• "Ecosystem": The project will build a community of interest, through networking events, identifying collaboration opportunities as well as gaps in the process.
• Innovation platform: This initiative will create or engage with a "business accelerator" company to match start-up companies with venture capital. This local, national, or international sources investments from those who can take on riskier projects for higher potential payoffs.
• "Makerspace": This is a current term for a kind of laboratory-a building and some land used for hands-on creativity. Individuals, organizations, universities, corporations, or even high school students, to "prototype different applications and look for different opportunities to do autonomous activities." Primarily, autonomous farming would be involved.
Carroll and Batcheller say the building is being designed and could be operational in three or four years-maybe sooner if fund-raising goes well.
• Education: The Grand Farm will study the education needed for the industry and play a part in delivering it. Young people and potential workers, perhaps displaced out of disrupted industries could "upscale" skills through working a "code school," developed by Grand Farm, to teach specialized software development. Some training could involve "internet of things," and robotic-connected devices. This will help attract people into the region to work in the industry, or retain them.
• Policy development: The concentration of activity can help inform policy-makers to support autonomous equipment operation in public spaces, including roads and skies.
Ag tech entrepreneur Barry Batcheller of Fargo first brought up the idea at a 1 Million Cups entrepreneurial speaking event in March 2017, saying the project is capable of launching "fully autonomous farm" by the year 2025.
Batcheller has a storied career, playing key roles in Steiger Tractor Inc.; Phoenix International Corp., and Appareo Systems LLC, an aviation and agricultural products development company. A North Dakota State University engineering graduate, Batcheller has been instrumental in creating hundreds of engineering jobs in the community.
Batcheller serves as a technical and marketing and business adviser for the Grand Farm project. "Today, the future's all about data," Batcheller said. "The information that's available today, and will be available to farmers in the future, will revolutionize the way agriculture is performed."
Batcheller said the Grand Farm will complement the state's unmanned aerial system development, including a drone park in Grand Forks. The state recently was allowed participation in an integration pilot program, which contemplates the integrating unmanned systems into common use.
Down to earth
Kevin Biffert, Horace, has donated the lease of land for Grand Farm.
Biffert is president of operations of Korber Medipak Systems of NA-Fargo Automation Division. With degrees from North Dakota State College of Science in Wahpeton and the University of North Dakota in Grand Forks, Biffert worked at 3M in Wahpeton, N.D., and in 1996 founded Fargo Automation, which builds on autonomous equipment for medical device companies and pharmaceutical industry.
Biffert sold Fargo Automation to German-based Korber Solutions in 2017, but still works for the company. After the sale, his family bought 45 acres of land, hoping to create a "tech park."
Biffert said he thinks half of that might become covered with buildings, while the rest could be used for field testing. The Bifferts have signed a lease for Korber to construct a 15,000-square foot building as a second manufacturing campus in the community.
The separate Grand Farm building will include a "large conference room as well as several workspace areas for small businesses and entrepreneurs to collaborate on projects; share tools; learn; prototype new ideas and products; start ventures and share knowledge." The lab will be equipped with three-dimensional printers, computer numerical control milling machines, laser cutters, a machine shop and a robotics lab. Biffert also owns other land in the area, which he said could be used to simulate the movement of equipment from field-to-field, which is common in farming today and one of the unknowns for autonomous farming equipment use.
0000017e-7902-dead-adfe-7b0b47430000
1
/
4:
About 75 people were there for the April 27 ribbon-cutting for Grand Farm, an autonomous farming initiative that promoters believe will bring millions in research dollars to the Fargo area. The location is near Horace, N.D., about 10 miles south of Fargo. Photo taken April 27, 2019, near Horace, N.D., south of Fargo. (Forum News Service/Agweek/Mikkel Pates)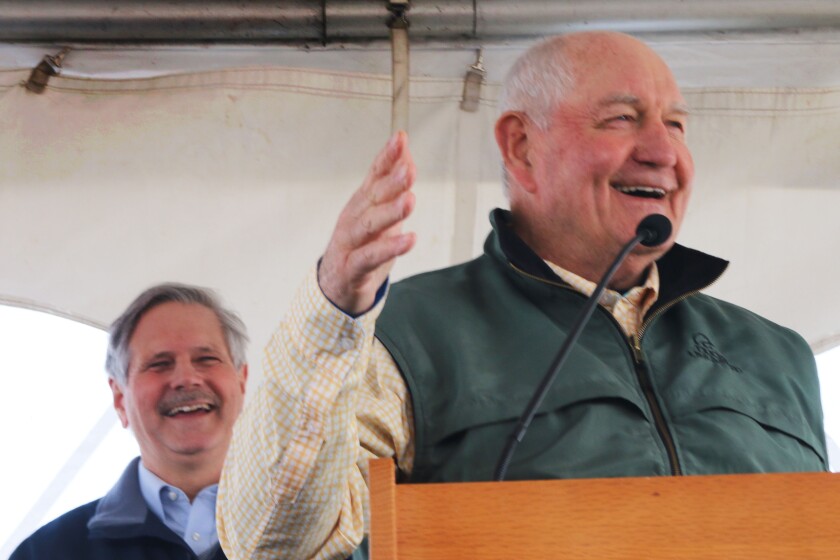 2
/
4:
U.S. Sec. of Agriculture Sonny Perdue on April 27, flanked by U.S. John Hoeven, R-N.D., congratulates the Grand Farm autonomous farming initiative prior to a ribbon-cutting ceremony at its future home, south of Fargo, N.D. Photo taken April 27, 2019, near Horace, N.D., south of Fargo. (Forum News Service/Agweek/Mikkel Pates)
3
/
4:
Barry Batcheller, chairman of the board of Appareo Systems of Fargo, is a technical and business adviser for the Grand Farms autonomous farming research initiative at Horace, N.D. Photo taken April 27, 2019, near Horace, N.D., south of Fargo. (Forum News Service/Agweek/Mikkel Pates)
4
/
4:
About 75 people were there for the April 27 ribbon-cutting for Grand Farm, an autonomous farming initiative, based near Horace, N.D., about 10 miles south of Fargo. Photo taken April 27, 2019, near Horace, N.D., south of Fargo. (Forum News Service/Agweek/Mikkel Pates)