Farmer reflects on 35 years at Rochester market
Margo Warthesen, operator of Many Hands Garden, has been selling produce at the farmers market in Rochester since 1985.
THEILMAN, Minn. — Every weekend at the Rochester Farmers Market is a reunion of sorts for Margo Warthesen and her customers.
Warthesen began selling at the farmers market in Rochester in 1985, making her the longest-serving vendor at the market.
"She has been here for many years, with vegetables all year long," said Diane Jerome, longtime volunteer at the Rochester Farmers Market.
Jerome can usually be found on Saturday mornings at Graham Park in the manager tent, helping customers use EBT cards and the market token system used at the market.
She's learned of several vegetables through volunteering over the years, and said she's learned about at least 11 different kinds of lettuce from Warthesen alone.
"I think I could get a different kind (of lettuce) from her every week," said Jerome.
"Margie," as Jerome calls her, also makes the greatest pickled peppers in the world.
But the produce grown by Warthesen products is just the beginning of what makes her booth special in Rochester and would make Many Hands Garden a memorable vendor at any farmers market in the country.
"She's such a lovely person, and I love her attitude and really everything about her," said Jerome, who's known Warthesen for around 25 years.
Jerome said that Warthesen's customers are her friends, and often line up on weekend mornings just to chat with her and buy her produce.
"In these days of COVID we can't hug, but her personality feels like a hug," Jerome said. "It's why she's got really dedicated customers, and shows she's dedicated to the market."
At the market on Aug. 8, Warthesen could be overheard telling a customer some potatoes were $5 a pound, but $3 for them, and seen presenting a batch of carrots to another customer while saying she just picked them yesterday.
"I'm the first one here and usually last to leave," said Warthesen as she stacked wooden crates of potatoes and onions separately.
Three friends of hers were helping Warthesen at the Saturday market. They'd be paid in a couple beers and some produce later that night.
"This is how we pay for help," said Warthesen, clutching a fistful of parsley.
Pat Valey, one of the friends helping Warthesen that day, called her operation a "well-oiled machine," down to the way she picked the produce and packed her van.
Tired hands
Margo and her husband, Jack, both 66, have been farming land in Wabasha County since 1976. They got into the field full-time when the farm crisis was just beginning, she said.
"Times were pretty doggone tough, but we started a family and made the decision that to make this work on the farm, the two of us had to be here full-time," she said.
The couple had four children who they put to work on the farm. They're all now adults with bachelor's degrees and families of their own. On Tuesday, Aug. 11, Warthesen had six grandchildren in attendance as she butchered 25 chickens. She said the 7-year-old and 9-year-old were most keen to helping cut heads, dunk in scalding water and pull feathers.
Not that they plan on stopping anytime soon, but Margo and Jack don't think any of their children are interested in taking over their operation once they throw in the towel.
To say the Warthesen farm in Theilman, Minn., is diverse is an understatement, as they have six acres of market garden, soybeans, corn, beef cattle, sheep, chickens and more. The garden has more than 40 different products growing in it throughout the summer, said Warthesen, all of which she then sells at markets.
"It takes many hands to do this kind of diversified farming, so it seemed appropriate," said Warthesen of the name she chose for the farm.
She said in the past they had summer interns and more than enough help from their family members and neighbors, but now it's mostly just them doing the work. Many hands is now only four of them.
"Short of hands should maybe be the name now," she said. "Or Tired Hands."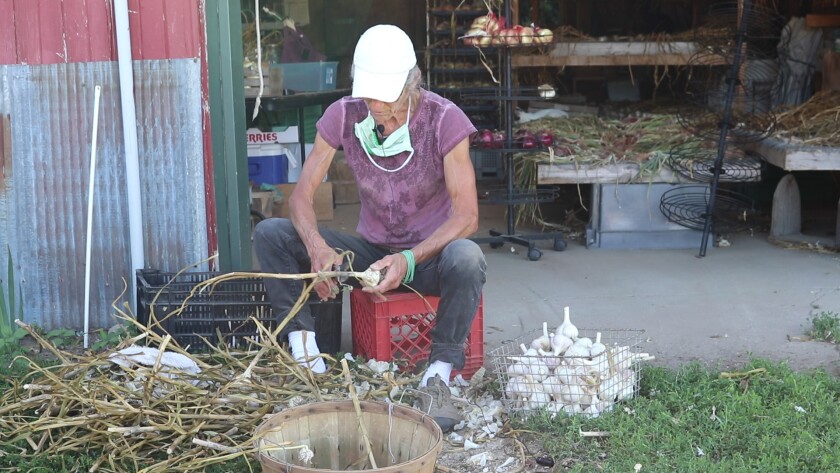 A Saturday in the life
For Warthesen, an average Saturday morning in the summer begins in the dark at 3 a.m., when she has to start moving produce from the cooler on their farm to her old white van.
"I gotta sort through and stack it all, until I can't get another stick of garlic in there because it's that tight," she said.
She then takes a 40-minute drive in the sunrise, to arrive at the market by 6 a.m. — enough time to unload and set up. Once she's in her location, she's got until 7 a.m. to throw up three pop-up tents, six to eight tables and all of her products and signs.
"And I have to have a cup of coffee somewhere in there," Warthesen said.
Once the market starts, it's selling nonstop until noon. Once the last customer leaves her stand, she collects the produce that can be saved and donates a box or two to the local food shelf, then loads everything back into the van.
Her day starts alone, but Warthesen said she's usually got at least two people helping her at the market. She's only missed four weekend markets in 35 years, all for the weddings of their children.
A wealth of market experience
The year was 1985 when Warthesen started selling at the farmers market in Rochester, and she was part of a group that helped write the bylaws of the farmers market. She said she's watched as the kids of vendors have grown up, gotten married and had kids of their own.
"There wasn't very many of us, about six vendors," she said of the market 35 years ago, which was held near the Zumbro River in downtown Rochester. "We'd gather up our stuff with a little umbrella over our heads, and they had these picnic tables down there we would use."
There would be occasions when Warthesen would bring their kids along to help sell and transport, sometimes with fishing poles. If she couldn't find them they were likely down by the river with a line in.
The Rochester Farmers Market has moved numerous times since then but stayed mostly downtown, said Warthesen. She hopes the Graham Park location will be permanent, especially considering all the work that it took to move the market from city property to county property.
"I think (Graham Park) has some real potential to be a good space for green living, education and the winter markets too," Warthesen said.
Warthesen said she's stepped into the role of mentor for some younger vendors at the market, and enjoys showing them the ropes of what works and what doesn't.
"Sometimes I feel like an Extension agent," said Warthesen, who said she doesn't claim to know anything other than what she's experienced. "I'm the kind of person that uses the power of observation, and I'm hands-on."
She said the most important tools for being a consistent and successful market grower is patience, caring for the soil and "doing it again and again and again."
Compared to when Warthesen first started, she said there's been an increase in people coming to the farmers market who are trying to better their physical health.
"Now, people seem real interested in improving their own health, and eating healthy food is the best way that they know," she said. "COVID has brought some of that to the forefront even more, but Rochester as a community has always been well educated in the field of wellness."
Warthesen said people come to the market because they can expect to leave with fresh, organic and local food while also participating in sustainable practices. She said the market provides low-income families with the same chance to eat healthy.
"It gives all people an opportunity to get good food, and I think that's a really valuable and important part of the farmers market," she said.
The farmers market is also great entertainment, said Warthesen, and her longtime customers look forward to seeing her, sometimes bearing gifts.
"I'm really grateful for that, and all the people I've met at the market who I now know in a pretty personal way, it seems," said Warthesen. "They trust me to grow their food, for crying out loud, every week."