Corn price is the 'monkey-wrench' in the cattle-feeding game
South Dakota cattle feeder Steve Masat of Redfield, South Dakota, and Rick Woehlhaff, owner of the Glacial Lakes Livestock in Watertown, South Dakota, reflect on market trends and feed supplies for cattle heading into the fall and winter.
We are part of The Trust Project.
REDFIELD, S.D. — In 2021, "yearling run" came for feeder cattle sales came early as cow-calf producers pulled animals off drought-reduced grass.
In 2022, selling patterns have returned to more normal levels, but some feedlot operators are affected by corn prices and limitations on feedstuffs. Market watchers expect corn prices will be a key driver in how cattlemen adjust marketing this fall.
"I hope we can get corn into a $5 per bushel range," said Rick Woehlhaff, long-time owner/manager of Glacial Lakes Livestock Inc., in Watertown, South Dakota.
If corn prices could come down a bit, he reasoned, cattle feeders might become a "bit more aggressive." Silage and prevented planting ground with sorghum and hay millet will fill in some of the gaps, but in the immediate area most cattlemen finish cattle, and/or buy calves and background-feed to about 800 to 900 pounds.
"Some guys might think 'Why should I give $1,200 for a calf and background them for two to three months," he said. "We'll see."
In August, Woehlhaff thought the delayed-planted corn would need to be frost-free until Oct. 15 to have a decent corn crop. Now, corn is denting and he thinks it'll be OK.
"It's a normal year," he said.
Steve Masat's family feeds cattle and farms at Redfield, South Dakota, in Spink County. The Masats have a relatively small cow herd and a Confined Animal Feeding Operation feedlot that holds roughly 2,000 head. The CAFO is regulated by the state of South Dakota, in compliance with federal Clean Air Act and Clean Water Act.
Masat and sons, Tim and Garrett, acquire a range of cattle — 600-pound to 800-pound yearlings (sometimes up to 900-pound) — taking them to a finished weight of 1,300 to 1,400 pounds for heifers or 1,500 to 1,600 pounds for steers.
"Wherever they're done," Steve said.
Cattle feeders are independent, and everyone does things differently. Some in his neck of the woods feed primarily heifers, others steers, Masat said. Some feed bigger animals, others smaller. Some like to backround feed, others don't.
"Some load up once a year, and they go out once a year," he said. "That's their program. Everybody's got a different program."
Masats are market opportunists. They buy cattle on a case-by-case basis — a combination of quality, price of the animals and availability of feedstuffs. They bought a trailer-load of cattle on Aug. 15, 2022.
"The opportunity arose," Steve said. "We take advantage of it. We got a couple of different-sized cattle started in pens. We go until the pens are full and we'll see what the next opportunity brings."
In late August, one of the Masat pens was filled with multi-colored heifers, which are running about 1,000 to 1,100 pounds, aiming them to be ready for a December market.
"We're just bringing them up on full feed now," Steve said, in a yard tour on Aug. 15, 2022. "They need about 120 days of hard corn and they'll be ready."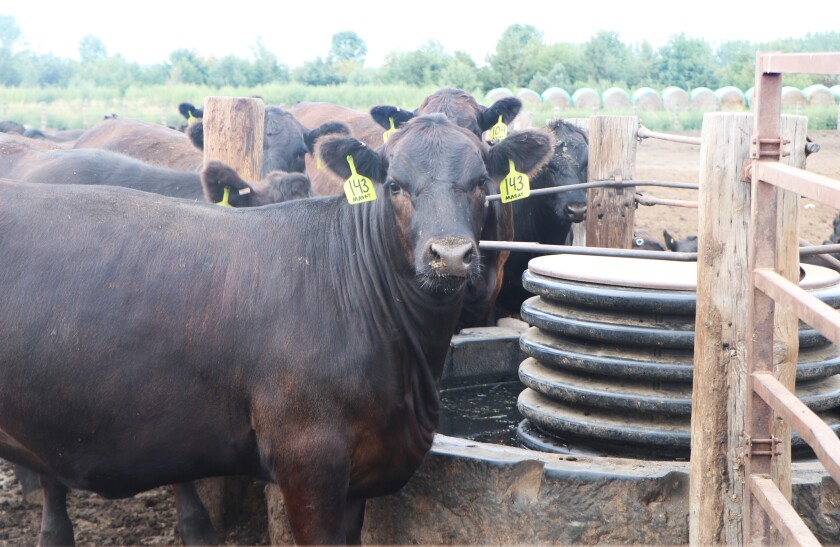 The Masats were fairly dry in 2021 but with good soil they were pleasantly surprised to get about 150 bushels per acre on corn.
This year with better rains they expect roughly 200 bushels per acre. Manure from the feedlot is a big advantage for crops, he said.
"It takes some work — getting it off — but it has really increased our productivity," he said.
Prices of cattle have looked strong going into the fall.
Masat pays more interest costs at these prices, but said the profit margins are there.
"If they're there, they're there," he said, of profit margins. " If not, walk away. Don't close doors. Don't say, 'I ain't feeding any cattle,' or, 'I'm going to feed about half.' If you put up half the feed and if a (cattle profit) opportunity arises, you've missed out."
Looking ahead, Masat repeats the axiom that "high prices cure high prices" and "low prices cure low prices."
"Are we in a (beef herd) expansion? Absolutely. Things are going to drop. We may not be at our highs. We may stay here for another 18 months."
Masat remembers 2016 or 2017 when the Masats sold cattle the next summer for the same dollars he spent putting them into the lot.
"You know things can happen and you've got to (protect yourself) prepared for that huge loss."
The Masats had a shorter crop in running out of last year's feed supply.
"Now we don't have any cattle on full feed because we had a shorter crop last year. You run out of corn, so you go more for your silage and — stuffs," he said, noting that includes even cattails. "If you can put it in a bale, that's a type of stuff."
Sometimes the Massats have bought "bawling calves" — freshly weaned calves off ranches, Steve said. These might be 575 pounds — "country cattle" or "country deals" — often in October and November. But right now, he doesn't want many of those.
Instead, the Masats bought some cattle in July, August and September judging that those animals have fewer health problems than with bawling calves.
"Going into fall (crop) harvest, you don't want to be treating cattle," medically, he said. "We farm too, and that's what we do in the fall. We don't need (to spend) a lot of time babysitting cattle."
The Masats also buy cattle in the spring and feed them through December, using up mediocre quality feedstuffs.
"We start planning what market we hit, and that's what we do," Steve said. "We look at where they break even, and is there a profit in it."
An outside order buyer buys cattle on their behalf. They don't buy particular breeds of cattle.
Most of the Masats' cattle go to a large packer. Some go to U.S. 212 Beef Corp., of Buffalo Lake, Minnesota, and others to DemKota Ranch Beef, in Aberdeen, South Dakota.
Masat is a big believer in the Livestock Risk Protection insurance.
"It's kind of like a 'put' option but yet is insurance," Masat said. "You're buying time with it, can pick how many head, when you want them to go out."
The Masats purchase the product through a crop insurance agent in Tulare, South Dakota.
"We buy it, and when we get to the end date, whether we own the cattle or not, it's based on the average of a seven-state report," he explained. "You hope you never have to use it, but you need it for a floor. It's kind of like car insurance."
Woehlhaff said his Glacial Lakes Livestock home base is a 100-mile radius, although cattle come in from Minnesota and North Dakota. The company sells market-ready cattle every Wednesday, as well as slaughter cows, bulls and heiferettes. (A heiferette is a female 2 ½ years old or younger that hasn't yet had a first calf or recently lost a first calf.) Wednesday sales were bringing in 500 to 1,000 head of fats and slaughter cows through mid-September.
Cattle producers have had to feed corn sometimes priced $8 per bushel, throwing a "monkey wrench into the break-evens." Some are marketing cattle a little lighter-weight, with a little less time.
Fat cattle in late August were bringing $143 to $145 per hundredweight and cattle without implants were bringing up to $150 per hundredweight. That hasn't changed. In mid-July, the market was selling non-implants up to $157 per hundredweights. The $10 variation between conventional and non-implants narrowed to about $5 per or less.
In late August, pastures in the area were adequate so sales of feeder cattle on Tuesdays were slower than they had been the year before. In mid-September, with less rain, grass was drying up, and Glacial Lakes in anticipation scheduled a special yearling sale Sept. 27.