Cattle care in frigid February weather warms North Dakota rancher's heart
Calves and cows were attentive to visitors and content during a tour of Terry Ellingson's ranch Feb. 8, seemingly oblivious to the bitter cold. The calves nestled in their straw beds or milled about inside lean-to shelters while their mothers ate hay or watched over their young.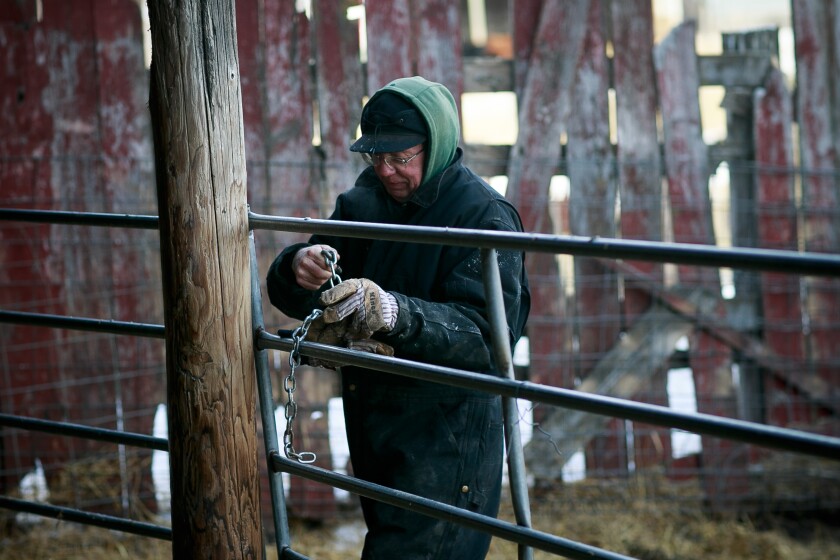 DAHLEN, N.D. – Terry Ellingson's face, red and windburned after checking his herd of 150 Simmental cows in a " feels like" temperature of minus-30, broke into a smile as he walked into his ranch office.
Though there was no doubt Ellingson welcomed the inside warmth on this brutally cold and windy February afternoon, the origin of the grin was seeing first-hand that his cows and calves were healthy.
"Every birth is a miracle. There's nothing more rewarding than helping a heifer who's having trouble. I couldn't find a better job," Ellingson said. "It makes it not so much like work when you enjoy what you're doing."
Working with cattle has been a lifelong passion of Ellingson, who grew up helping his dad Trueman, milk 45 Holstein cows. In 1990, the Ellingsons sold the dairy cows because Terry Ellingson and his wife, Dee Ann, were moving to Blacksburg, Va., to pursue graduate studies at Virginia Tech. He sought a career in dairy nutrition, she in accounting.
"There's no way my dad could handle all the milking," Ellingson said. The Ellingsons' plan was for Trueman to raise Simmental beef cattle only while his son was away in college.
"At the time I honestly thought I was going back to dairy again," Ellingson. However, during the three and a half years he was studying at Virginia Tech, he realized that finding labor to help with the dairy operation would be a major obstacle.
"It really wasn't feasible to go start up again,' Ellingson said. "We plunged into beef and increased the beef herd."
The Ellingsons decided to raise the Simmental breed of beef cattle because they liked the maternal characteristics of the cows, which included calving ease, calves that grew quickly and good carcass characteristics.
The Ellingsons founded their Simmental ranch with the purchase of two foundation females. Through the use of embryo transfer and artificial insemination, they have grown the herd to 150. Ellingson Simmental Ranch hosts an annual sale in January, selling bulls and heifers breeding stock to commercial cattle producers across the country, including the states of West Virginia, California and Texas.
The cattle Ellingson sells are of high value and his ranch reflects that. The setup includes several barns and corals, a large heated building in which he holds his auctions and a camera system for monitoring his cattle.
"You can be in California and watch the cows calve. We can watch on our phone if we're at a basketball game or from anywhere," he said.
Though Ellingson has cameras mounted in eight locations throughout his ranch, he doesn't feel comfortable during calving season unless he or one of his three employees also walk among the herd. The camera can miss details, such as a calf's hoof protruding from the hind end of a cow standing against a wall. That's why he checks his herd on foot, he said.
"It feels safer to me to walk outside," Ellingson said. "Normally, I take the night checks. I check the cows every two hours."
His employees, meanwhile, typically do the day checks. The Tuesday, Feb. 9, afternoon check was the exception to that because Ellingson got a good night's sleep the previous night. So he did a daytime shift, too.
Ellingson begins calving in mid-January to ensure the bulls will be of the size that buyers want by the next January's sale.
"Most of my guys that buy breeding stock like bulls that have maturity," Ellingson said.
By Tuesday, Feb. 9, calving was about 65% complete, with 98 calves on the ground. The remainder will be born by mid-March, according to Ellingson's calculations.
Close monitoring of his cows is crucial to healthy births.
"So many things can happen when they're calving," he said
This year, Ellingson has assisted cows that were having problems, including calves that were in the birth canal breech (backwards) and newborns that had noses covered by the water sac, inhibiting their breathing.
The cold weather adds yet another risk, Ellingson said.
"If a calf is born outside, it's going to freeze its tail, freeze its ears, freeze its legs. If it can't get up to nurse, it can freeze to death. If you don't have a facility to calve inside this time of year, you shouldn't do it," he said.
Because twin calves often arrive two weeks ahead of their due date, Ellingson puts expectant cows inside then. Newborn calves spend a couple of days in a barn heated to 45 degrees before they are moved outside into corrals that have deep beds of straw and access to three-sided shelters that also are bedded with straw.
"As long as you get them out of them wind and they have straw to lay on, they're good," Ellingson said.
Calves and cows were attentive to visitors and content during a tour of Ellingson's ranch Feb. 8, seemingly oblivious to the bitter cold. The calves nestled in their straw beds or milled about inside lean-to shelters, while their mothers ate hay or watched over their young.
The satisfaction and enjoyment he derives from breeding and raising topflight stock is what inspires Ellingson to forego sleep and check cattle on days when the temperatures dip into the subzero double digits and the bitter west wind blows.
He thrives on the challenge of updating his herd's genetics to satisfy the needs of breeding stock buyers, he said.
"I have to find the latest and greatest so I have them, when they need them," he said. "It's a passion. You wouldn't do this if you didn't have a passion for it. I'm sure I'm never going to raise the perfect animal, but I'm going to try. I love working with them every day."
1
/
3:
Rich Sandford walks a calf back to the barn this week at Terry Ellingson's ranch near Dahlen. Photo by Eric Hylden/Grand Forks Herald
2
/
3:
Terry Ellingson warms up in his office after checking calves on a recent afternoon. Photo by Eric Hylden/Grand Forks Herald
3
/
3:
Dahlen, ND, rancher Terry Ellingson gets a break out of the wind checking calves on a recent afternoon. Photo by Eric Hylden/Grand Forks Herald