Biofuels growth is about 'adding value' for farmers and communities
North Dakota has three soybean crush plants in the works. Those largely will produce soybean meal for animal feed. But a big and growing piece of the puzzle is biofuels made from soybean oil.
MOORHEAD, Minn. — Valley City, North Dakota, farmer Monte Peterson, sees increased soybean processing — which provides soy oil for biofuels — as "adding value to what we're growing." And that's important to farmers and the community at large.
"Whenever you process, you add value," Peterson said. "Whenever you add value locally, you have more money that's staying close by."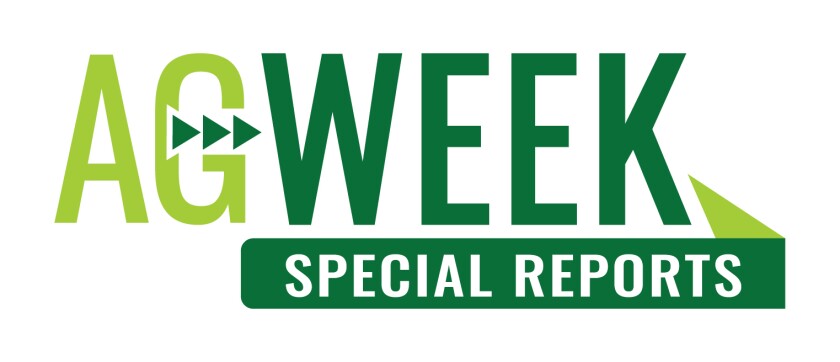 Biofuels — ethanol, biodiesel and others — have become important in both ag and energy. In the April Agweek Special Report, we look at where biofuels started and where they're going, including discussions about carbon sequestration, higher volumes of ethanol in gasoline, new processing plants, state and federal policies and more.
The region — and North Dakota especially — is experiencing a boom in soybean processing potential. Two plants — one in Spiritwood and one in Casselton — are under construction, while another — in Grand Forks — has been announced . While 80% of a soybean goes to soybean meal used for livestock feed, the remaining 20% is oil. And that oil has found a market in biofuels.
Peterson was part of the Fargo Moorhead Chamber of Commerce's April 11 "Eggs and Issues" event, called "Facing the Future Together: Energy and Ag." Greg Lardy, vice president of ag affairs at North Dakota State University, emceed the event, which also featured Mike Keller, president of Green Bison Soy Processing in Spiritwood, North Dakota, and Matt Herman, senior director of renewable products marketing at the Iowa Soybean Association.
Peterson has served on the North Dakota Soybean Growers Association, North Dakota Soybean Council, American Soybean Growers Association and the Soybean Export Council, which he chaired. Many of those efforts have centered on finding new soybean markets.
China, historically, has been the biggest buyer of North Dakota soybeans, buying at least three-quarters of soybeans grown in the state. However, trade wars during the Trump Administration highlighted the need to find additional markets. While China buys whole soybeans and crushes them, crushing the soybeans in state opens new markets domestically and internationally, Peterson said.
Soybean meal is a sought-after protein source for animal agriculture, and having a more robust animal agriculture sector would increase local demand, Peterson said. But there also is international demand. The Philippines is the No. 1 importer of U.S. soy meal, he said, noting other countries might be in the market.
The biofuels industry has been a big piece on the oil side. Keller said the boom in biofuels right now in North Dakota is similar to the boom in ethanol growth early in the 2000s, and Herman pointed out that it's driven almost entirely by policy, which he doesn't think will change. The policies are coming from three fronts: the federal Renewable Fuel Standard, the state of California's low-carbon fuel standard, and the Inflation Reduction Act's new and expanded tax credits related to biofuels.
Without policies promoting biofuels, "we'd make a few tens of millions of gallons here or there," Herman said. Peterson said that highlights the need for continuous work on policies that impact biofuels.
Peterson said other uses for soybean oil also continue to grow, including polymers, coatings, paints, and many rubber products.
The Green Bison Soy Processing plant is a joint venture between Archer Daniels Midland, 75% owner, and Marathon Petroleum, at 25%, Keller said. The oil from the Spiritwood plant, which is on track to be operational by this year's harvest and is the farthest along of the planned North Dakota plants, will go to the Marathon refinery in Dickinson, where it will be made into biofuel for the California market.
Keller said the $352 million Green Bison project will employ 75 people and support other positions in the community, but its most significant impact will be in purchasing the 150,000 bushels of soybeans per day it plans to process 12 months of the year. That will provide a "more consistent market to the local farmers" than the current period of demand, which generally has run from October to February, he said.
"Anything that would provide a little certainty is certainly welcome at the farm level," Peterson said.
Lardy asked Keller what impact the soybean processing plants might have on basis, which is a factor in the price farmers receive.
"That's always a pretty popular question," Keller said.
Green Bison is bidding for November 2023 crop, and Keller said there was a 30-cent basis, which compares favorably for farmers to an 80-cent to $1 basis that has been typical.
"As you bring more competition to a region, generally speaking, that should indicate that basis levels could be firmer than they have been historically," he said.
That's exciting to farmers like Peterson.
"Mike's going to have to bid up" to fill the plant's 12-month need for soybeans, he said. "There's no question about that."
Keller thinks soybean production in North Dakota is sufficient to feed Green Bison, but he also is confident farmers will grow more if the demand is there. Soybeans have been spreading farther west and north in the state, and he credits the work of the North Dakota Soybean Growers Association for that.
Herman said despite a push toward electric vehicles, he thinks biofuels are here to stay. For one thing, a significant portion of vehicles still rely on petroleum products, and biofuels like biodiesel and ethanol still can help meet demand for low-carbon energies.
"I don't see a world … where we start to really lose demand for biofuels to EVs unless we don't have a good faith conversation," he said.
And even if all vehicles switch to electric, there still is a growing demand for renewable aviation fuel and the possibility for higher concentration biofuels.
Aviation fuel had seemed like the next big thing for biofuels, but Herman said the war in Ukraine changed that. With less diesel coming out of Russia, high diesel prices have meant more demand for biodiesel while jet fuel prices stayed lower, he said.
Herman also sees opportunities in renewable fuels that can be traced to farms and farm practices, showing low-carbon farming methods, and he thinks things like carbon pipelines are going to be key to the future, too. But there will be challenges, including infrastructure needs.
And perceptions that growing crops for biofuels competes with growing food for human consumption are wrong, Herman said.
"Farmers go out in the field, they grow what they can grow given their climate, their land, what they can work," he said.
Products grown in fields supply sugar, fat or protein, he said, giving soybeans as an example of grown proteins and fats. From those soybeans, processing plants are able to create not just soybean oil that feeds biofuels but also an animal feed that supplies the livestock raised for human consumption.
"Animal agriculture is a soybean farmer's No. 1 customer," Peterson said. "It has been that way for a long time. I think it will still continue to be that way."