Agweek celebrates two milestones at farm show
The merger of Agweek Magazine with Agri News and expansion of AgweekTV were the news of the Agri News Farm Show.
ROCHESTER, Minn. — As the 38th annual Agri News Farm Show wrapped up, a new tradition had already begun.
Chris Blade, publisher of the Rochester Post Bulletin, which has published Agri News, said she was officially handing Agri News to Katie Pinke, Agweek publisher and general manager, at Graham Arena on Tuesday, March 10.
Blade told the gathered farm show attendees the merger was a blessing to Agri News by providing it the resources needed to cover the area. It was also a boon for Agweek, she said, to gain entrance in the community in southeast Minnesota and parts of Iowa.
She said the biggest winners of the merger were the readers, who'll now get compelling news from an extended range.
"We weighed all of that, and decided a win-win-win was a great thing," Blade said.
Copies of the first merged issue were available for free at the Agweek and AgweekTV booth, where staff was on-hand to help and visit with readers, farmers and anyone else.
"We're very excited to be here, and to continue the legacy of agriculture journalism in this region," Pinke said.
She said that to "continue the voice of Agri News," Agweek will continue to feature Agri News columnist and retired managing editor Mychal Wilmes. He's written more than 1,500 columns for Agri News, Pinke said, and made his first appearance on AgweekTV at the farm show to speak with her about the changes.
Wilmes estimated that he'd been to 35 or 36 of the farm shows held by Agri News. He wasn't there for the inaugural show but said it's always been held since he's been there at Graham Park, though it has expanded from being in one arena to being in two. To try something different one year, they held it in April.
"Nobody came," Wilmes said.
"You've read him in Agri News and you'll read him this week in Agweek," Pinke said.
Agweek employs four full-time agriculture reporters, plus AgweekTV host Michelle Rook, all located across the Upper Midwest region. A reporter will continue to be based from Rochester and continue agriculture news coverage across Minnesota and parts of Iowa and Wisconsin.
Pinke took a moment to highlight the importance of agriculture news and the role it plays to support farm families.
"I'm very proud to work for Forum Communications, that's family-owned and has a commitment to agriculture journalism," she said.
In her address to mark the print milestone for Agweek magazine, Pinke announced another milestone for AgweekTV.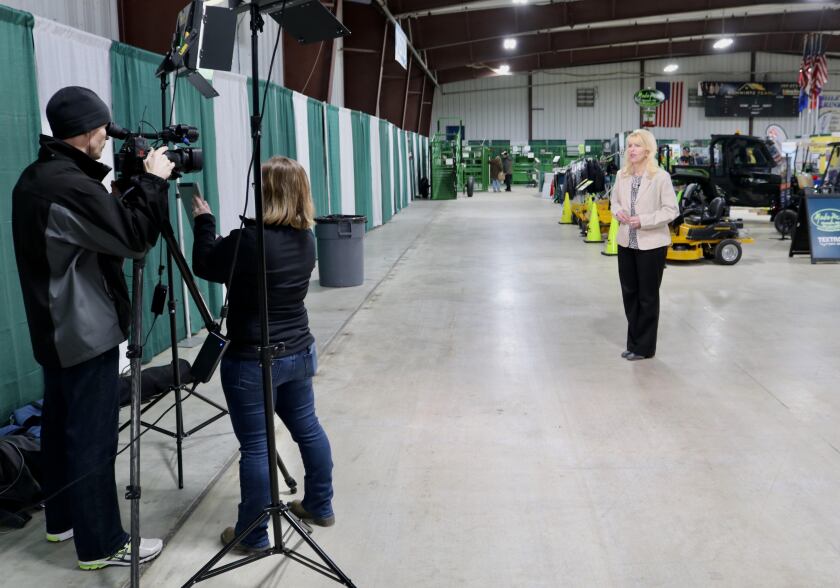 Starting on April 5, AgweekTV will air Sundays at 9 a.m. on ABC 6 News / KAAL-TV (owned by Hubbard Broadcasting), ahead of AgPhD. ABC 6 News coverage includes 22 counties in Minn. and Iowa, encompassing 122 cities. AgweekTV is in its fifth year on-air and broadcasts 30 minutes of weekly agriculture news from the region including weather, markets, policy, and technology.
The Agweek brand will also continue offering a variety of daily agriculture news on agweek.com, and a new episode of Agweek Podcast can be found weekly on podcast platforms. Agweek plans to continue the farm show in 2021 and into the future, with hopes to expand the show to include educational programming for farmers and agribusinesses in the region.