Ag omnibus bills include support for Minnesota farmers
Last week, both House and Senate Agriculture Committees passed their respective omnibus bills and addressed several key priorities for the state's ag industry.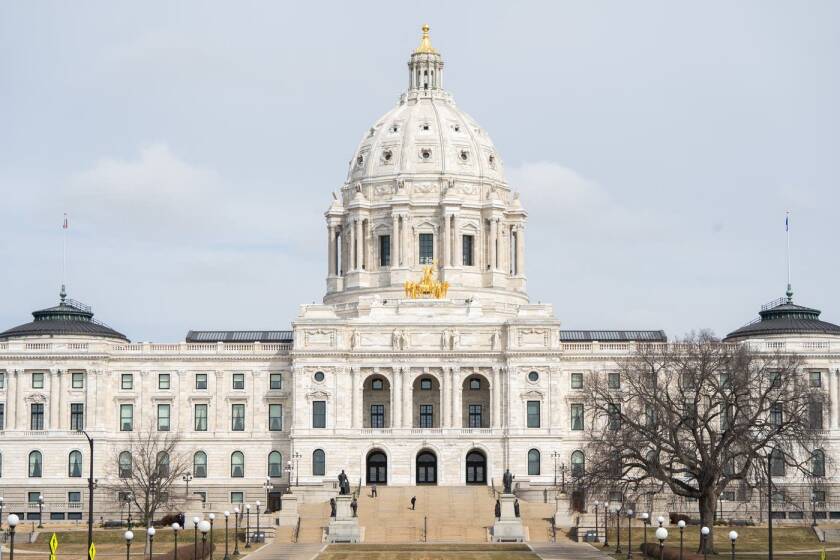 ST. PAUL ― The 2021 Minnesota legislative session has reached its final stages with the release of omnibus agricultural bills from committees.
Both House and Senate agriculture committees recently passed their respective omnibus bills that addressed several key priorities for the state's ag industry. Both bills committed to resolving issues surrounding biofuels infrastructure, rural broadband and meat processing capacity.
The Senate bill, authored by Sen. Torrey Westrom, R-Elbow Lake, chairman of the Senate agriculture committee, addressed everything the committee was concentrated on for this session, Westrom said.
"The big focuses in the Senate ag committee this year were broadband, biofuels and expanding meat processing in our state," Westrom said. "We accomplished all of that in this bill, and so we're proud of this bill. We think it's a very strong bill for broadband, biofuels and meat processing."
Westrom said that some of the strengths in the Senate bill were through the biofuel infrastructure funding, which allotted $3.5 million in grants for retailers across the state to upgrade fuel pumps to sell higher blends of biofuels.
"Ethanol is one of Minnesota's only oil wells," Westrom said. "And we've had a strong history of leadership in advancing ethanol and the homegrown renewable energy that we can grow right here in Minnesota."
The Senate bill also funds $40 million over the next two fiscal years for the Border-to-Border Broadband Grant Program, directed at building permanent broadband infrastructure in unserved and underserved areas.
"Broadband became so important under the COVID-19 pandemic, and everybody became aware of the need for it for telehealth, for their students doing distance learning, and for parents needing to work from home," Westrom said. "So, for all those reasons along with just running your home business or farm today, whether you need the internet to manage livestock barns, to connect with equipment in your tractors or combines, or just to market to the rest of the world, check the markets or check the weather."
Westrom said the Senate bill also appropriates money to facilitate the startup, modernization or expansion of meat, poultry, egg and milk processing facilities. The aim of funding is to increase the number of small meat processors and allow those existing processors to expand production.
"The local butcher shops and local meat markets in our rural communities, many of them need updating or expansion to be able to handle more butchering," Westrom said.
The meat processing funding will also go to establishing more education and training to get more people into the industry.
"We've also got one-time seed money to help establish more of a meat-cutting curriculum at Central Lakes College, to have more students go into that career in college and come out with those skills, ranging from slaughtering all the way up to refined meat cutting," Westrom said. "If we can have more students looking into going into those fields, that's a good thing for the long-term labor."
Some investments included in the House bill, authored by Chair Mike Sundin, DFL-Esko, include:
Reauthorizing Farmer-Lender Mediation, and extending the timeline for mediations, providing important relief for farmers who are facing financial crisis.
More funding for the Emerging Farmers Working Group, for an additional outreach position, which will improve the Minnesota Department of Agriculture's outreach to emerging farmers.
Expanding the farm advocate program, by increasing funding by $20,000 per year and allowing MDA to contract an additional farm advocate.
Both the House and Senate bills have another committee stop before being sent to the floor for a vote. The legislature adjourns on May 17 and a state budget needs to be approved by June 30 to avoid a government shutdown.
"Passing a balanced budget is always a challenge, especially with a divided Legislature and COVID-19 forcing most activities into virtual formats," said Gary Wertish, president of the Minnesota Farmers Union. "While agriculture is the foundation of Minnesota's economy — generating $112 billion in economic impact and supporting more than 430,000 jobs — our budget for MDA makes up less than 1% of the state's overall budget. We support strong investment in farmers and rural communities."