A family that fits: Leland Red Angus Ranch
SIDNEY, Mont.--Trey Leland is 2 years old, but is already enthused with the beef business. His favorite word right now is 'bull,' so it's kind of fitting, says his dad, Todd Leland. Todd, 44, for five years has been married to Carla, an animal sc...
SIDNEY, Mont.-Trey Leland is 2 years old, but is already enthused with the beef business.
His favorite word right now is 'bull,' so it's kind of fitting, says his dad, Todd Leland.
Todd, 44, for five years has been married to Carla, an animal science graduate from the University of Wisconsin-River Falls. They are partners in Leland Red Angus Ranch at Sidney with Todd's father, Melvin "Mel" Leland, 74, and his mother, Luella.
The Lelands breed more than 500 registered mother cows annually. They produce their registered stock under the same range conditions as their commercial produces do. The goal is to assure the animals can adapt to environmental conditions, but with registered record-keeping. The Lelands are members of the Red Angus Association of America, as well as North Dakota and Montana associations.They sell a select group of bred cows on private treaty every fall.
For more than 30 years, Agweek readers have seen the Lelands advertise their annual production sale, which now is held in a building on the ranch headquarters. This year's 36th sale will be March 8, 2019, 1 p.m., MST. They plan to sell 185 bulls and 60 heifers. Mel and Luella's oldest daughter, Tracey, is married to Steve Koester at Steele, N.D. They'll contribute 40 "age-advantaged" bulls from the Koester Red Angus Ranch.
Long, strong history
The Lelands are about as entwined with North Dakota's livestock heritage you can get.
The ranch is about 35 miles southeast of Sidney, Mont., on the state line. Mel's father, Tony, homesteaded here in 1911. Tony died in 1948 when Melvin was only 4 years old. Mel's mother, Mary, raised three children and eventually married Ted Folkvord, who helped her run the ranch.
Mel's older brother, Howard, went to the military in Vietnam, and a career in commercial aviation.
Mel went to North Dakota State University in animal science. He was active in Saddle and Sirloin club and was the student manager of NDSU's Little International event in 1966. He came home to manage the ranch after graduation in 1967, and married Luella Roedeske, who grew up on a ranch, 25 miles away.
Mel's younger sister, Helen, became a notable home economist. She married Russ Danielson, a NDSU animal science professor and long-time Little I adviser.
Home on the ranch, Mel and Luella started out with Herefords.
In 1966 they bought a couple of bulls and started with artificial insemination. They started registering purebred calves in 1980, when the association developed a percentage registry program. At that time, the association required performance data, which the Lelands had kept since 1964.
Today, Leland Red Angus Ranch is connected by computer directly to the National Red Angus Association near Denver. It keeps track of all of the performance data - calf birth weight, gender, birth date, registered name, weaning date and weight.
They raised three children. While Tracey and Todd are directly in ranching, daughter Tana is married to J.J. Hovde, a veterinarian at Sidney. The Hovdes have daughters Trista, 16, and a twin 12-year-olds - a son Wacey, and daughter, Cedar.
Significantly, Todd also went to NDSU and followed Mel as a Little I manager in 1996 before returning to the ranch. Tracey has two daughters, Kacey and Shaye. Kacey is the 2019 student manager of Little I - the third in the same family to have this honor.
Three generations
In mid-September, the families got a neighborhood crew together on horseback to help round up the cow herd in the Badlands country.
Son-in-law veterinarian, Hovde presided over the pregnancy-checking, using ultrasound equipment to determine the age of the fetus, and the gender, and the presence of twinning. The Lelands administered pre-conditioning shots calves to protect them from respiratory disease when they were weaned in early October.
They start calving around March 25, with most of the calves born in April. "We calve a little later than most seedstock purebred breeders," Melvin says. Most purebred breeders calve in January or February, in order to sell a little older, age-advantaged bulls into the market.
The Lelands' cows calve out in range conditions. The later date reduces the risk of cold stress during calving.
The ranch has developed what they call a "storm facility" - actually simply a naturally sheltered area with coulees, corrals, and storm windbreak where they can bring in cows in case of a blizzard or storm. They've resisted the trend toward building facilities to barn-calve.
"In our area here, help is very limited. Also there's some value in trying to produce cattle that can do things for themselves, without human interference," Mel says. The Lelands have only one hired man, Leo Long. The quiet disposition of the red Angus helps reduce labor costs, too.
"The cows calve without assistance and take care of their calf. We think there's some value in that," Mel says.
"Even though we're registered and sell bulls, we get along pretty well, calving that late, still producing bulls that work well for our customers," Todd says. Bulls are able to service cows very well even though they are 14 to 15 months old, they say.
Plenty of hay
This year, the Lelands were able to put up a lot of their own feed, including silage. They have a contract to buy some alfalfa every year from farmers in the Yellowstone River valley near the town of Fairview.
Last year was harsh winter so they fed up a lot of their excess hay. "We didn't have as much carryover (feed)," Mel says. "A lot of our cropland was seeded to forage crop just in anticipation of needing more hay so we ended up with a lot of hay. It ended up being good quality as well."
They have three silage piles - winter wheat, spring wheat silage and some millet silage. "We have three piles of silage that we rely on for our total mixed ration when we develop our bulls and also use some on our cow herd."
The ration is promoted as adequate growth but "mild enough to protect their fertility and growth." Bulls start with only roughage and then transition to a low megacalorie ration. The feed never exceeds 46 megacalories per 100 pounds of feed - compared to typical rations that exceed 50 Mcal.
"The millet makes good hay and silage. Sometimes we'll use some sorghum. Hay barley works really good," he says. Mel said he thinks they could raise some corn but they haven't invested in the equipment for it.
1
/
5:
Red Angus cattle are known for gentle dispositions, which is safer and more doable when relatively few workers are available to administer regular health checks and vaccinations.Photo taken in North Dakota, with a Sidney, Mont., address, on Sept. 17, 2018. (Forum News Service/Agweek/Mikkel Pates)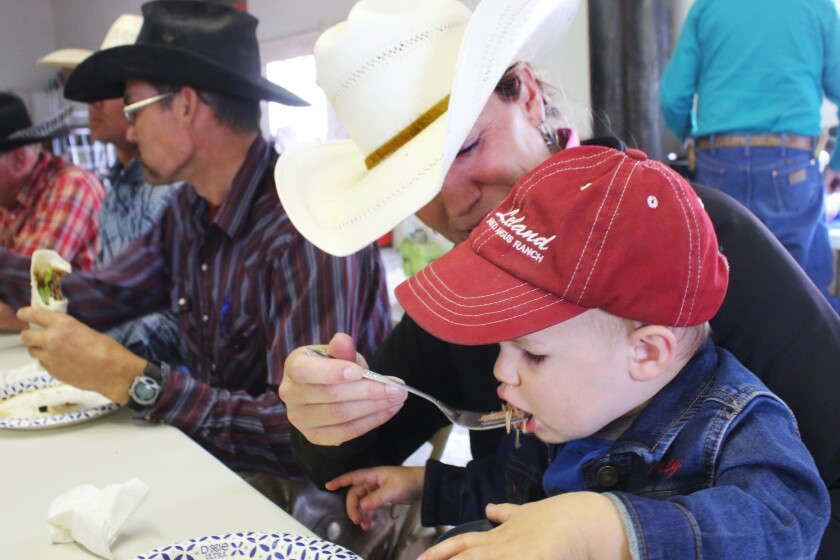 2
/
5:
Trey Leland, nearly 2, wears a Leland Red Angus Ranch ball cap, as he sits with his mother, Carla. Behind them, his father, Todd, chats with the crew of neighbors gathered on Sept. 17 to help with fall roundup work at Leland Red Angus Ranch, southeast of Sidney, Mont. Photo taken in North Dakota, with a Sidney, Mont., address, on Sept. 17, 2018. (Forum News Service/Agweek/Mikkel Pates)
3
/
5:
Melvin "Mel" Leland, 74, (right) and his son, Todd, 44, vaccinate calves against respiratory ailments during fall work at Leland Red Angus Ranch, Sidney, Mont., on Sept. 17, 2018. Photo taken in North Dakota, with a Sidney, Mont., address, on Sept. 17, 2018. (Forum News Service/Agweek/Mikkel Pates)
4
/
5:
Veterinarian J.J. Hovde (from left), and ranchers Todd and Carla Leland, vaccinate calves to protect them from respiratory ailments during fall work on Sept. 17, 2018, in North Dakota near Sidney, Mont. Photo taken in North Dakota, with a Sidney, Mont., address, on Sept. 17, 2018. (Forum News Service/Agweek/Mikkel Pates)
5
/
5:
The Leland family does pregnancy checks on cows and vaccinates calves on Sept. 17, 2018. The has ranch some natural protection (upper left) for cattle during blizzards, but the herd is bred in part for its ability to calve in the open. Photo taken in North Dakota, with a Sidney, Mont., address, on Sept. 17, 2018. (Forum News Service/Agweek/Mikkel Pates)